News Desk
ESB green stimulus to create thousands of energy jobs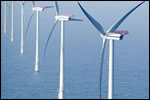 ESB yesterday announced a series of initiatives to create up to 6,000 new jobs and training opportunities. Up to 3,700 new jobs will be created outside the company in Ireland in sectors such as smart networks and smart metering, wind energy, electric vehicles, home
insulation
and new sustainable technologies.
ESB yesterday announced a series of initiatives to create up to 6,000 new jobs and training opportunities.

Up to 3,700 new jobs will be created outside the company in Ireland in sectors such as smart networks and smart metering, wind energy, electric vehicles, home insulation and new sustainable technologies. The company also expects to create a further 1300 jobs - again outside the company - through further investment in power generation and network infrastructure. The company said yesterday that it will also recruit 250 new engineers and other professionals, and train 800 new apprentices.
The jobs will be created in a variety of ESB projects, including:
* The roll-out of Smart Metering
* Novus Modus (ESB's new energy technology fund) has committed to a five year programme of investment in clean energy and energy efficiency. The fund has just invested €2.5 million in the Cork-based company, Nualight, which is creating up to 60 additional jobs locally.
*The roll-out of infrastructure to allow electric vehicles to be recharged.
* The redevelopment of ESB's head office complex in Dublin. An international design competition will be published next week to invite architectural proposals for the development.
* Free home-energy efficiency surveys in conjunction with SEI to 25,000 householders
Energy Minister Eamon Ryan said: "Today is the green economy writ large and in action. Based on Government policy, one of Ireland's finest semi-state companies is stepping up to the plate and helping provide the jobs of the future. 3,700 of these jobs are in the new green economy. Government initiatives such as smart meters, smart networks, electric cars, renewable energy, green technology and home insulation are bearing fruit."
"This Government has set a new direction for energy policy in Ireland. Our sustainable energy plans will transform electricity generation, motoring in Ireland and how we heat our homes. These plans bring with them thousands of jobs we need at this time. Today we are stimulating the economy, shortening the dole queues and helping the environment at the same time. It is clear evidence of a plan that is working and one that works best when we work together," he said.
Last modified on Thursday, 28 May 2009 11:25