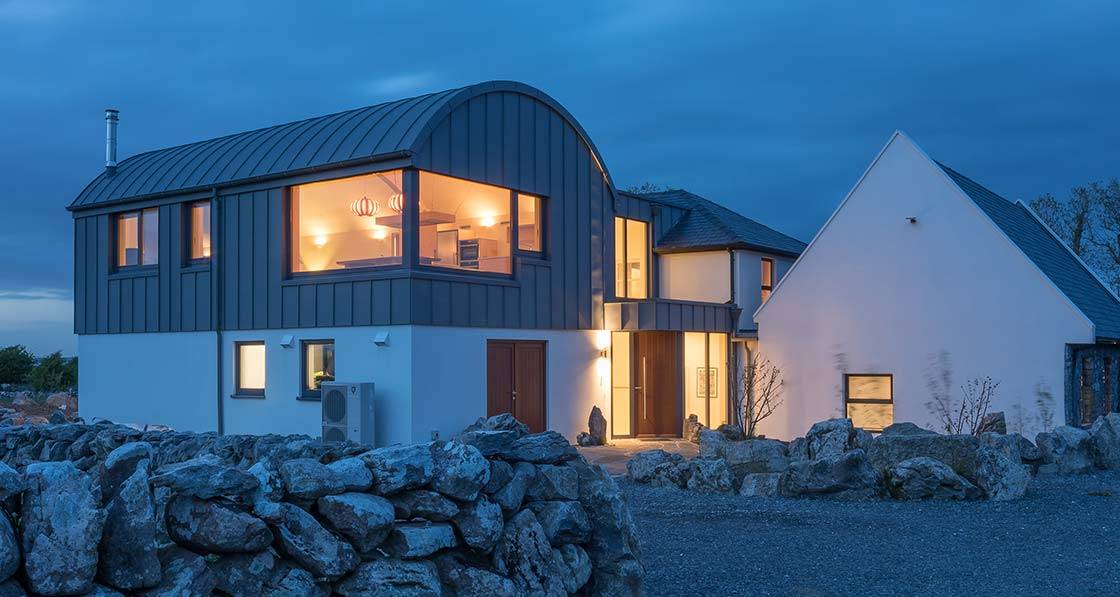 Photography: Kelvin Gillmor

Jason Walsh
Holy Trinity
Situated in a stunning location in the west of Ireland, between Galway Bay and the limestone hills of the Burren, this project provided a complex challenge in three parts: deep retrofit an old cottage into a yoga studio, reinvigorate its original extension, and build a new barrel-roofed passive-grade extension — then make it all work together as one unified home and workspace.
Click here for project specs and suppliers
Building: 424 sqm home, office & yoga studio, in three sections
Location: Kinvara, Co Galway
Completed: August 2017
Standard: Passive-spec extension, deep retrofit to old cottage
€700 estimate for space heating (see 'In detail' panel for more)
When Amanda and Keith Horan wanted to extend their existing, partially upgraded, cottage near Kinvara, County Galway, they knew they wanted a sustainable building from day one, but their goals were not going to be easy to satisfy. They needed a family home, workspace and a yoga studio, and had three buildings to integrate into the plan — the old cottage, a nine-year old extension, and a large new extension that would be built to a passive house specification.
"My wife is a yoga teacher and I'm a mindfulness teacher," says Keith Horan.
The house as it stood—a traditional Irish cottage with a modern extension — already had a small yoga studio, but space was tight. This time, the plan would be to turn the old cottage into a full yoga studio.
"Originally when we moved here, it was in 2005. There was an existing extension and we finished it: the walls were up but that was all. I was a secondary school teacher and Amanda was a yoga teacher [so] we built a small [yoga] space even back then. It was fine, it was a nice room, but now it's a lot better," he says.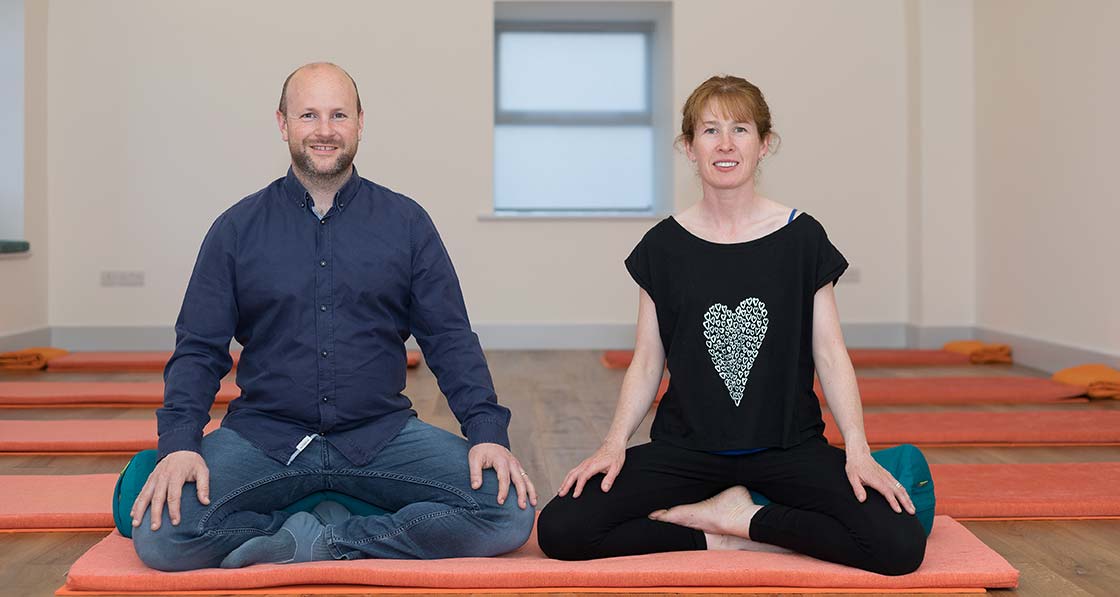 Homeowners Keith & Amanda Horan
This article was originally published in issue 28 of Passive House Plus magazine. Want immediate access to all back issues and exclusive extra content? Click here to subscribe for as little as €10, or click here to receive the next issue free of charge
The Horans engaged architect Miles Sampson to produce a design for the three structures. "We were ecologically-minded but we didn't really know how to go about it. It was then seeing Miles's website that drew us in," he says.
The end result has been a very positive one for the family.
"We've really learned a lot working with Miles. He jumped out: he was the first person I contacted, we had an initial meeting and that was that—we didn't consider anyone else. He completely understands what he's doing." Horan says that, after discussions with Sampson, the brief was to create a space that was not only appropriately warm, but also full of light.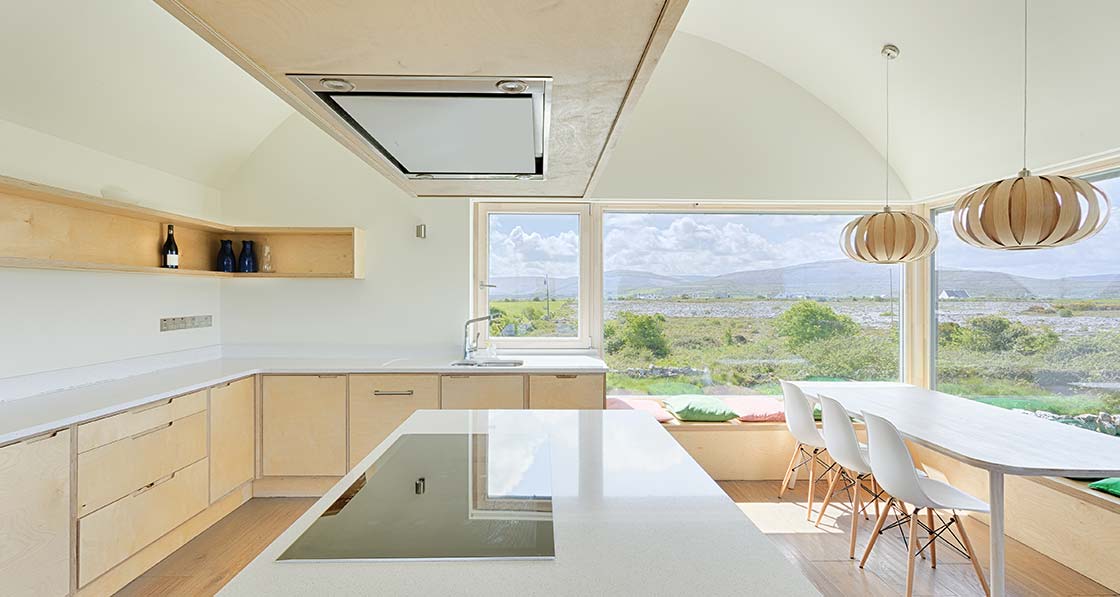 "You're looking for a space that connects to the outside: lots of natural light, comfortable, with good air, warm, using natural materials as much as possible. We had a vague idea of what we were looking for, but Miles crystallised it," he says.
Meanwhile, the contractor on the project was GreenTec Building, led by Niall Dolan, with foreman John Forde running the project on site. Sampson has now worked with GreenTec on numerous passive houses around the west of Ireland.
Sampson explains that the three buildings that now comprise the finished home-and-workplace each has its own character — and needs.
"Basically, there are three elements: the entirely new barrel-roof element, the previous extension, which is nine years old, and the cottage, which goes back a hundred years or so but had been renovated," he says.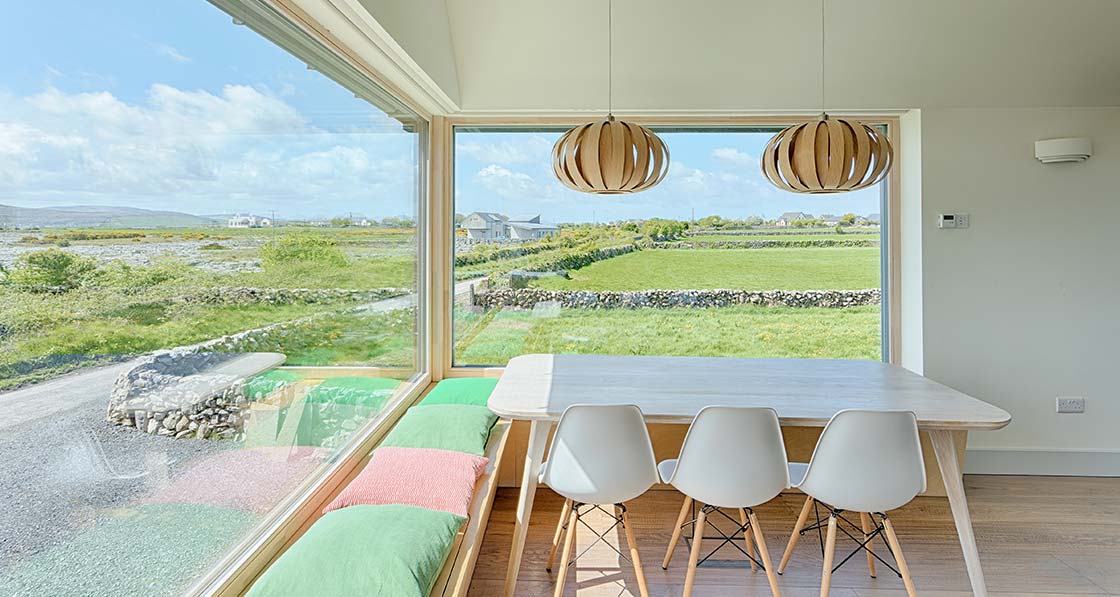 The dwelling, in three discrete but interlinked parts, now consists of five bedrooms, with two on the ground floor of the new extension, and three in the old extension. The old extension also includes a den for the couple's children, plus an office. The cottage has been turned over to use as the yoga studio.
"The [new] extension gives a feeling of fitting in the landscape. It has a familiar air with a barn-style roof, but it also has living space on the first floor, giving as much space as possible and, hence, a lot of light. With an A-roof you'd not be able to get the same amount of space."
Sampson says that with renovation work, a big part of the job is working with what is reasonable. "In the [new] extension, the performance is very much to passive standards, so everything on the extension is to the highest standard. Often, in a situation where we're extending, we bring up the existing house to a very high standard too, but the previous renovations were only done nine years before, so it didn't make sense to pull it apart. We did put in a heat recovery ventilation system [in the original extension]."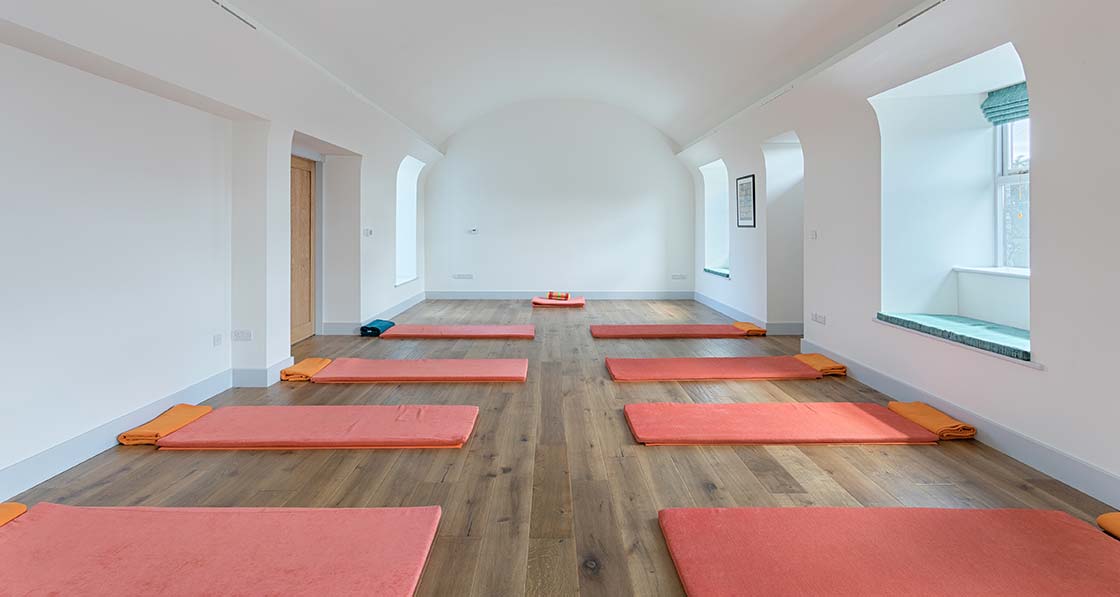 Some draft-proofing work was also carried out on this part of the building to improve its airtightness too. Meanwhile the old cottage had previously been insulated internally with some drylining, but as it was set to be reconfigured into a yoga studio, the opportunity was taken to thermally upgrade the fabric further, fitting it out internally with sheep wool insulation and vapour control membranes – with a barrel vault ceiling that evokes the barrel-roofed extension.
Horan says: "The one thing is, it still has the deep-set, cottage windows, but that works for yoga and meditation practice where there's an inward focus. It gives a kind of snug feeling." Sampson, one of Ireland's more prominent ecologically- minded architects, says that over time building to the passive house standard has become the norm for him.
"I've been practising fourteen or fifteen years now, and from the start I was doing eco-buildings. I very quickly got into passive housing. What started me was that I did a house with Duncan Stewart, and I remember it was timber frame with recycled insulation and a grass roof.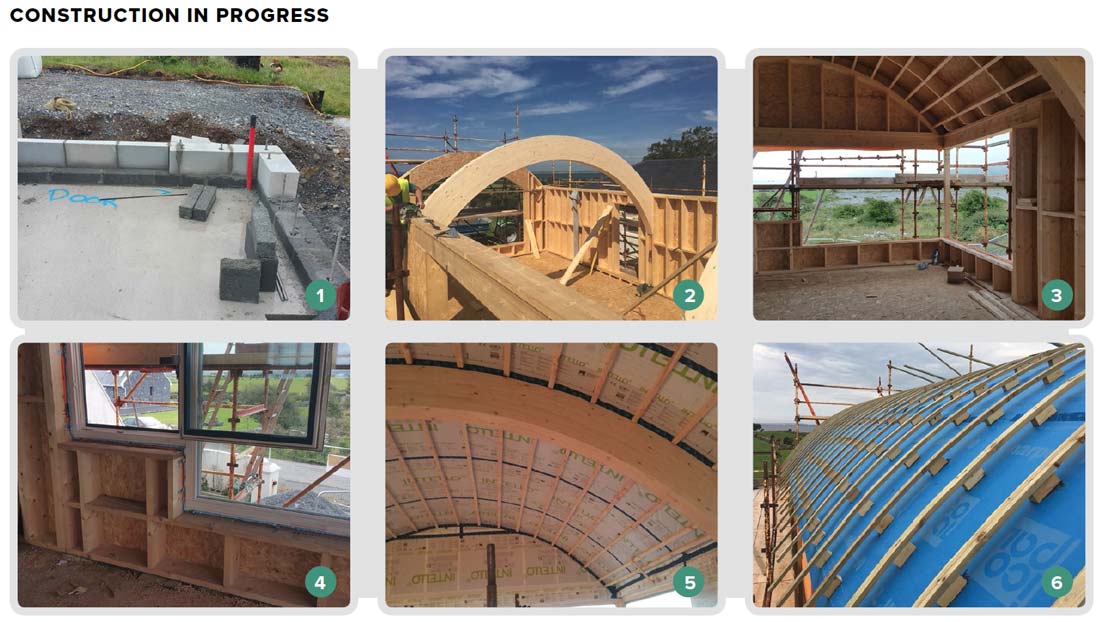 1 The ground floor of the new extension features 250mm graphite enhanced EPS insulation under the 85mm GGBS concrete screed, and two courses of Quinn Lite thermal block at the base of the walls to minimise thermal bridging;
2 the use of glue-laminated timber for some structural elements, including the curved timber beams for the barrel roof, helped to avoid the use of steel;
3 the timber frame, by Matthew O'Malley Timber, features studs that were later insulated with cellulose insulation;
4 the True Windows timber alu-clad triple-glazed windows were ordered from drawings rather than on-site measurements to speed up the build, requiring exacting attention to detail;
5 Intello vapour control membrane fitted to the underside of the barrel roof, with service cavity to be installed underneath;
6 the final parts of the roof build-up, prior to installing the zinc roof cladding, are 20mm softwood treated boards, followed below by a ventilated cavity and Icopal breather membrane.
"Toward the end of the project Duncan said: 'Now that you've done this, you'll have to do passive house'. I was a bit knocked back, but I looked into it, and one thing led to another."
Sampson says that clients sometimes want to obtain passive house certification, but many just want the performance advantages of a passive house.
"We've a few certified but it tends to be that they want the performance rather than the certificate. The first one I had certified was in 2009 or 2010 and I'm currently putting three through certification."
This time, however, the constraints of a complex multi-part building, of different ages, meant passive house certification was not on the cards.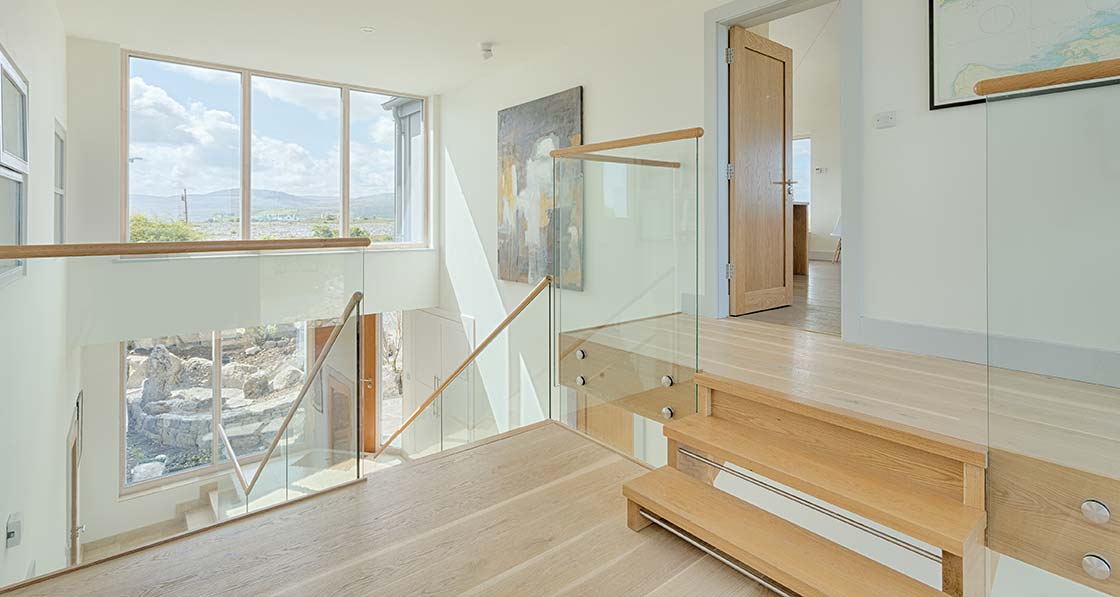 "The new extension would perform to passive standard, but if you're looking at the house as a whole, the previous extension would let it down."
Both Sampson and Horan remained interested in aesthetics throughout the design and build, so the environmental concerns, whether about energy use or embodied energy, could not be allowed to swamp everything.
"Passive houses prefer south-facing windows but at the same time, you've still got to produce architecture. You can't throw out architecture just because you're doing passive house," Sampson says.
Making the house part of the landscape was something that was always a part of the plan. "The site has amazing views of the Burren, but [previously] the only way to enjoy them was to be outside.
"In Ireland it's especially important to bring in lots of daylight and connection to the outdoors. There's no point in building a passive house and then having it so dark that you have to have the lights on all day."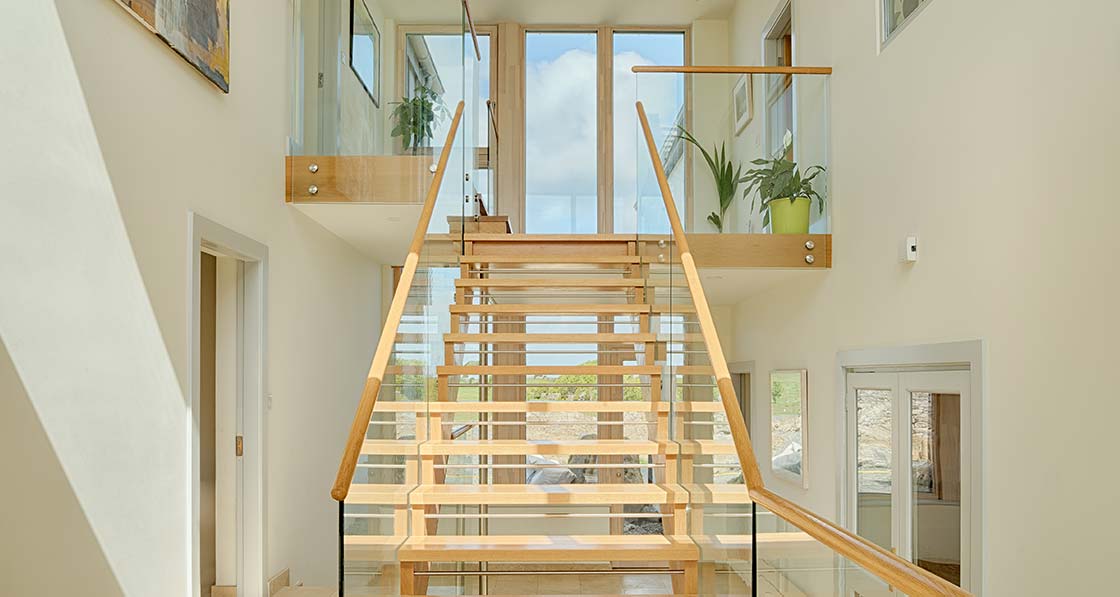 As always, airtightness and thermal bridging were also crucial to the build. Sampson says the new extension was built to a passive house airtightness spec, but the building was tested a whole, and achieved an air permeability result of 3.39 m3/hr/m2.
The use of glue-laminated timber for some key structural elements helped to avoid the use of steel, which acts as a thermal bridge that can transfer heat out of a building, as well as having a big carbon footprint.
"In this case, the guy who did the timber frame [Matthew O'Malley Timber Ltd] doesn't use any steel so there was no thermal bridging. The builder Niall from GreenTec is excellent too. He really understands what low energy building is all about," says Sampson.
The windows are aluminium-clad timber units from True Windows, with the aluminium providing essential protection on the rain-battered west coast of Ireland. Sampson also says that in order to reduce the build time, the team decided to order the windows from the project drawings, rather than on-site measurements.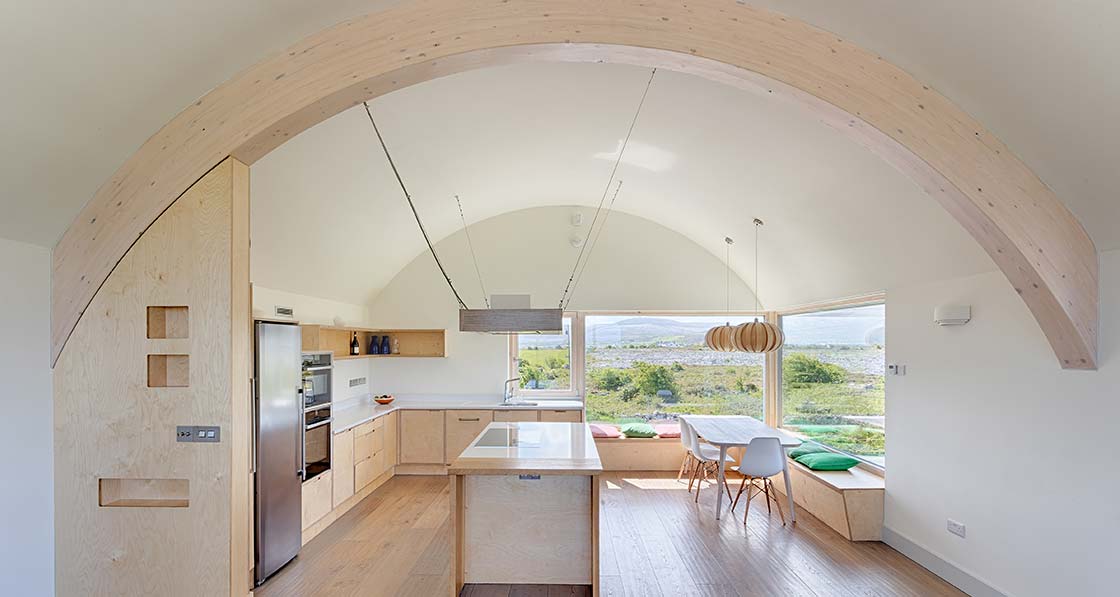 "In this project that was a real challenge, because the link to the extension has two walls of glass windows with split levels floors and floor-to-ceiling windows." Sampson says it took tireless work and co-ordination between himself, the contractor, timber framer and window supplier to make sure it came off.
Meanwhile Ecocel cellulose — made in Cork from recycled newspapers — was used for insulation of walls and roof in the new extension, both as it is a natural material and also because it acts as a carbon sink in its own right.
"Primarily cellulose, recycled newspaper material, that's what we prefer to use," says Sampson. "The first thing is energy performance in building, but once you get that down the next thing to look at is the energy that goes into making the building.
"We always like to use materials that are renewable, essentially, and carbon sequestering. It's pretty much accepted that there's way too much carbon in the atmosphere, so every time you use material that contains it, you're taking it out of the air: timber and cellulose do that well.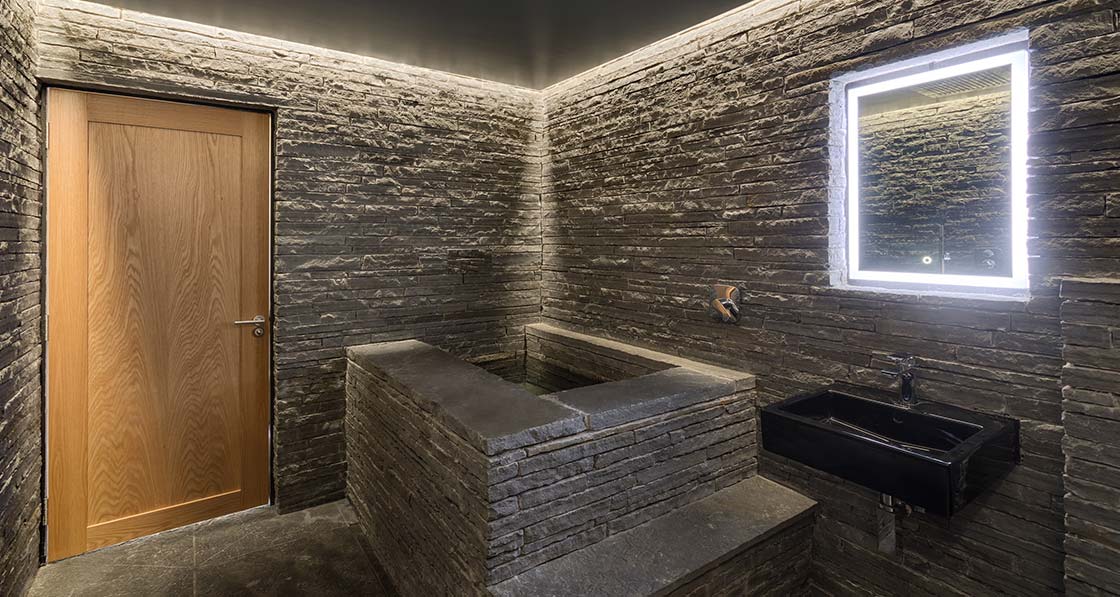 "Cellulose starts as timber, which is turned into pulp, then paper, then it is recycled into insulation. Apart from being carbon sequestering it is also a recycled product."
The dwelling has three heat recovery ventilation systems, one for each of its main parts. The yoga studio had quite specific ventilation requirements: the system had to be large enough to provide fresh air for up to twelve people in a small space, while also being very quiet, with large fans running at low capacity.
The main heating system is a Thermia air-to-water heat pump. "They used to have an oil-fired boiler and we took that out. There is underfloor heating in the cottage and the new extension, not that it's needed, and in the existing extension, we connected up the existing radiators," explains Sampson.
The passive extension is equipped with temperature sensors, so the heating only comes on when needed — which his rarely — but there are no fancy controls in the old extension, simply the original thermostatic radiator valves.
Future plans include solar PV, but of a particular kind — Tesla's Solar Roof cells, which replace, and resemble, traditional roof slates.
"As it's an extension and not a new build, renewable energy wasn't a requirement, but the client is very interested in PV. We've wired the house for the Tesla roof slates, but they're not available yet in Europe," says Sampson.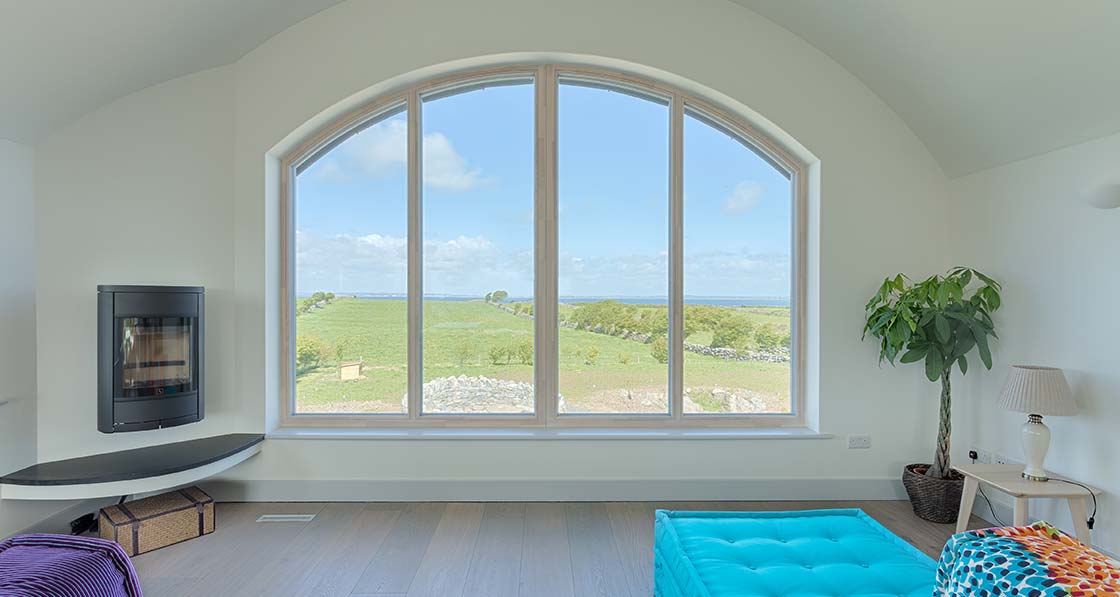 In the end, Sampson might be satisfied with the project, but the clients are thrilled. Horan says that they now have a house that is beautiful, comfortable and offers stunning views in the new section — and a more cosy, traditional feel in the cottage.
And yet, Horan says that the project almost didn't happen, such were the family's worries about what would be possible. "We knew that it would be difficult to combine the two existing buildings with a new extension in a way that would look right." In the end, though, they got the house they wanted.
"There's a lot of houses around here with a barn, so it's part of the inspiration, [but] both ends of the barrels are fully glazed," he says. Most of all, it is, by design, a social space — both as a family home and as a business.
"The house really, really works. It's comfortable and the spaces, even though they are [in] different parts, it really works well, with everything close to the central staircase," Horan says.
"It's easy to move through and connect with people."
For more on Keith & Amanda Horan's meditation and yoga classes see www.beingmindful.ie and www.kinvarayogastudio.ie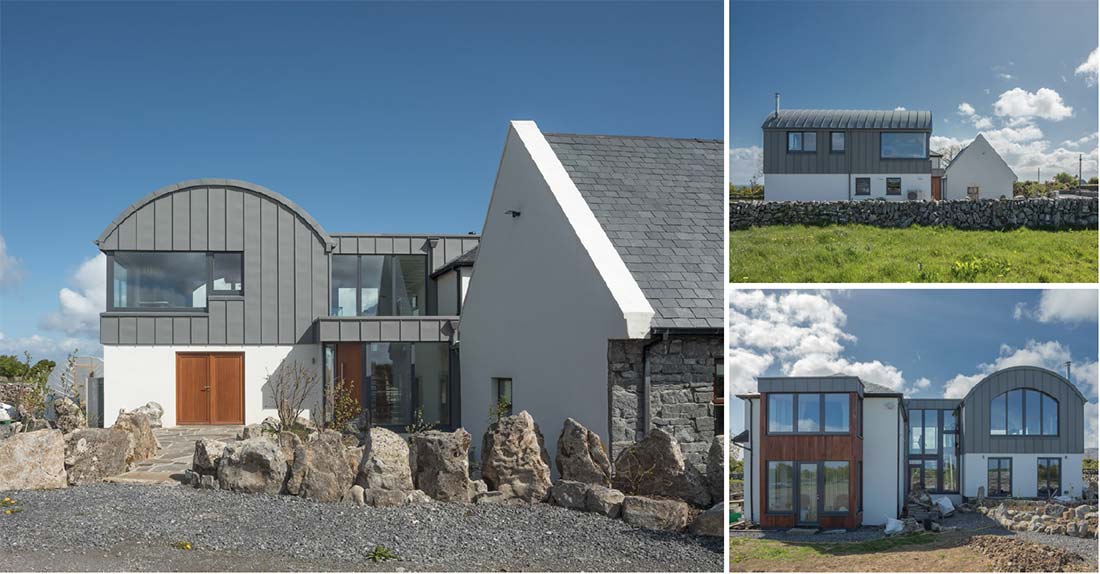 Selected project details
Clients: Keith & Amanda Horan
Architect: Miles Sampson
Contractor: GreenTec Building
Energy consultant: Passive House Solutions
Structural engineer: Charlotte Murphy Engineers
Mechanical contractor: Western Energy Services
Airtightness tester: 2eva.ie
Timber frame: Matthew O'Malley Timber
Airtightness products & sheep wool insulation: Ecological Building Systems
Windows & doors: True Windows
Cellulose insulation: Ecocel
Thermal blocks: Quinn Building Products
Ventilation: Aerhaus
Heat pump: Ashgrove Renewables
Stove: Murphy Heating
Zinc roof cladding: GG Roofing
Green roof: Larne Lough Nurseries
Roof membrane: Renolit, via Laydex
Kitchen & fitted furniture: Christian Vigurs Custom Furniture
Stone: Liscannor Stone
Wastewater treatment system: Kingspan Klargester
In detail
Building type: 424 square metre home, office & yoga studio. New passive-level timber frame extension to existing house, renovation of existing cottage. Previous timber frame extension had minor reconfigurations.
Location: Doorus, Kinvara, Co. Galway
Completion date: August 2017
Budget: Undisclosed
Primary energy demand (DEAP): 60.63 kWh/m2/yr
Energy performance coefficient (EPC): 0.443
Carbon performance coefficient (CPC): 0.476
BER: A3 (60.63 kWh/m2/yr)
Airtightness (whole house): 3.39 m3/m2/hr at 50 Pa
Thermal bridging: New extension is of timber frame construction with full fill cellulose insulation between studs, sitting on two courses of Quinn Lite blocks. No steelwork.
Energy bills: Homeowners estimate an annual electricity bill for the first year in the house of €1,800, covering space heating, hot water and all electricity use for the home, office & yoga studio. Based on 21.43c/kWh and the running hours of the heat pump this includes circa €700/yr for space heating and circa €220 for domestic hot water, including immersion. Miles Sampson points out the space heating figure may be above average as the building was still drying out, the heating system required commissioning, and 2017/18 was a particularly cold winter.
Ground floor (new extension): Raft foundation insulated with 250mm graphite enhanced EPS insulation, 85mm GGBS concrete screed. U-value: 0.10 W/m2K
WALLS
New extension: Prefabricated timber frame with zinc or cement board cladding externally followed inside by ventilation cavity, 11mm OSB, 219mm cellulose filled timber studs, Intello vapour variable barrier/airtightness membrane, 50mm mineral wool filled service cavity, plasterboard. U-value: 0.19 W/m2K Cottage renovation: Existing rough stone wall, followed inside by existing foam filled drylining, 50mm sheep wool insulation fill between battens, Intello vapour variable barrier/airtightness membrane, 50mm sheep wool insulation filled service cavity, plasterboard. U-Value: 0.2 W/m2K
ROOF
New extension: VMZinc externally, followed inside by 20mm softwood treated boards, ventilated cavity, breather membrane, 11mm OSB, 319mm cellulose insulation between rafters, Intello vapour variable barrier/ airtightness membrane, 50mm mineral wool filled service cavity, plasterboard. U-Value: 0.15 W/m2K
Extension link: Planted sedum mat and drainage tray, followed underneath by Renolit Alkorplan single ply roof membrane, 100mm PIR insulation, 18mm OSB, rafters, Intello vapour variable barrier/airtightness membrane, 22mm service cavity, plasterboard. U-Value: 0.16 W/m2K
Renovated cottage: Existing natural slates, followed underneath by existing insulated rafters, existing plasterboard, 200mm sheep wool insulation on new suspended ceiling, Intello vapour variable barrier/airtightness membrane, plasterboard. U-Value: 0.2 W/m2K Windows (extension): True Windows triple glazed aluclad timber windows with argon fill, low-e coating and warm edge spacer bars. Ug-value: 0.55 W/m2K, average U-Value: 1.00 W/m2K
Heating system: Ashgrove Thermia iTec 16 air-to-water heat pump with COP of 4.21 distributing to underfloor heating throughout extension and renovated cottages and radiators in existing house. 79% efficient, Nordic Swan-certified Scan 68 wall-hung wood burning stove.
VENTILATION
New extension: Vents VUT 350 heat recovery ventilation system 85% efficiency. Old extension: Vents VUT 550 heat recovery ventilation system 81% efficiency. Renovated cottage (yoga space): Vents VUT 700 heat recovery ventilation system 81% efficiency oversized in order to minimise noise in the yoga space.
Electricity: Wired to add PV solar slates to existing cottage roof when Tesla Solar Roof panels become available. Wired to add electrical car charging point.
Green materials: Timber frame, glulam structural elements including curved glulam beam, Irish grown sedum mat for roof, cellulose recycled newspaper insulation, sheep wool insulation, GGBS cement.
Image gallery
Related items
Latest from Jason Walsh