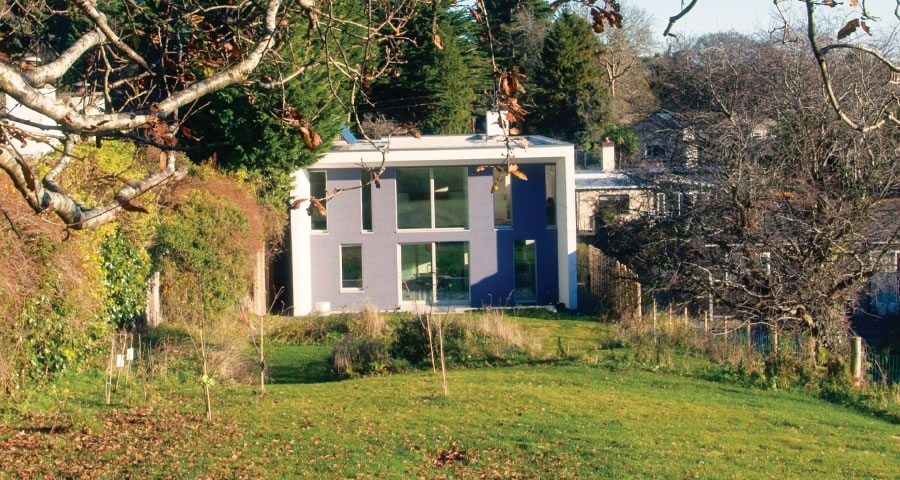 Sam Mays
Wicklow house comes close to passive
With a target as exacting as the passive house standard, circumstances can conspire against meeting every criteria. Architect Sam Mays describes a Co Wicklow home that hit every passive target except one when the builder went bust.
Every project has a story to be told about it. This one is longer and more tortuous than most.
Our clients, Simon Kennedy and Jenny Howe, had bought a site just south of Glen of the Downs in Co Wicklow, a long narrow plot of land occupied by a small bungalow. It was assumed that any replacement house would also have to be single-storey and we agreed a design that duly received planning permission. My mind wasn't quite at rest, though. I came up with a proposal for a two-storey house that I felt was a much better – and far more efficient – design and suggested we make a fresh planning application. Simon and Jenny agreed and the two-storey house in turn received permission.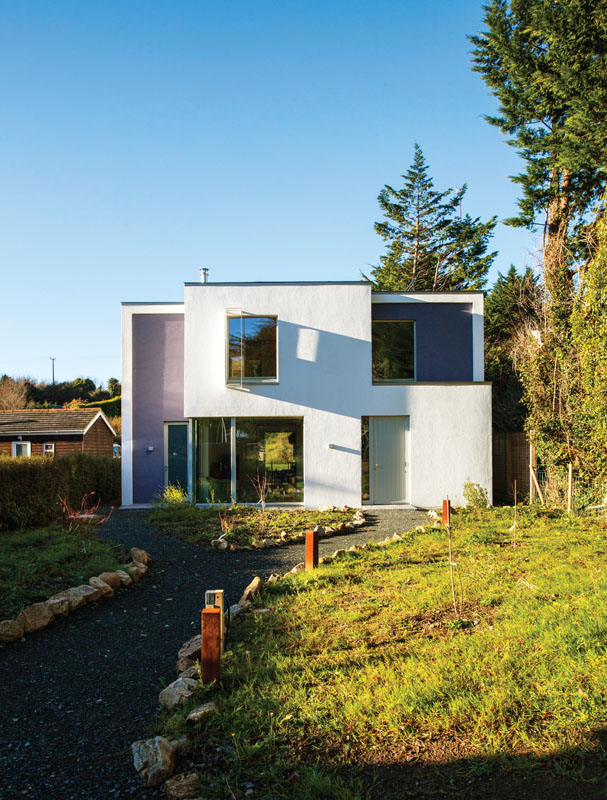 Large windows and roof lights allow plenty of sunlight into the house, while also providing views of the garden and sky
The excellent envelope/volume ratio of the compact twostorey scheme meant that it became possible to consider making it a passive house. Having just completed a certified passive house in the Dublin mountains nearby (featured in Construct Ireland August/September 2011) we were familiar with the issues involved and we developed, detailed and specified the project accordingly. The design lent itself to timber frame construction and we put the project out to tender to four teams of contractors and frame manufacturers. The winning contractor – renowned amongst architects for the quality of his work – made his frame in-house and was thus able to offer a one-stop-shop service that seemed very attractive. His panels were fully finished in the workshop, complete with windows, wiring and internal and external linings, so they arrived on site ready for assembly; or at least, that was the idea...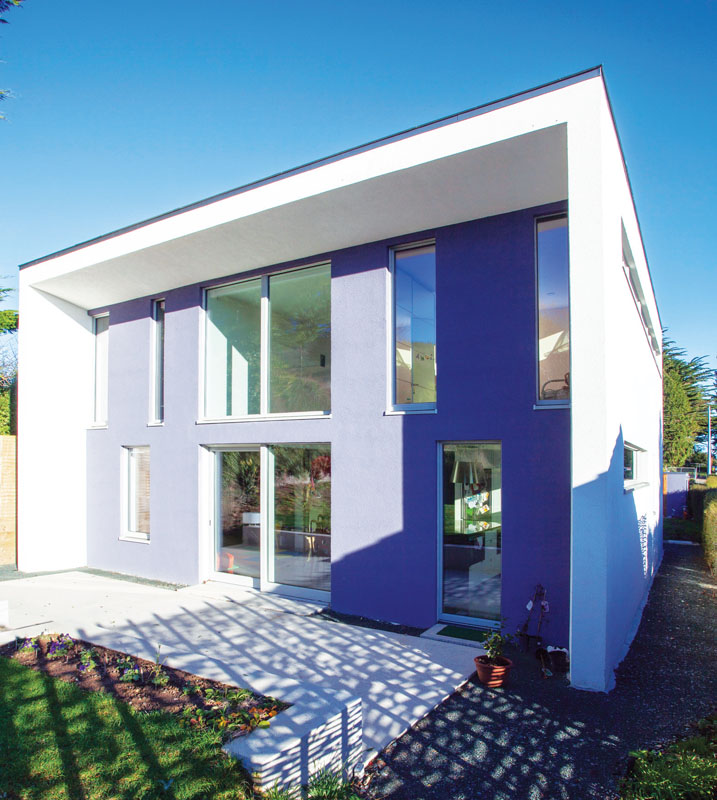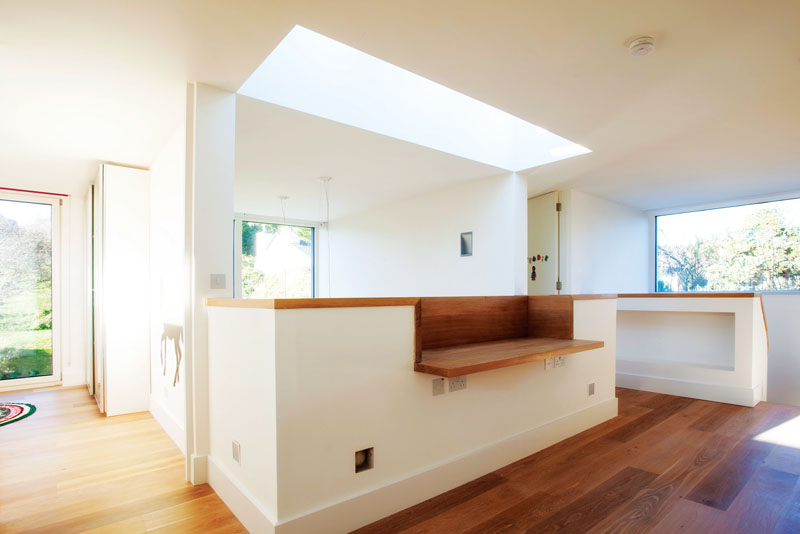 The first problem was weather. Erection of the shell was half-complete when what turned out to be the long cold winter of 2010 set in, rendering work nigh-on impossible for several months. Construction resumed in the spring, the shell was completed and for a short period everything went well. However, progress slowed to a crawl, eventually a standstill, and it became clear that the builder was in deep financial trouble. He finally went into liquidation in November 2011. This was the nightmare scenario; we were left with a project about 85 to 90% complete and many months behind schedule. We decided to finish it ourselves, trying to keep the trades and subcontractors who had already worked on the house on-board so that we could work with them directly.
The subcontractors were cooperative and willing to finish their work but it was still a protracted and sometimes frustrating process. Simon and Jenny were by now living abroad, which complicated things further, but their attitude remained excellent throughout. It's interesting to see how people react to a crisis and we were blessed to have such level-headed people as clients; calm, rational and supportive.
The most unfortunate result of the whole affair was the house's airtightness, which failed to meet the level required for passive house certification. The builder was distracted by his financial difficulties and the airtightness layer's integrity suffered; smoke tests identified the faults but with the house now at last complete, Simon and Jenny decided against opening-up to correct them.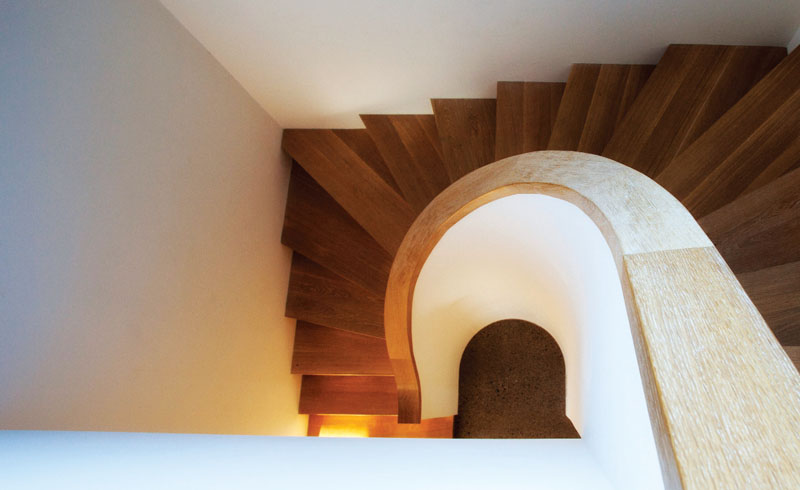 FSC certified European Oak was used for all joinery and timber flooring
Even allowing for this, our as-built PHPP calculations show a specific space heat demand of 14 kWh/m2/yr and a specific primary energy demand of 47 kWh/m2/yr; so while not the fully-certifiable passive house originally hoped for, it's a nearpassive house that should be very comfortable to live in and cheap to run. It has high levels of insulation (roof, wall and floor Uvalues average around 0.11 W/m2K) and minimal thermal bridging; its thick polished concrete floors provide thermal mass; hot water comes from the sun and a wood-burning stove when needed in winter; rainwater is harvested and filtered to drinking standard for use in basins, baths and showers. It features a double-height living space around which the whole house revolves and it has a rich variety of connections to the outside world; windows and roof light frame views of surrounding gardens, trees and sky, while shafts of sunlight prowl beguilingly around the house throughout the day.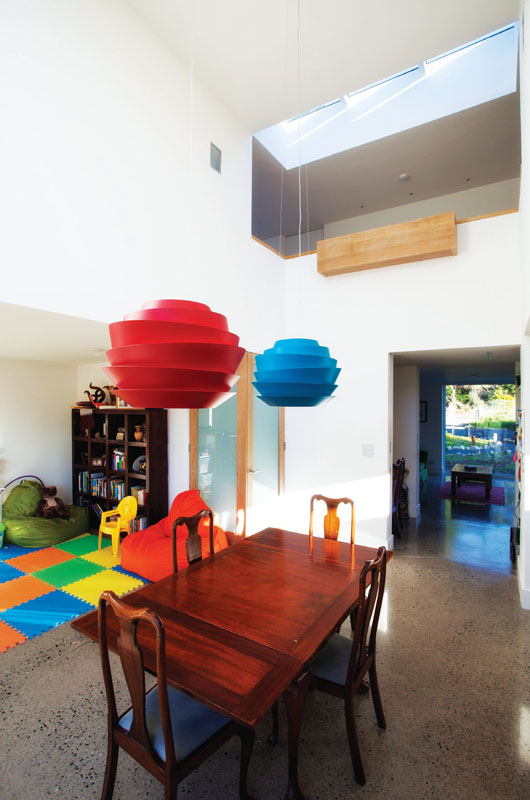 The double-height main living space around which the whole house revolves


Selected project details
Clients: Simon Kennedy, Jenny Howe
Architects: Fitzpatrick & Mays Architects
Mechanical contractor: Heat Doc Ltd
Airtightness tests: GreenBuild
Indicative BER: 2eva.ie
Cellulose insulation & airtight tapes in roof:Isocell
Floor insulation: Kingspan Insulation
Airtightness tapes in walls: Isover
Airtightness membrane: Gerband
Sheep's wool insulation: Ecological Building Systems
Plaster board: Fermacell
Organic paints: Auro
Windows, doors & rooflight: Jens Kuechenmeister
External render: Knauf
Heat recovery ventilation: Pure Renewable Energy
Solar thermal array: Kingspan Renewables
Rainwater harvesting: Molloy Precast
Wastewater disposal: Biorock system supplied by TEC
Electrics: Lawlor Electrical
Lighting design: Wink Lighting
Joinery: Oikos Furniture Ltd
Kitchen: Rhatigan & Hick
Tiling: Gerard Benson
Painting: Kelly and Thompson
Stone paving: Banagher Stone
Polished concrete floors: Concrete Concepts
Landscape design: Howbert & Mays
Additional info
Building type: 189 sq m detached two-storey timber frame house
Location: Old Downs Rd, Kilpedder, Co Wicklow
Completion date: June 2012
Budget: Contract sum €390,000
Passive house certification: Not submitted for certification as airtightness test results didn't achieve the required level. The figures in the following sections are from our as-built PHPP using the airtightness test results achieved
Space heating demand (PHPP): 14 kWh/m2/yr
Heat load (PHPP): 12 W/m2
Airtightness: 1.45 ACH at 50 Pa
BER (indicative rating): A3 (59 kWh/m2/yr). The client is considering the installation of solar PV panels which would affect the result
Thermal bridging: all elements of the envelope were insulated externally to minimise thermal bridging, as described in the following sections
Ground floor: 100mm polished concrete on 200mm concrete raft on 250mm Kingspan Styrozone H350R insulation, wrapped up outer face of raft at edges. U-value 0.112 W/m2K
Walls: factory-built timber frame with 80mm wood fibre insulation board externally finished with Knauf acyrlic render, over 220 x 60 cellulose- filled timber studwork, followed internally with 18mm OSB taped & sealed with Vario MultiTape SL, 50mm service cavity insulated with Thermafleece sheep's wool insulation, and 13mm. Fermacell board on 11mm OSB. U-value: 0.122 W/m2K
Roof: Protec glass fibre waterproofing layer on 240mm Kingspan TR27 insulation on vapour control layer on 18mm OSB deck, ex 38 x 38 tilting fillets, 220 x 60 timber joists, followed underneath by Gerband SD2 Control airtightness membrane & Isocell Airstop tapes, 50 mm service cavity and 12.5mm plasterboard ceiling. U-value: 0.097 W/m2K
Windows: Nestle Climate Window HA triple-glazed aluminium-clad timber windows with argon filling. Overall U-value: 0.74 W/m2K
Heating system: 60 Kingspan Thermomax solar vacuum tubes and Olsberg Tolima Aqua Compact 10kW room-sealed wood-burning stove with back-boiler (70% of stove's heat output goes to hot water) supplying underfloor heating and 500 litre combi tank
Ventilation: Paul Focus 200 heat recovery ventilation system, Passive House Institute certified to have heat recovery rate of 91%
Lighting: a mix of low energy lighting including CFLs, LEDs & IRCs with dimmers
Green materials: Fermacell dry lining board; cellulose, sheep's wool and wood fibre insulation; Auro organic paint. FSC certified European Oak used for all joinery and timber flooring, finished in Osmo Polyx white oil
Landscaping: all boundaries planted with native hedging species of hawthorn, hazel and holly. Green manure crop of two seeds of clover mixed with an ornamental crop of wildflower seeds sewn to improve disturbed soil following building works. Edible landscaping includes planting of apple trees, plum tree, pear tree, blueberry bushes and a walnut tree