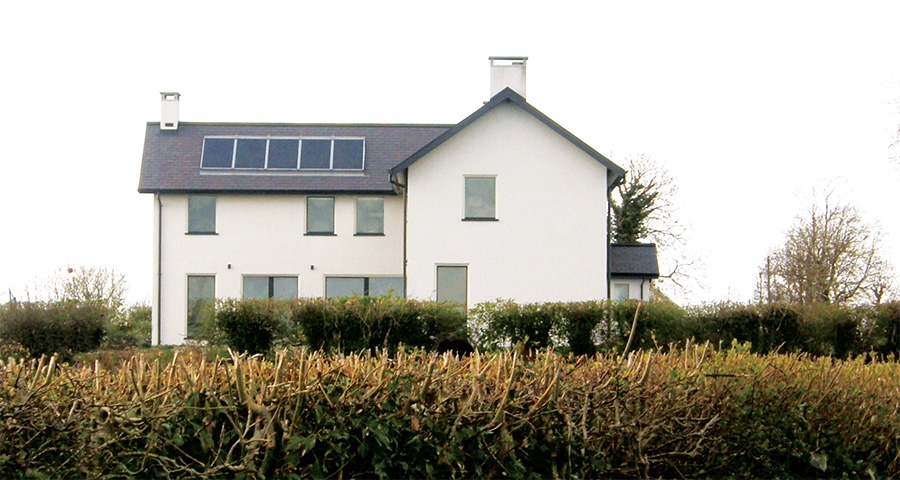 Ireland's 1st hemp-built passive house
For self-builder James Byrne, building to the passive house standard was just one element of an approach that aimed to drastically reduce the environmental impact of his house — built from a hemp and lime system, it also features solar collectors, rainwater harvesting and natural wastewater treatment.
For this uncertified passive house project in rural County Longford, Ireland, self-builder James Byrne pushed the sustainability boat out about as far as he could. Not only does the house hit passive house targets for heating demand, it's built with hemp-lime, heated with waste timber from the construction and features a reed bed wastewater treatment system and rainwater harvesting.
"I was born on a farm and have always had an interest in the rural environment. While I lived in towns and cities for many years, this interest in a rural life for my family was what lead to our decision to move back to Longford and to build this house," he says. He was also concerned about climate change and wanted to support efforts to build a low carbon economy. "I had a unique opportunity to build something special and that's what I set out to achieve."
Good design was also key to James, who has used some of architect Christopher Alexander's design patterns in the house. Alexander is a proponent of the idea that users know more about what they want from buildings than architects.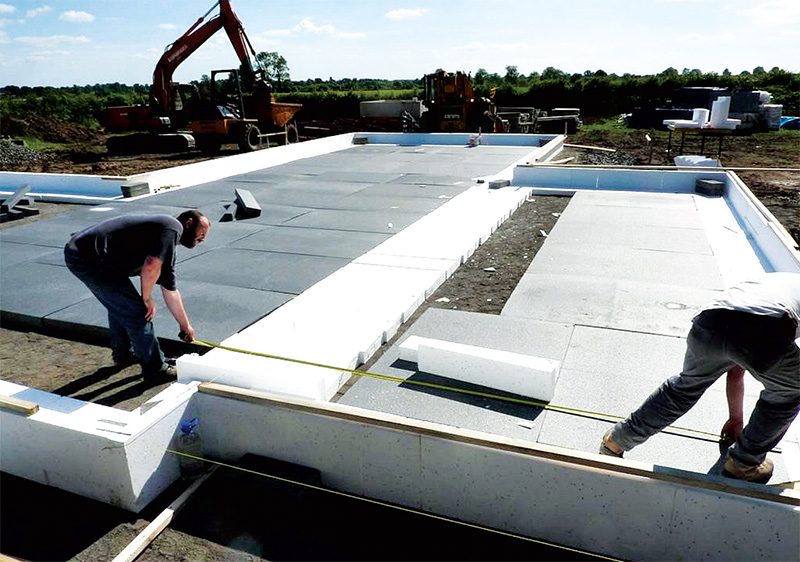 The perimeter of the foundation is wrapped in an insulated ring beam with the enclosed area filled with 300mm platinum EPS 100
James says: "Architects should be more like a conductor where they work with the client to extract the design from them. Most clients know what they want but they don't know how to describe it or how to put it together into a workable design. This is where an architect can add real value."
Passive House Plus's predecessor magazine Construct Ireland previously published a short article on this project as it was nearing completion. But we decided to go back now to find out how the house has functioned in practice, and what lessons James has learned.
Keen to use a green material and to build the house himself, he chose the Tradical Hemcrete system from Lime Technology. Tradical deliver the hemp shiv (the woody core of the plant) to site along with the Tradical HB lime binder. These are then mixed with water and poured into timber-shuttering against the timber frame structure (which was built here by A-Frame). "It's pretty idiot-proof," James says. The system provides both insulation and structure
James tested the system first by building a garage, which also now includes a home office. The build-up of the house is finished inside and out with Baumit lime renders. The monolithic wet-plastered nature of the system helped to provide airtightness — the house got under 0.6 ACH on its first blower door test. Byrne also says the high thermal mass of the hemp-lime is great for buffering heat — absorbing it and then releasing it out to the rooms slowly.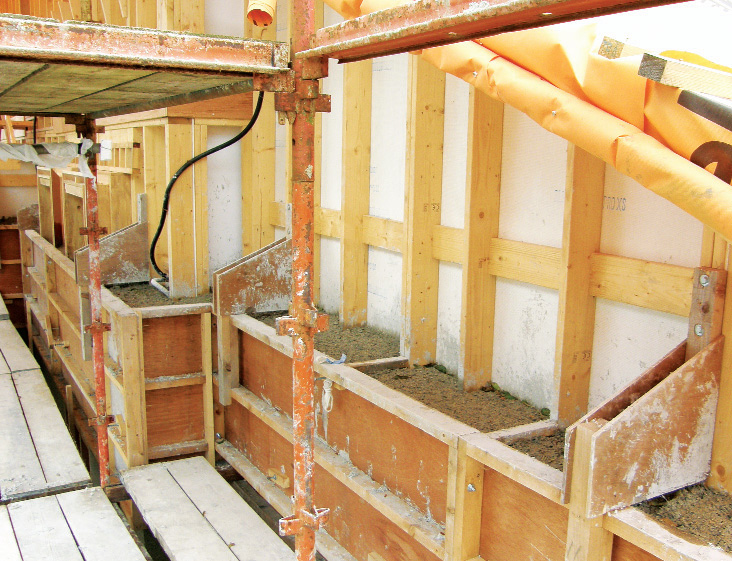 The Tradical Hemcrete is mixed on site with water and poured into timber-shuttering against the timber frame structure
Continuing the theme of environmentally sensitive materials, the roof is insulated with cellulose.
Meanwhile the Passive House Institute certified insulated slab, designed and supplied by Viking House with Cavan-based EPS manufacturer Airpacks, features 40% Ecocem ground granulated blastfurance slag, a low carbon alternative to cement.
James has heated the house — which is on the large side at 335 square metres — with leftover construction timber since moving in, and reckons he has enough wood for one more winter. He burns it in a 78% efficient ESSE wood-fired cooker with a back boiler, which — along with five SolvisCala solar thermal collectors — feeds into his 950 litre thermal store. This then supplies space heating via a water-to-air heat-exchanger in the Paul heat recovery ventilation system.
Having such a big thermal store is essential for providing hot water to five kids, he says. In the shoulder months it also means that, if sunny weather does come around, there's enough storage capacity so there's still hot water leftover on the cloudy days that inevitably follow. The house also has a standalone 4kW room-sealed stove.
Rainwater harvesting supplies water to showers and two WCs. James also has a waste-separating system that composts solid waste and sends liquid to be treated by a vertical and horizontal reed bed system, which was designed and supplied by Reed Beds Ireland.
Inspired by his self-build, James trained as a passive house consultant, and went on to build one more hemp-lime house in Galway. But he returned to working in web development as the construction industry in Ireland flatlined.
However, he told Passive House Plus he's now investigating possible ways to combine his passive house and web development expertise, perhaps by creating an online platform to aid those designing and building passive houses.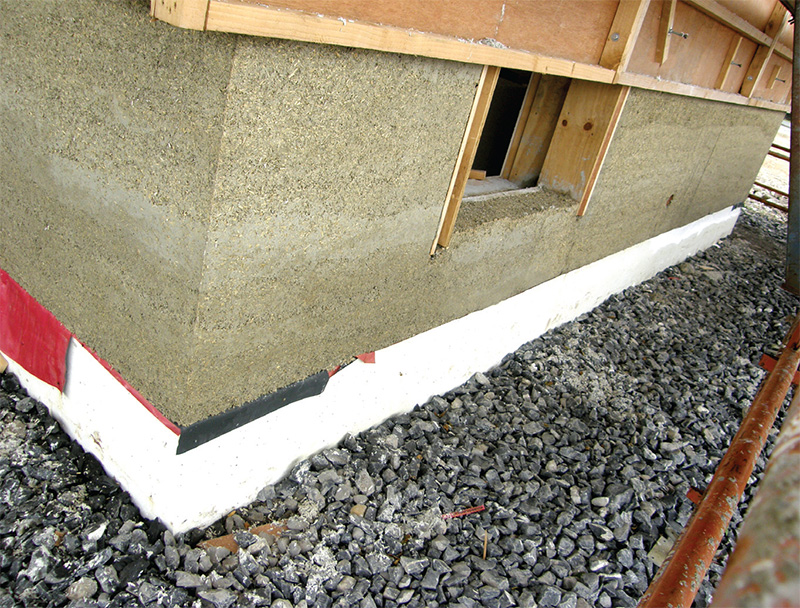 The house was designed by leading Irish green architect Zeno Winkens. Zeno had built with straw bale before, but never hemp. He points out that self-build projects like this will now become virtually impossible under the latest version of Ireland's building control act, which will require that all builders be registered professional contractors.
"If the right person came along I would recommend [hemp lime] to them, probably even more so than straw bale, because it is like concrete. Once you get the shuttering and the detailing right...it's just goes up and then you plaster it and that's it," Zeno says. Plus hemp-lime is less at risk of being damaged by moisture than straw bale.
The house won the award for best residential project at the 2012 Irish Green Awards. But what has James learned about building a passive house? He says that because in winter he relies more on the immersion for heating water (for example if the cooker isn't lit and the solar thermal isn't generating much), plus an electric heater for his home office, his electricity bills are higher than he'd like. But he adds: "The house itself I'm perfectly happy with, it's great."
He offers advice for success on ambitious low energy projects. "Building is a learning process and you have to accept that no matter how much time or money you spend on it, there will be things that will bug you after it's finished and which you would like to change," he says.
He believes that more collaborative approaches to construction are needed — at all stages from design through to construction — particularly for ultra-detailed buildings like this.
He adds: "Take ownership of the project and employ professionals and trades who you can work with and trust. Delegate as much of the project as you feel comfortable with but never give up control. After all you have to live in the finished house. Build the best you can afford in terms of design, comfort and efficiency and try and ensure that it's adaptable to your future needs."
Sound advice from someone who, in terms of materials, has built what must be one of the most ecological passive houses around.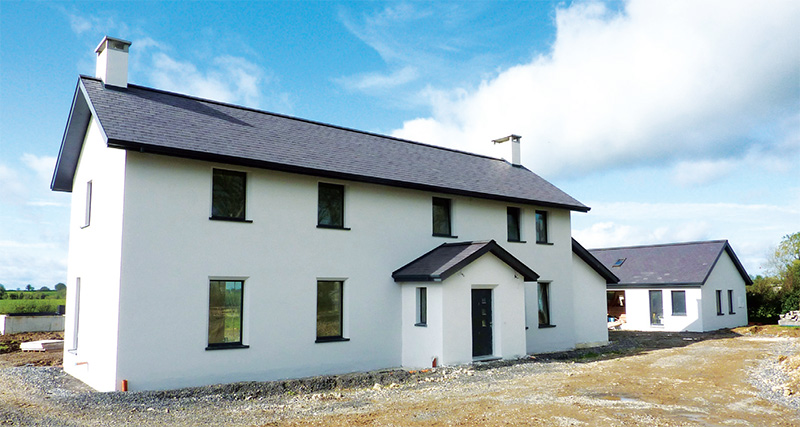 The house is finished with Baumit lime renders internally and externally
Selected project details
Client: James Byrne
Architect: Winkens Architecture
Civil & structural engineering: Carraig Consulting,
Tim Kelly Consulting Engineers
Project management, self-builder, passive house
consultant: James Byrne
Mechanical contractor: Alan Harrington
Timber frame: A-Frame
Hemp & lime build system: Lime Technology
Roof insulation: Cosycel
Floor insulation: Airpacks
Windows: Optiwin by Freisinger
Airtightness products: Proline Hardware
Wood-fired cooker & stove:Kildress Plumbing Suppliers
Solar thermal: GoSolar
Heat recovery ventilation: Pure Renewable Energy
Airtightness tester: Greenbuild
Passive foundation system: Viking House & Airpacks Ltd
Reed bed system: Reed Beds Ireland
Lime renders: Baumit
Ecological paints: Biochrome
Magnesium silicate board: Tradewood
Electrical contractor: Niall Smith
Additional info
Building type: 335 square metre detached two-storey hemp-lime house

Location: Abbeyshrule, Co Longford

Completion date: December 2011

Budget: €400,000

Passive house certification: uncertified

Space heating demand (PHPP):15 kWh/m2/year

Heat load (PHPP): 10 W/m2

Building Energy Rating: pending

Airtightness: 0.53 ACH at 50Pa

Energy bills: no space heating bills yet – the building has been heated to date with leftover timber from the build.

Thermal bridging: Window-to-wall interface the timber frame is located on the internal side of the external walls and all windows and external doors are fixed back to the
frame. The Tradical Hemcrete is then cast such that it covers the front of the window and door frames. The timber frame does not penetrate the Hemcrete walls; wall-to-roof interface: a parallel chord roof truss was chosen, the top rafter is a thermal bridge and so separating it from the bottom rafter minimises the thermal bridge while also providing sufficient space for the roof insulation; wall-to-foundation interface: the timber frame sits on the inside edge of the insulated ring-beam. This allows
efficient transfer of all loads from the building into the insulated ring beam while ensuring that the Hemcrete connects to the foundation insulation.

Ground floor: insulated ring beam (Passive House Institute certified slab from Viking House & Airpacks) with 300mm platinum EPS100. U-value: 0.096 W/m2K

Walls: Factory-built 38x140mm @600ctrs timber frame with 2mm Baumit SEP02 render externally, followed inside by 15mm Baumit FL68 base coat, 450mm Tradical Hemcrete, 9mm Resistant Multi-Pro magnesium silicate board, 4mm Baumit MC55W and 2mm Baumit KalkGlätte G30 skim coat internally. U-value: 0.155 W/m2K

Roof: Bangor Blue slates externally on 50x35 battens/counter battens, followed underneath by 18mm Hunton Undertak bitumen impregnated woodfibre sarking board, 450mm parallel chord roof truss filled with cellulose insulation, 18mm taped & sealed OSB3, 125mm uninsulated service cavity, 10mm Fermacell ceiling. U-value: 0.093 W/m2K

Windows: Optiwin by Freisinger Alu2Wood triple-glazed aluminium-clad windows, with argon filling and an overall U-value of 0.78 W/m2K

Heating system: 78% efficient ESSE woodfired cooker and five SolvisCala solar thermal collectors supplying 950L SolvisMax thermal store supplying air battery heater (water-toair heat exchanger). 4 kW HWAM inset stove, room sealed.

Ventilation: Paul Santos 370DC heat recovery ventilation system. Passive House Institute certified to have heat recovery rate of 84%.

Green materials: Tradical Hemcrete, Resistant Multi-Pro magnesium silicate board, Fermacell dry lining board, cellulose insulation, 40% GGBS cement in foundations, Biofa paints.
Image gallery
Passive House Plus digital subscribers can view an exclusive image gallery for this article. Click here to view
Related items