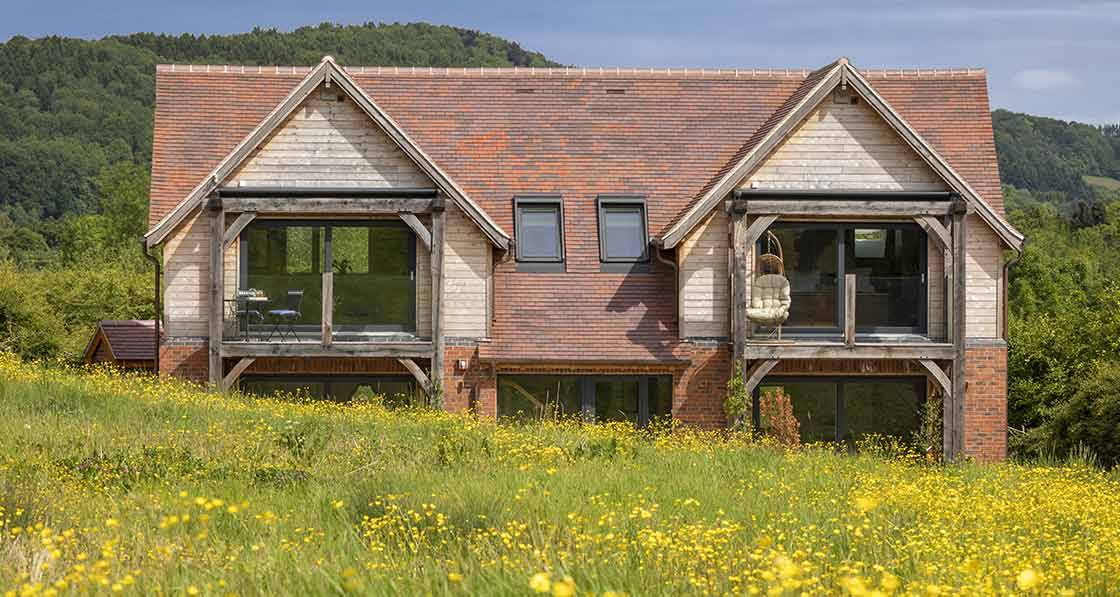 Heart of oak
A striking new oak-framed passive house in an area of outstanding natural beauty in the English countryside has just opened its doors to the public, and already there has been a flood of guests seeking to experience life in a passive house.
Click here for project specs and suppliers
Building: 182 m2 detached B&B
Method: Oak frame
Location: Malvern, Worcestershire, England
Standard: Passive house classic certified
Energy bills: £25 per month for heating, hot water & cooling (see 'In detail' for more)

Andrew and Linda Burnett have been on quite a journey.
When they began looking for a retirement home near Malvern, in Worcestershire, back in 2013, their aim was simply to purchase a house in the area that they could convert into a bed and breakfast. But they ended up opting to self-build the first oak-framed passive house B&B in the UK. An eight-acre field with 700 pear trees, 75 plum trees and seven beehives was not part of the original plan either.
"When we set out we'd not thought about building an environmentally friendly house and we hadn't even heard of passive houses," says Andrew. "But we've shifted the whole idea of our bed and breakfast now. All but two of the guests staying since we opened at the beginning of July have done so to experience staying in a passive house, and to ask us about our experiences of self-build."
As for the land attached to their house, it has brought about a complete change in lifestyle. "Our old house in Kent had a third of an acre with one plum tree and I said to Linda, 'this grass cutting is getting a bit much at weekends, let's look for something smaller'. And we ended up buying part of a former fruit farm with two orchards, which we're now restoring," says Andrew.
"We're also turning a four-acre field into a wildflower meadow and we've planted new hedges. I've learned to use a chainsaw, and I own a compact tractor and gigantic lawnmower. A beekeeper comes to look after the bees, and we get annual rent of two jars per hive. We're making plum and damson jams and more things with pears than you can throw a stick at."
When their search began for a new home, the couple were living in a village in Kent. To make it easier, they relocated to a rented bungalow near the spa town of Malvern, in Worcestershire, where Linda grew up.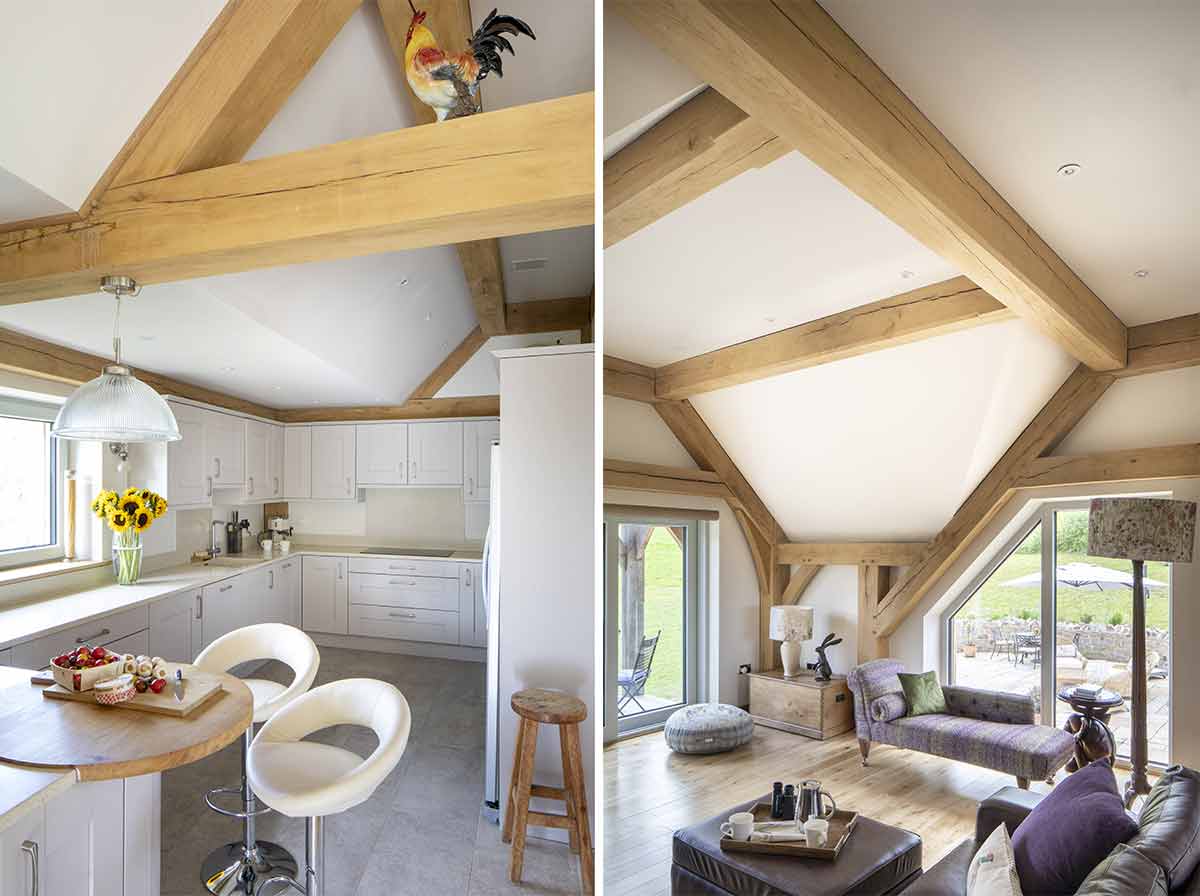 This article was originally published in issue 39 of Passive House Plus magazine. Want immediate access to all back issues and exclusive extra content? Click here to subscribe for as little as €10, or click here to receive the next issue free of charge
The couple visited a few barn conversions and liked the idea of a house with exposed wooden beams. But no suitable property was available and the idea of a self-build became more attractive. In 2015, Andrew and Linda visited a self-build exhibition at the NEC in Birmingham, where they came across Oakwrights, a Herefordshire-based oak frame design-and-build practice. There were three specialist providers of oak-framed houses available, but Oakwrights was the only one offering their own insulation and encapsulation system as well.
Oakwrights' founder Tim Crump brought up the idea of passive house construction.
Andrew and Linda liked the idea and began to do some research. Initially the appeal was the promise of exceptionally low heating bills during their retirement. The next step was to visit and stay in Oakwrights' show home in Herefordshire. "After we stayed in The Woodhouse, we both said, 'that's it, that's what we want!'" says Linda.
The show-house gave the couple a clear direction forward. They liked its oak framed gable ends and traditional tiled roof. They decided they wanted a brick finish on the ground floor and timber cladding above, which would fit in with the barn conversions in the local area. But they still needed to find a plot within a ten-mile radius of Malvern, and that did not prove easy.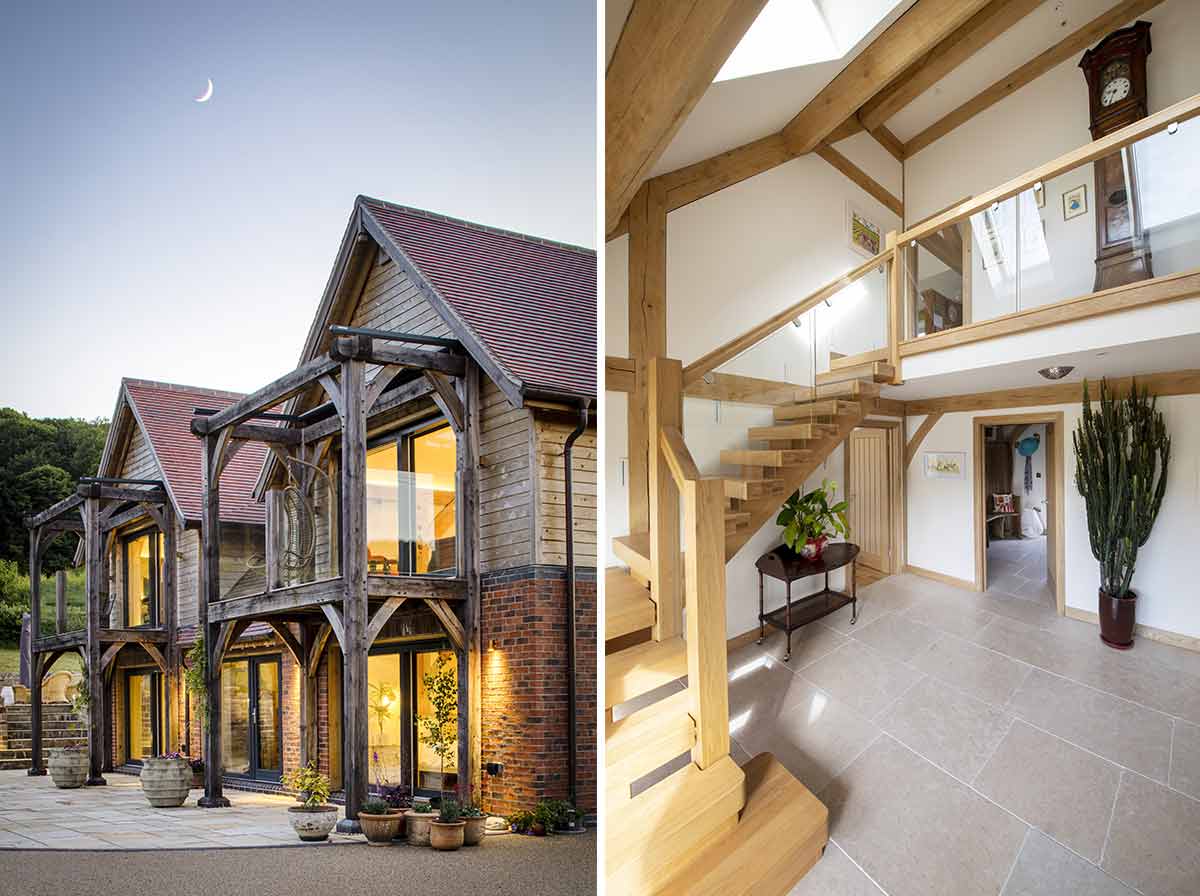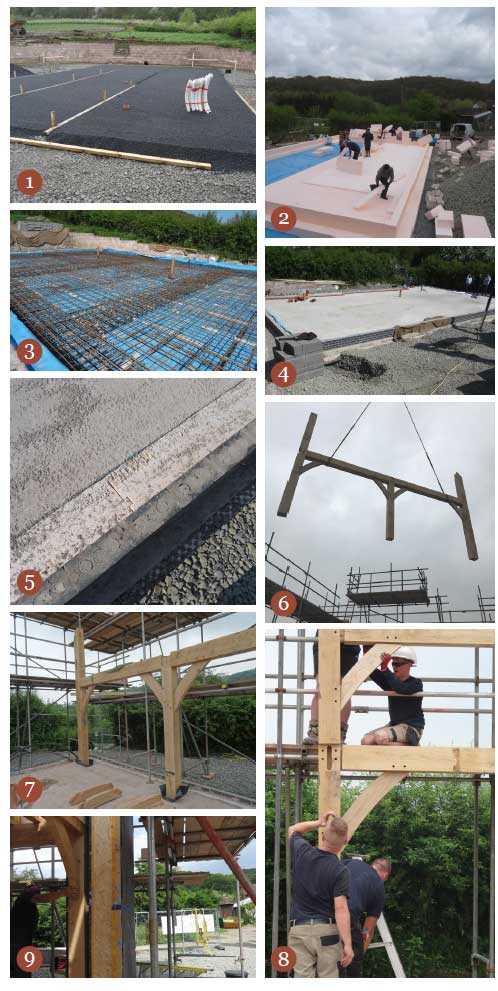 1-4 The ground floor consists of an Isoquick insulated foundation system and reinforced concrete slab; 5 the slab is completely encased by the insulation to prevent thermal bridging; 6-8 construction of the oak frame underway; 9 fitted to the frame is Oakwrights' encapsulation system, which features I-joists insulated with cellulose.
Andrew was working outside the area as a public health consultant, so Linda took charge of finding a site. It was practically a full-time job. She spent a year trawling through websites for hours every day. Finally, after a couple of near misses, she spotted a large plot in an area of outstanding natural beauty (AONB) between the Malvern and Suckley hills. The picturesque site with its panoramic views and tranquility won them over and their offer was accepted in October 2016.
The site had existing planning permission for a smaller two-storey dwelling and the previous owner had begun excavating part of the valley in preparation for that build. But the design for the new oak frame passive house was substantially different, and a new application had to be submitted.
Based on Andrew and Linda's wishes, Oakwrights' in-house architectural team designed the house with the living space upstairs to offer panoramic views. Their en-suite master bedroom is also upstairs and has a walk-in dressing room. Meanwhile, the two en-suite guest bedrooms are downstairs, along with a home office and the large hallway. There is space to install a lift one day too, if necessary.
The Burnetts originally wanted to build a four-bedroom home, but later opted to reduce it to three, which allowed Oakwrights to design larger bedrooms and left space for a double-height hallway with a "bit of a wow factor".
Oakwrights also included two south-facing gables and a rustic tiled roof, which helps the home to blend into its setting. "There are also an east-facing and a west-facing gable ends, the four gables creating an intriguing roof externally and substantially adding to the attractiveness of the high ceilings in the upstairs rooms," Andrew says.
The south elevation has four large, tripled- glazed lift and slide doors alongside a triple-glazed front door and two roof lights. The emphasis was on positioning windows, doors and balconies to take advantage of the views of the hills and garden.
"There's an Oakwrights vernacular running through all our designs. It uses areas of oak outside, as well as large and well-proportioned windows," says Oakwrights architect Craig Alexander.
While the dwelling that was originally intended for the site had a north-south axis, with large east and west facing facades, this would have presented an overheating risk from low-angle morning or evening sun. So Oakwrights' design flipped the main axis to east-west, giving the house a large south-facing façade (within 30 degrees of due south is considered ideal for a passive house). "We balanced potential summer heat grains through the south-facing windows with the introduction of shading from the balcony structures, with integrated blinds above," Craig says.
Planning permission for the build was achieved without any issues even though the use of cellulose insulation to achieve onerous U-values meant having thick wall and roof build-ups, and consequently, increasing the overall size of the house so as not lose internal floor space. Legal complexities held the project up and it was not until April 2018 that the first spade went into the ground.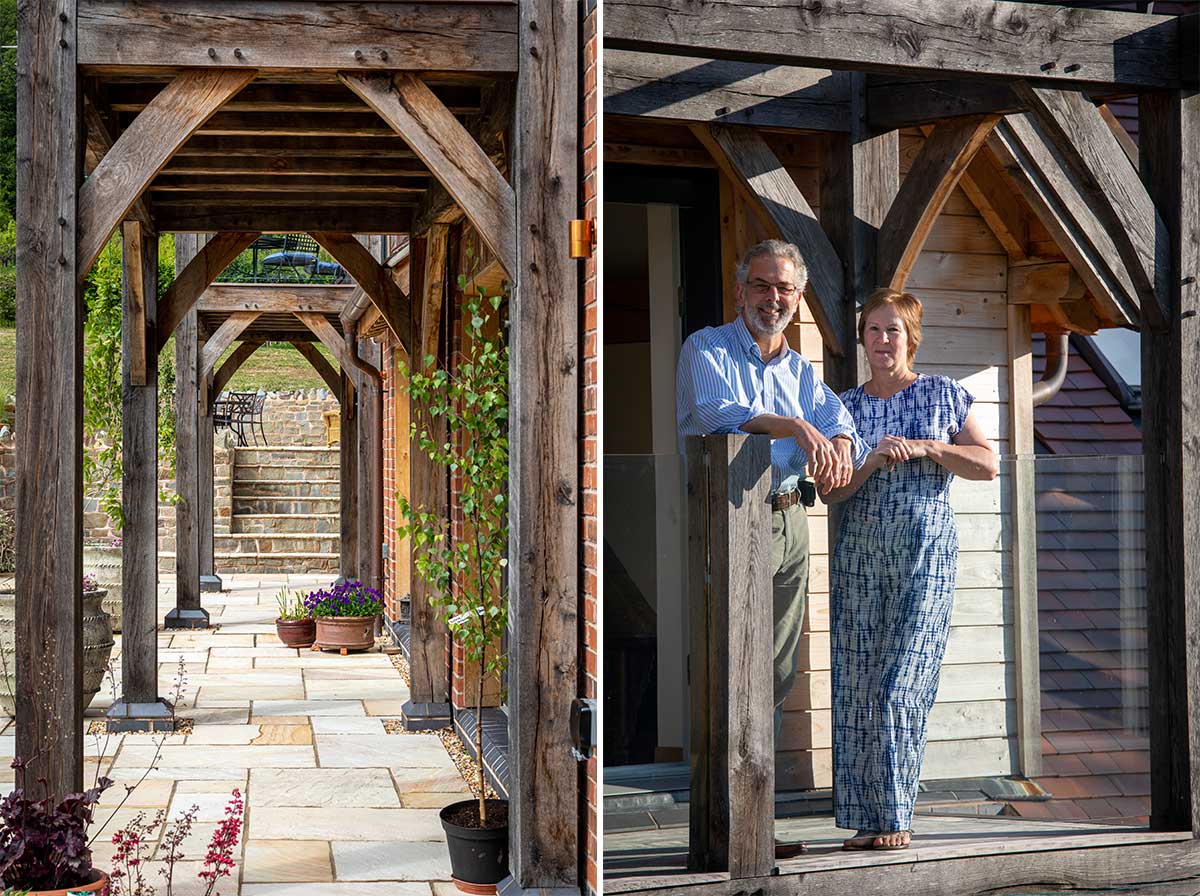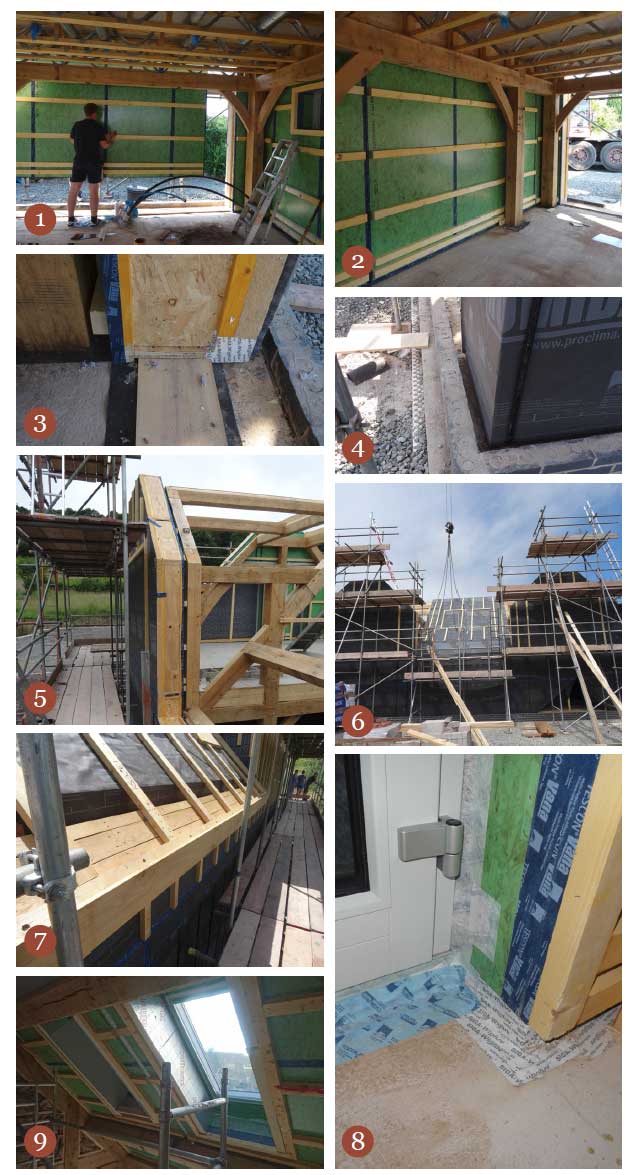 1 & 2 Smartply Propassiv airtight OSB3 board on the inner side of the wall build up, with all joints taped; 3 continuity of insulation between the upstand of the Isoquick insulation foundation system and the insulated wall panels; 4 external leaf ready for erection of brick rainscreen to the outside of the Oakwrights encapsulation system; 5 construction of the insulated encapsulation system at first floor level; 6 installation of the insulated roof panels; 7 false eaves and verge fixed to the outside of the encapsulation system to give the appearance of traditional construction without creating a thermal bridge; 8 airtightness taping around door frame; 9 additional Xtratherm rigid insulation to the inside of the frame for the Velux roof light.
Andrew and Linda chose a young and enthusiastic firm of builders called Furber Young, which turned out to be one of the best decisions they made.
"While Andrew was away I came to sit in the field and watched the build almost every day. It was wonderful to see the oak frame being pulled into place by the crane. You could see the markings on the beams showing where they needed to go. It's a shame Andrew couldn't watch, but I filmed it for him," Linda says. "When I came down I would bring cake and everyone was friendly and welcoming. The builders had all been at school and college together. They were great friends and there were a few stag-dos during the build. They even came across at weekends specially to show Andrew what they'd done."
Andrew and Linda had planned the build meticulously together with Furber Young, Oakwrights and Green Building Store, who provided the mechanical ventilation with heat recovery system (MVHR) and the triple- glazed doors and windows. As a result, everything went smoothly and the house was completed a week early in just 11 months.
The work also came in on budget. Project costs were £699,000, added to the land costs of £413,00, so around £1.1 million in total. Andrew and Linda moved in on 5 March 2018. At first, they could barely believe they owned such a property. "For weeks it felt like we were on holiday. It seemed so fantastic, we thought the house was not really ours and any minute we'd have to pack up and leave," says Linda.
The MVHR system keeps the house feeling fresh. Meanwhile, a ground source heat pump takes heat from the field to warm up the hot water and the underfloor heating in the hallway and bathrooms. Oakwrights also designed an enhanced version of their WrightWall Natural and WrightRoof Natural encapsulation system to seamlessly wrap around their frame, which is prefabricated in their Herefordshire workshops and includes recycled paper cellulose insulation.
While working at home during the second Covid-19 lockdown, Andrew enjoyed walking barefoot on the warm tiles.
The house was certified to the passive house classic standard in September 2019. According to Andrew, the house is performing better than predicted in PHPP, the passive house design software, for both electricity consumption and overheating. "PHPP stipulates that overheating must not exceed 25C for more than 10 per cent of the time. Our estimation was for 1.9 per cent, but we've had data loggers measuring internal and external temperatures every 30 minutes and our overheating over 12 months was 0.57 per cent, which is absolutely brilliant," he says. "And also, for electricity the PHPP predicted 98 kWh per square metre for everything, whereas our level was 61.65 kWh."
The Burnett's current 'green' electricity supplier predicts their annual electricity bill will be £1,560, which covers all their energy costs.
Any other energy required to heat the house comes from the sun, people in the house, the heat output from household devices, and recovery of heat from air removed in winter.
Back in 2014, in the couple's Kent house, which was about 140 square metres rather than the current 200 square metre house, they paid more than £3,500 for energy. But their oak-framed house is as much an aesthetic experience as it is thermally efficient.
Andrew and Linda particularly enjoy having two balconies at the front. "They provide shading from the summer sun, but they make the house look more interesting. We frequently eat on one balcony and we've put comfortable chairs on the other one. It's idyllic sitting there with a single malt enjoying the views across the fields," says Andrew.
"The wildlife is also incredible. There are birds of prey and swallows in the sky and we see deer coming out of the woods. A family of badgers arrives every night and we have visits from a little fox. All of that is easy to see from the house, especially in the living room with the windows that go right down to the floor. But the views are incredible everywhere."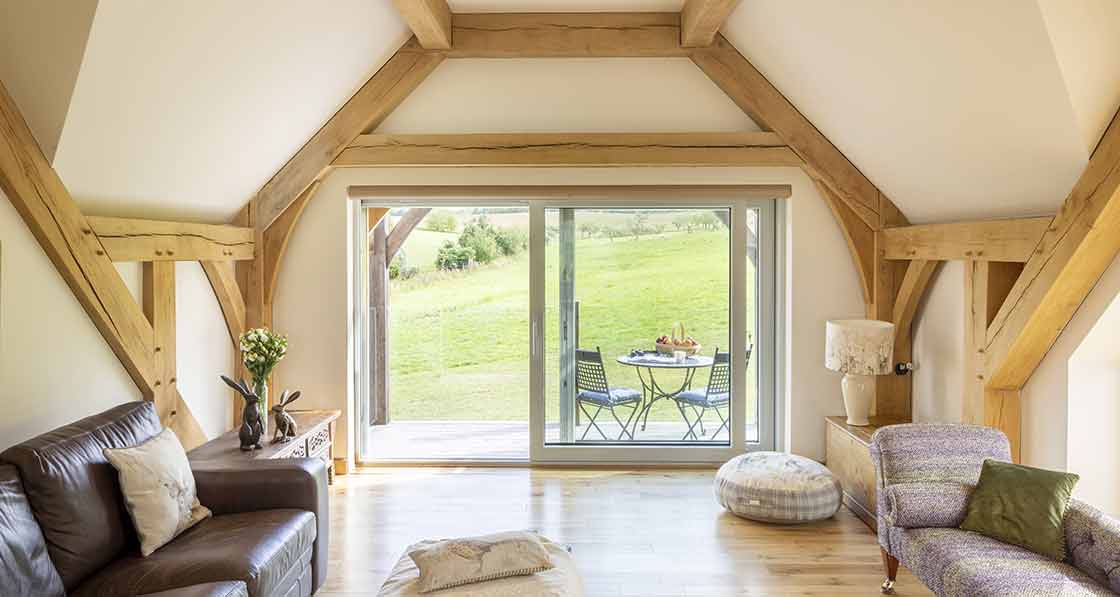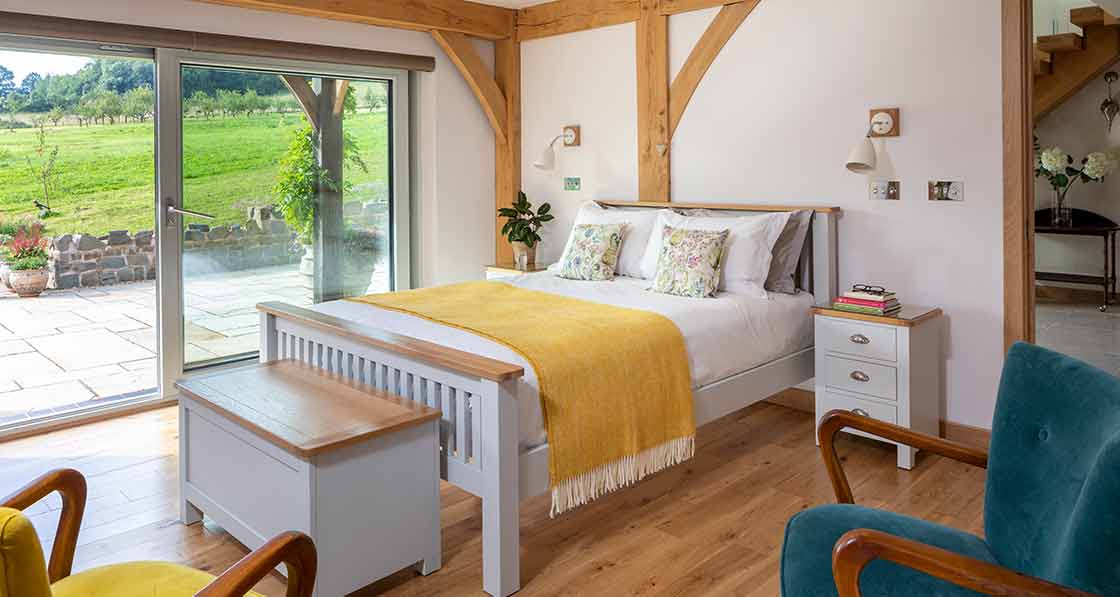 Image gallery
Latest from David W Smith