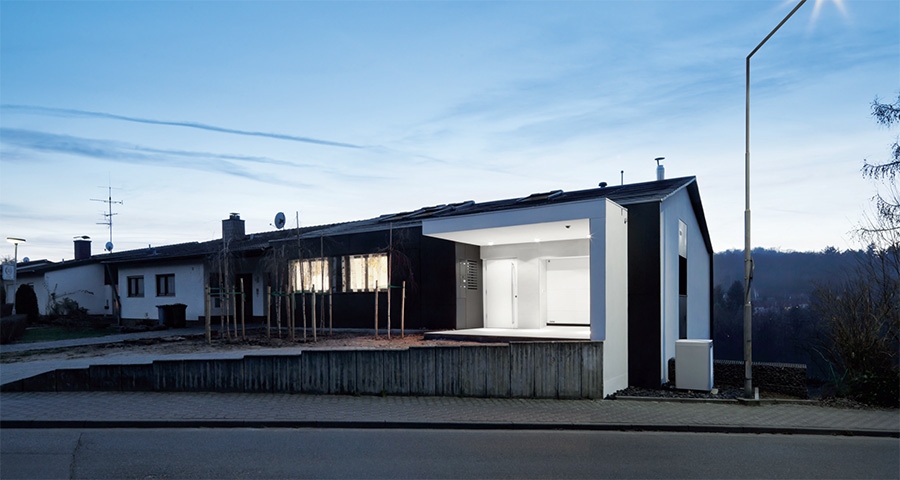 International selection - issue 7
This issue's Eurocentric selection is drawn from the International Isover Energy Efficiency Awards, including a German renovation that generates an energy surplus, a Danish nature reserve, a Romanian Solar Decathlon entry and a Polish church.
This article was originally published in issue 7 of Passive House Plus magazine. Want immediate access to all back issues and exclusive extra content? Click here to subscribe for as little as €10, or click here to receive the next issue free of charge
Energy + Home, Mühltal, Darmstadt-Dieburg, Germany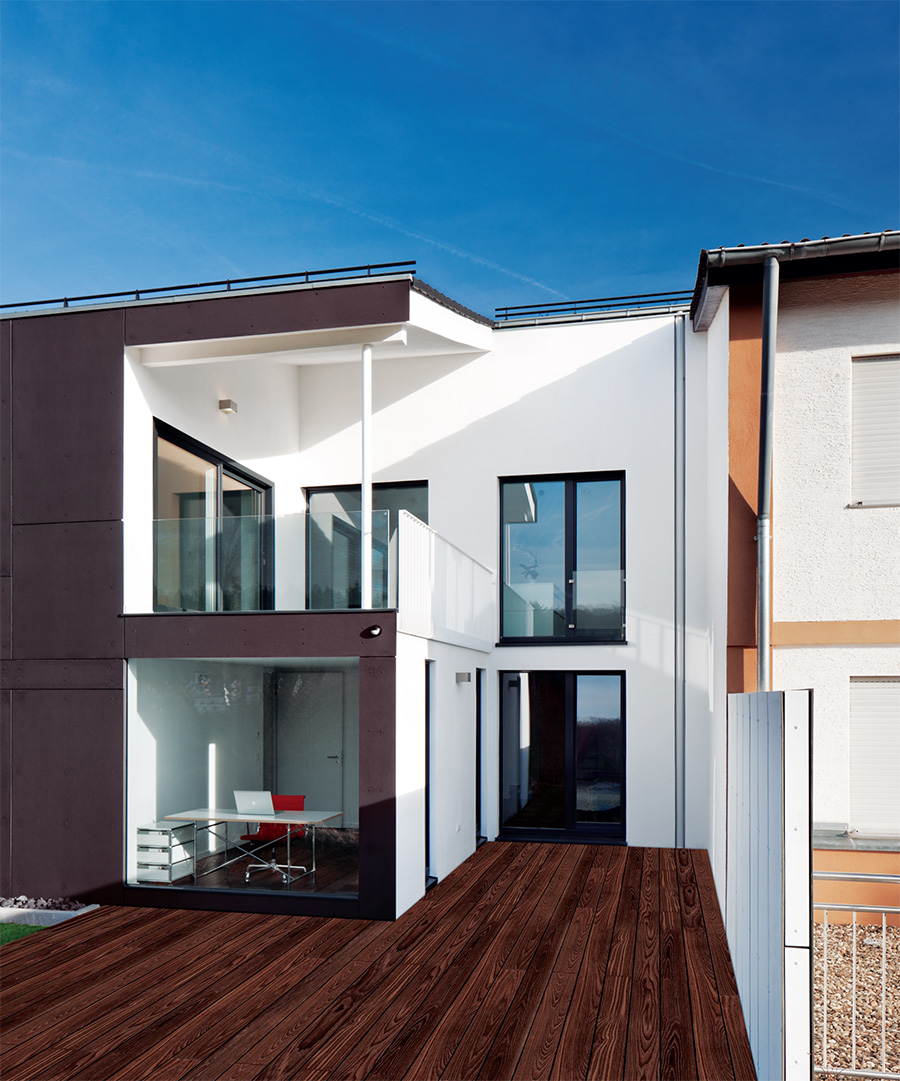 This renovation and extension turned a 1969 structure into a striking, modern energy positive home. Developed by a team from the Technical University of Darmstadt, along with architects Lang & Volkwein and engineers Tichelmann & Barillas, the goal was to develop a replicable retrofit that could be easily transferred to other projects.
The team insulated the original hollow block structure externally, and built a small timber frame extension too. The U-values for the upgraded walls, ground floor and roof are 0.15, 0.21 and 0.12 respectively, while the whole renovation slashed the house's space heating demand from 272kWH/m2/yr down to 14*, just inside the passive house standard. There's also heat recovery ventilation, an air-to-water heat pump and wood pellet burner.
The final airtightness result was just 0.8 air changes per hour. In designing the upgrade, the team also increased the glazed area — all of it now triple-pane — by a whopping 160% for more solar gain and daylighting
They also put a monocrystalline PV system on the roof, and any excess electricity is now exported to the grid. A touch panel provides easy, central control of the solar, heating and ventilation systems, as well as energy generation and consumption information. The house even charge's the family's electric car.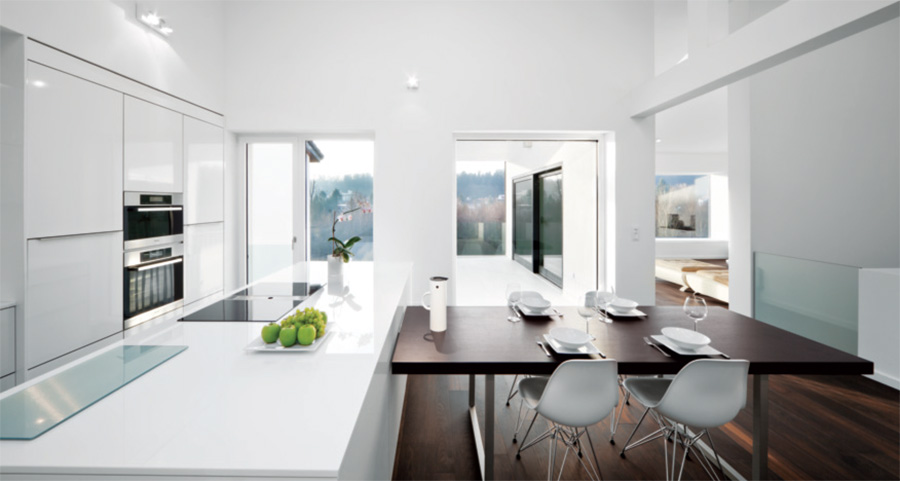 *Though PHPP and EnEv calculations were carried out, we've been unable to clarify which software was used to generate this figure.
Nature Centre, Hindsgavl, Denmark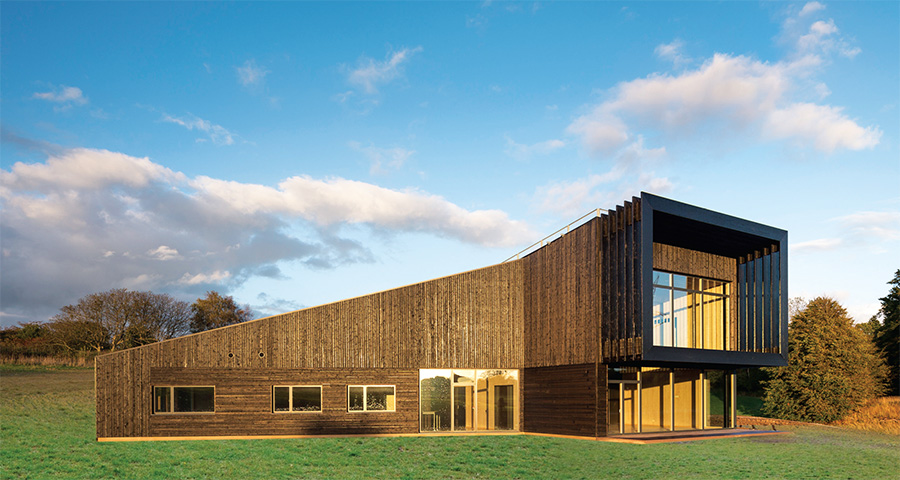 The Nature Centre, Hindsgavl, is an education and outdoor activity centre designed to introduce visitors to the surrounding nature reserve. The building houses teaching and exhibition spaces, offices, and other facilities for scouts, school children and other outdoor enthusiasts.
The centre was designed to meet the passive house standard, though its airtightness of 0.7 ACH is just outside the passive target. However, all the main surface U-values are 0.11 or better, and space heating is just under 15 kWh/m2/yr. The walls feature the Isover Plus prefabricated insulation system, comprised of panels of rigid glasswool, while the Isover Vario system provides airtightness.
Designed by Danish firm AART Architects, the 450 square metre building was finished in 2012. The large glazed facades create a connection between the internal and outdoor environments, while the walls are clad with solid heartwood both internally and externally. The building also features a vegetated roof, from which visitors can enjoy extensive views of the surrounding countryside.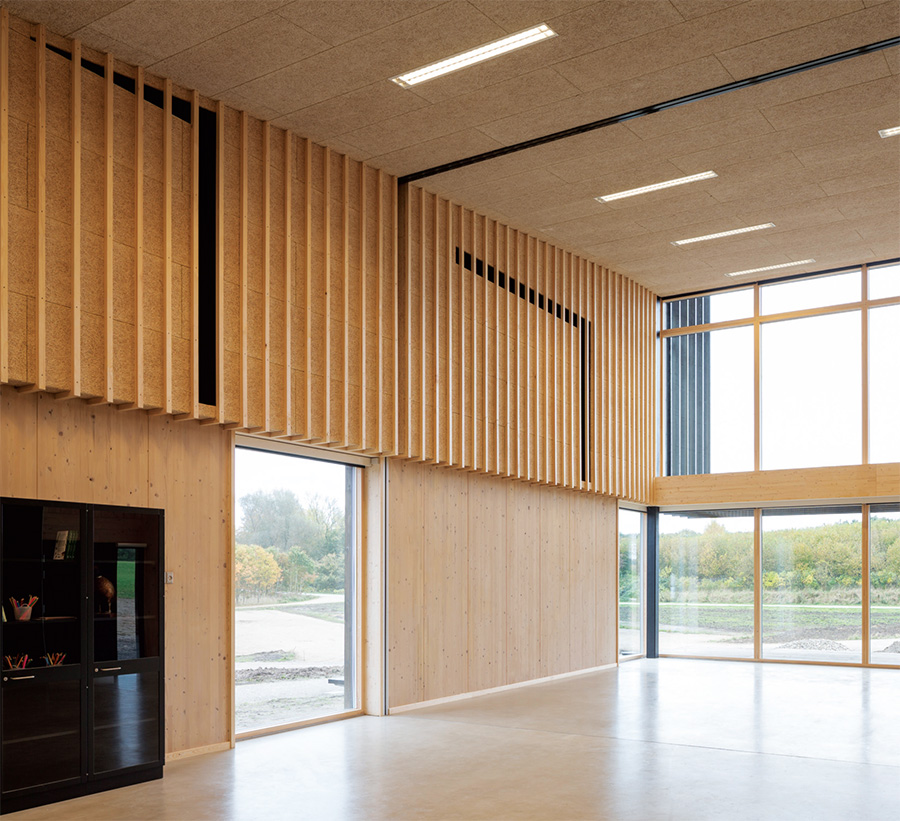 With solar photovoltaics on the roof, the building's net energy consumption is zero. All of which makes us wonder: while the building is designed to introduce visitors to the outdoors, might such a striking, low energy structure encourage them to stay inside instead?
Prispa House, Romania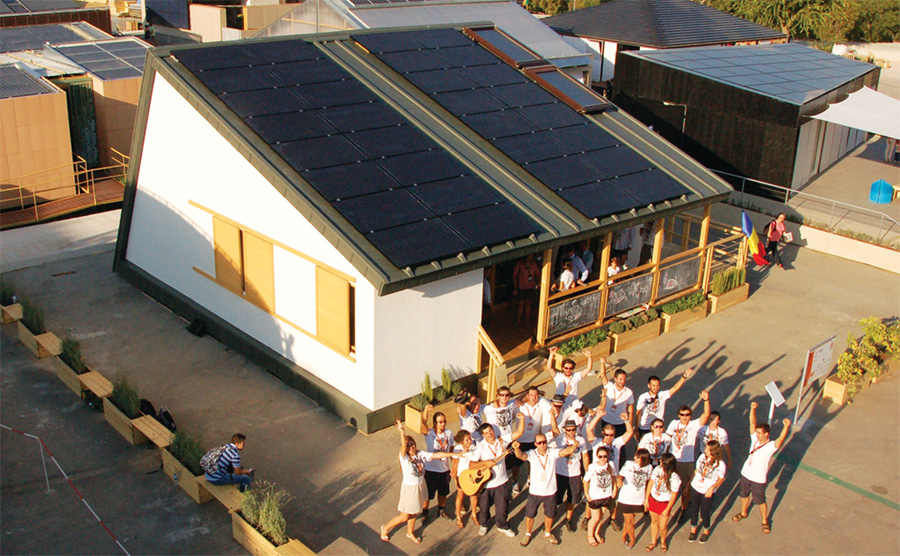 This small home was built by a Romanian team for the 2012 Solar Decathlon Europe, a competition that challenges university teams to build energy efficient, solar powered homes in just 13 days.
The timber frame walls, roof, and floor — which is raised off the ground — feature an unbroken layer of Isover glasswool insulation. The Isover Vario system provides airtightness, and the final test result was 0.8 air changes per hour.
Dubbed the Prispa House, the project is the result of a partnership between three different universities in Bucharest.
Its southern orientation provides a big roof space for an 8 kW photovoltaic array and two solar thermal collectors. Large sliding glass windows allow residents to open up the living space to the outdoors, while triple-glazing features throughout. The building even recycles its own greywater.
"Maximizing [the] glazed surface for daylight and minimising heat loss through the same glazed surface, is a hard-to-maintain equilibrium, but not impossible to obtain," the designers say on their website, http://prispa.org.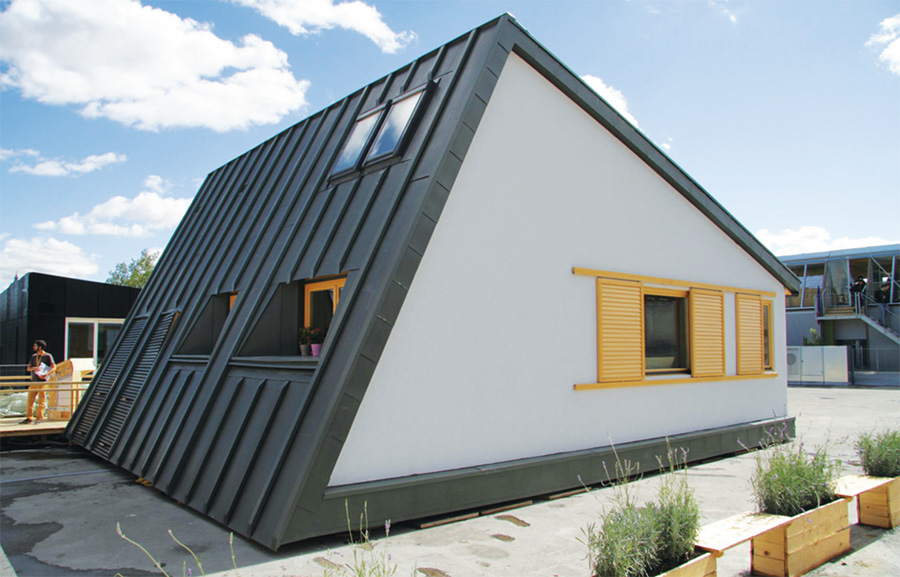 The natural stone floor provides some thermal mass, while clay-based renders help to regulate humidity inside. There's also an air-to-air heat pump, supplemented by infrared radiant panels.
The Solar Decathlon prototype cost €120,000, but the team hopes to get the price down to €70,000 for the mass market.
Prispa was designed to provide affordable, adaptable, energy efficient accommodation — principally for rural Romania. If sited in Bucharest, it would produce 20% more energy than it consumes.
Not bad for a house built in less than two weeks.
Catholic Church, Równia Szaflarska, southern Poland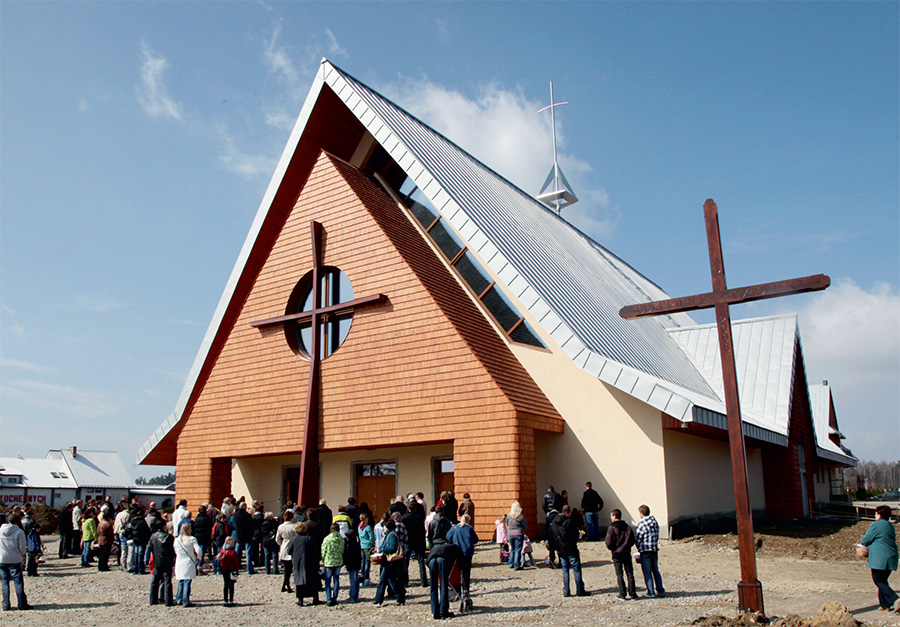 Here's something you don't see every day: a passive church*. In designing the structure, architects Pasywna, Pyszczek & Stelmach, had to satisfy complex demands: the building had to be extremely energy efficient, built in a vernacular style, and provide a functioning ecclesiastical space.
The local style of architecture in this high altitude region demanded a steep roof, but this greatly increased the surface area — not ideal for meeting the passive house sandard.
The roof was built with locally sourced, low cost timber, but airtightness and thermal bridging — particular at the spire-roof junction, and around the eaves — was a challenge.
Below the roof, the main body of the building is concrete with solid masonry walls and concrete floors. Isover glasswool insulation and the Vario airtightness system were both used, and all the main building elements have U-values around 0.1.
The church is designed to hold about 500 worshippers. It also features low temperature underfloor heating, which is supplied by a geothermal heat pump drawing on deep-water wells. Airtightness is spot on the passive house target of 0.6 air changes per hour, while space heating and cooling demand is just under 14 kWh/m2/yr. Its architects call the building a "passive church for active believers".
*The project isn't listed on the Passive House Database at http://www.passivhausprojekte.de/ and as Passive House Plus went to press the architect hadn't confirmed that the project is certified.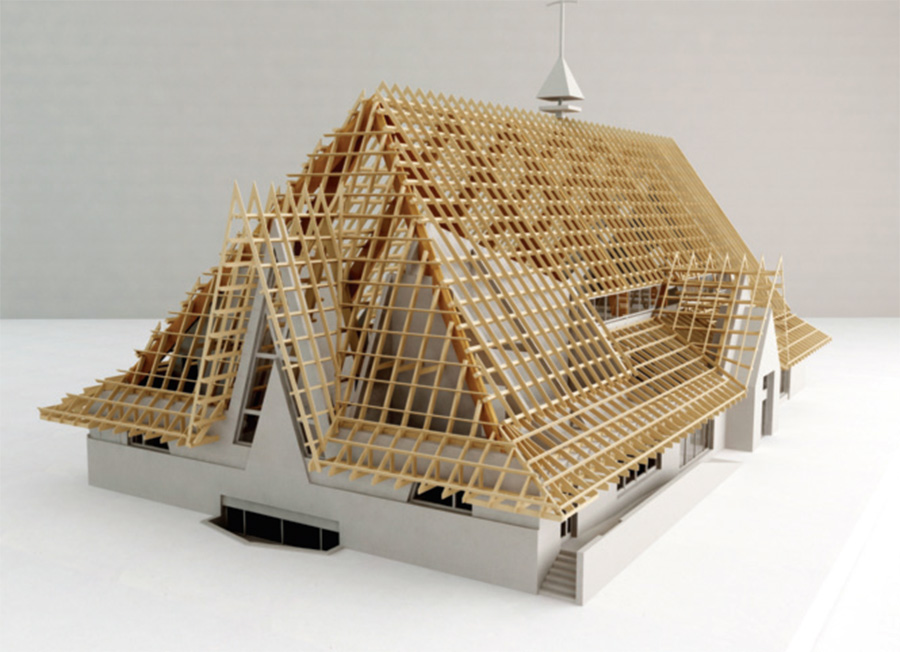 Save
Latest from Dudley Colley