Brian Dowd
Opinion

Brian Dowd, ESB's products and services manager, talks about the company's new energy strategy and the launch of the next phase of their Halo programme.
Climate change, the need for greater energy efficiency and for low-carbon energy, the capabilities of new technologies and the need to deliver better services and greater value to customers are all driving rapid and dramatic changes in the energy industry.

Recognising these changes, ESB launched a new strategy which charts a route for us to become a zero-carbon company. We committed to significant investment in wind power and we set out a major programme of investment in our generation and network assets. Furthermore, we committed to being exemplary in our own use of energy and resources and will be to the forefront in the efficient use of energy and water and in the management of waste. An internal sustainability programme is in place to deliver these objectives. ESB has also established a new products and services division as part of ESB Energy Solutions, to deliver a growing range of energy products and services to our customers.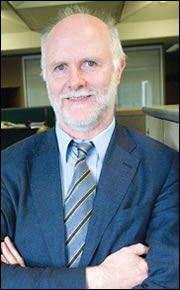 ESB's strategic framework and corporate plan committed ESB to delivering a number of energy efficiency initiatives to domestic customers and renewed ESB's commitment to addressing the needs of the elderly and of households at risk of fuel poverty. Our Home Insulation scheme, a programme designed to tackle fuel poverty by offering energy upgrades to pensioners, and ESB's Halo programme, which supported SEAI's Home Energy Saving scheme by offering free home energy audits and independent advice on retrofit measures, have delivered on these commitments and form the first foundations on which an enduring energy services business will be built.

In ESB Halo, though we only targeted specific residential areas originally, we carried out over 20,000 free surveys as word of mouth spread and press coverage grew. That first phase of ESB's Halo programme is now complete, and we will launch the next phase — ESB Halo Installation Services — on 1 October.

Now, not only can we provide advice householders can trust, but we can also offer a full home energy upgrade. Under ESB Halo Installation Services we'll offer the full range of Home Energy Saving scheme measures as well as other products such as window replacement, ventilation systems and micro-renewable technologies such as solar thermal, solar photovoltaic and heat pumps. The ESB Halo programme will also offer BERs and will provide assistance to householders with grant applications.

We're setting up a website and a phone number as a first point of contact for customers who are considering having work done in their home. Customers' enquiries will be logged and our installers will visit homeowners and provide them with trust-worthy advice and competitive quotations.

We have selected a small number of established contractors to deliver the ESB Halo Installation Services. In this way we're supporting existing contractors, supporting the industry and benefitting from the expertise that already exists. We've also contracted competent companies to provide quality assurance for all work carried out. The quality assurance standards will apply to the recommendation and design stage as well as to all installation work. It's important to us that the measures that we recommend are appropriate and suit the particular circumstances of each individual householder.

We have standard specifications for all the grant-assisted measures we're offering. These were largely formed from specifications that are already in existence developed by SEAI for the Home Energy Saving scheme and from current legislative documents and guidelines. In the case of ventilation and micro-renewable technologies, we went through a specific selection process to pick high quality, high efficiency and best value products which we can offer to our customers.

On financing, we're very pleased to be able to announce that we have entered into an association with the Bank of Ireland who will offer a green personal loan at a discounted interest rate.

We are aware of the issues raised by the architect Joseph Little in his excellent 'Breaking the Mould' series of articles for Construct Ireland about the risks associated with internal dry lining. We acknowledge the advantages of properly installed external insulation but not everyone will want to opt for that.

We invited Joseph into brief our team on design issues at an early stage of our preparations and have also included a specification for ventilation and heat recovery systems among the products that we can offer householders. We recognise that not all householders will want to have ventilation systems installed, but we'll be recommending that householders install appropriate ventilation systems particularly if the external envelope is being sealed. We'll be offering two ventilation products: demand control ventilation and heat recovery ventilation.

The government aims to upgrade a million buildings by 2020 and is consulting on the proposed National Energy Retrofit Programme, which will kick off next year. ESB and other supply companies are engaging with the Department of Communications, Energy and Natural Resources on the National Energy Retro-fit Programme consultation, including on the issues that will need to be addressed to enable Save-As-You-Pay financing models.

To companies in the energy upgrade sector, ESB would say that we're making the retrofit cake bigger — by bringing our reputation and national coverage to the market, householders who otherwise might not have considered it will get work done. That will be good for the market as a whole. As the ESB Halo programme becomes established and grows, employment opportunities for professionals and for registered installers will also grow.

ESB Halo Installation services will offer trust-worthy advice and recommendations to householders nationwide and for those who wish to have energy efficiency work carried out. ESB will provide a one-stop-shop at competitive prices and to the high standards of workmanship and customer service that customers expect from ESB.