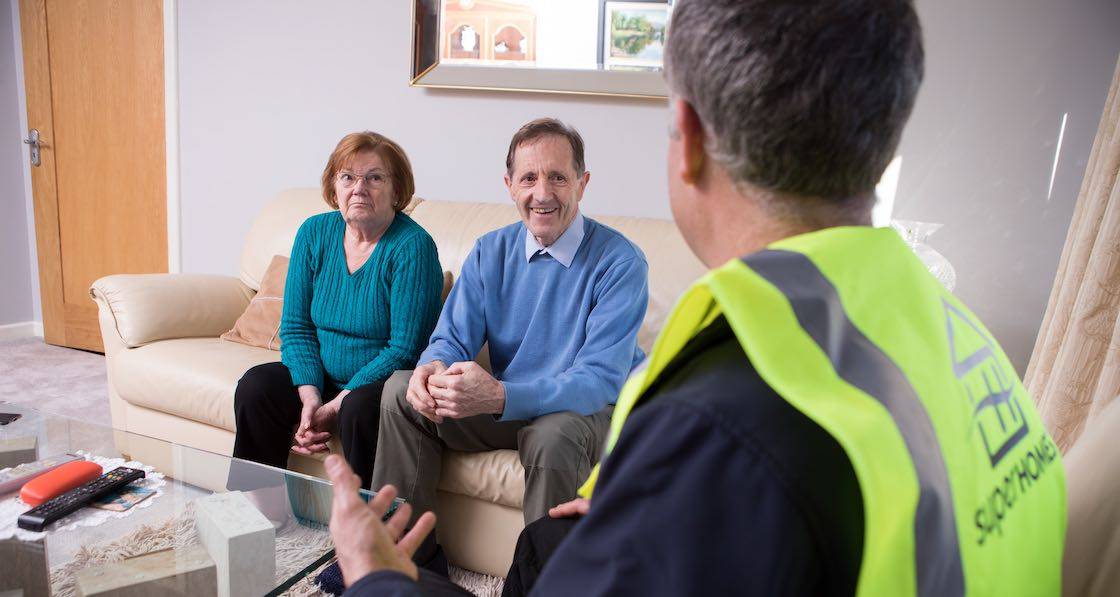 A SuperHomes engineer goes through the retrofit options with a couple in Co. Tipperary

News desk
SuperHomes Ireland seeks deep retrofit grant applicants
Applications are now open for 2020 for SuperHomes, the 'one-stop shop' scheme for home retrofit projects in Ireland.
The scheme – which has helped to steer the national conversation in Ireland on deep retrofit towards approaches which deliver real-world energy savings and indoor air quality – was set up to establish and deliver the most appropriate and cost-effective solutions for energy upgrading Irish homes.
A whole house-based approach, SuperHomes requires mandatory measures including airtightness works, the installation of mechanical ventilation systems, and installation of renewable energy heating systems such as air-to-water heat pumps. The components are designed to work together successfully to deliver a healthy, efficient and low carbon home, carried out in one carefully planned installation.
SuperHomes also announced that two of its projects recently received an A1 BER energy rating. One of the homes was originally built in 1850 and is one of only 34 existing dwellings, as opposed to new builds, to achieve a BER score of A1. To date, SuperHomes has retrofitted over 200 houses, the majority to A3 BER, securing grant funding for 100% of these projects.

Retrofit advisor David Flannery explains the approach SuperHomes are taking for the 2020 programme: "We're currently preparing applications for SEAI funding under the Better Energy Communities scheme. We have worked successfully with this scheme for a number of years and have sourced significant funding for our customers. Thirty-five per cent of the cost of a deep retrofit will be eligible for grant support. As always places are very limited, so we are advising applicants to start planning for their retrofit now. You can apply today on www.superhomes.ie."

SuperHomes will start retrofitting homes in April 2020 and continue until September. "This will suit a lot of people who want to plan their retrofit well in advance, perhaps have time off in the summer or who can't to disturb kids during the school year," said Flannery. "It takes up to three months to design and tender for a retrofit, so this isn't as far away as it sounds."
Last modified on Thursday, 12 December 2019 15:50