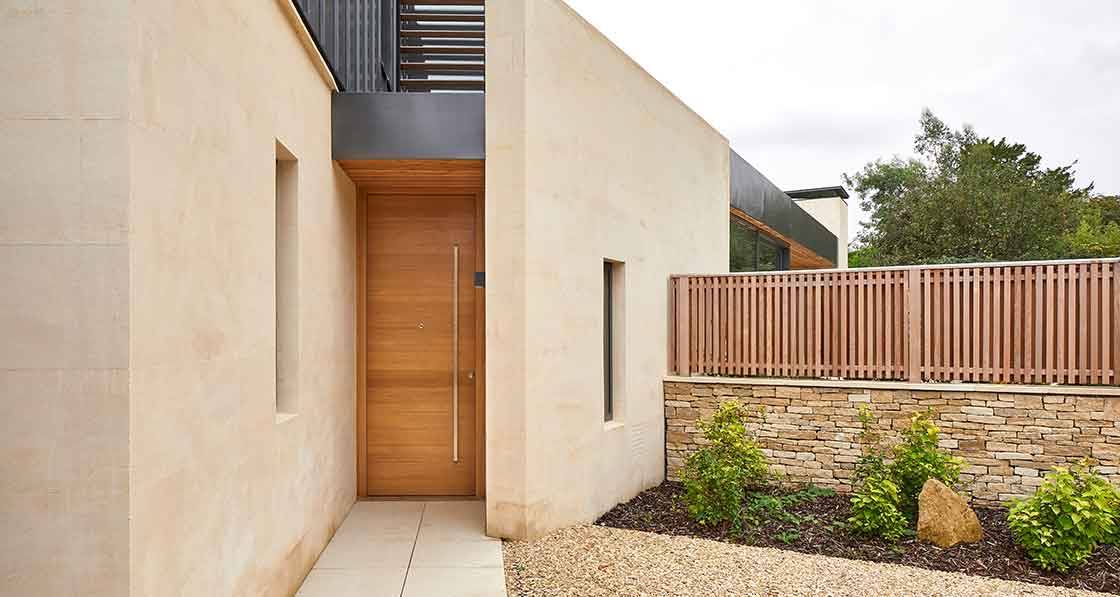 News Desk
Stunning Bath home features Urban Front oak doors
A stylish new low energy home within a World Heritage Site on the outskirts of Bath is one of the latest projects to feature an e98 passiv front door from UK manufacturer Urban Front.
This article was originally published in issue 26 of Passive House Plus magazine. Want immediate access to all back issues and exclusive extra content? Click here to subscribe for as little as €10, or click here to receive the next issue free of charge
Designed by Casa Architects, the Carrisbrooke residence was designed in PHPP according to passive house principles, though not certified, and achieved an airtightness of 1 air change per hour. It sits within the Bath World Heritage Site, famous for its architecture.
The e98 passiv door was specified for the dwelling in Urban Front's Neo pattern, featuring widening horizontal grooves in the European oak finish.
Urban Front holds a passive house certificate for the e98 passiv door, though it is not certified for the 1095mm x 2690mm dimensions specified at Carrisbrooke. The door boasts a U-value of 0.8 and class three airtightness.
The brief from the client at Carrisbrooke demanded a highly sustainable home, and the dwelling was constructed from a closed-panel timber frame system that came pre-insulated with wood fibre.
For more on e98 passiv see www.urbanfront.com
Last modified on Tuesday, 14 August 2018 17:39