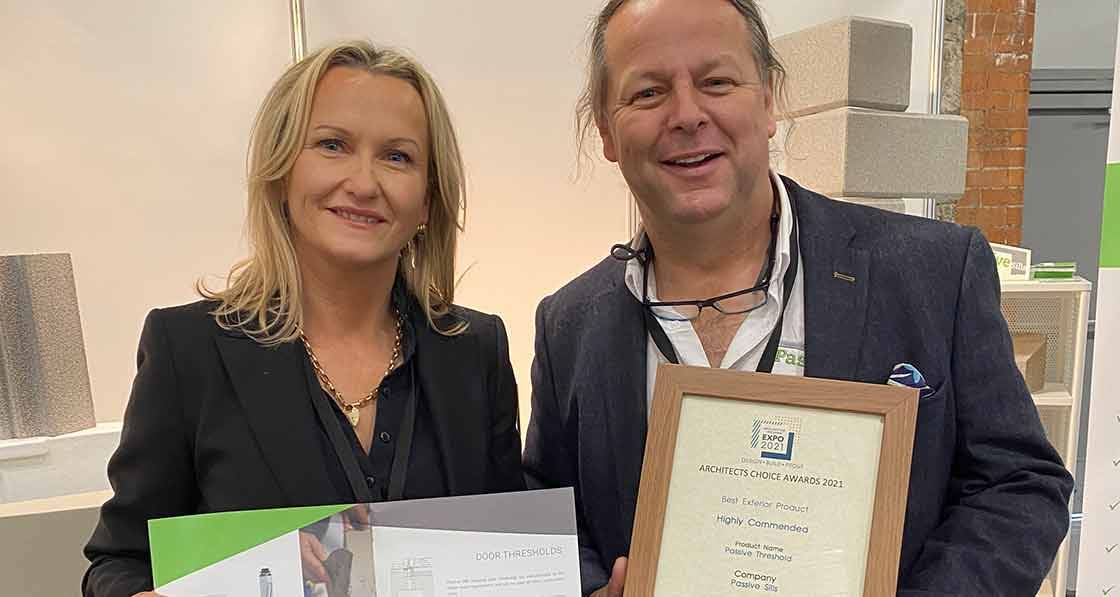 Aileen Donovan and Patrick Beausang of Passive Sills pictured with the highly commended exterior product award at the Architecture & Building Expo 2021.

News Desk
Passive Sills wins product award for insulated threshold
Cork-based manufacturer Passive Sills was highly commended in the exterior product category at the Architects' Choice Product Awards at the Architecture & Building Expo 2021
This article was originally published in issue 40 of Passive House Plus magazine. Want immediate access to all back issues and exclusive extra content? Click here to subscribe for as little as €10, or click here to receive the next issue free of charge
The company is a leading specialist provider of lightweight low-thermal conductivity windowsills, oversills and insulated thresholds. "We are extremely proud to have achieved a highly commended award in the best exterior product category for our Passive Sills Threshold," said chief executive Patrick Beausang.
"Threshold details have traditionally been a nightmare for builders up to now, with options available being expensive and the installation difficult and time consuming. The Passive Sills Threshold is effectively a plug-and-play solution, with all details taken care of — the unit can be installed quickly and is low cost."
Passive Sills design, fabricate and supply their range of products to commercial and residential projects internationally from their manufacturing facility in Youghal, Co Cork. The company's range of products is compliant with Irish and UK building regulations and energy efficiency standards.
"The reality we face is that both new houses being built today and older properties will continue to need to be retrofitted in the future," Beausang said. "This means more than simply increasing cavity size and insulation. The more we insulate, the more we actually accentuate cold bridging problems. The Passive Sills insulated door thresholds are manufactured to clients' exact requirements and can be a highly effective tool in the battle against cold bridging without over insulating."
Suitable for most construction types, the unit minimises cold bridging on the door threshold as well as floor-to-ceiling glass systems. The thresholds are manufactured from high density polystyrene and coated with a high performance waterproof coating, and can carry up to half a tonne per linear meter in weight.
For more information see www.passivesills.com