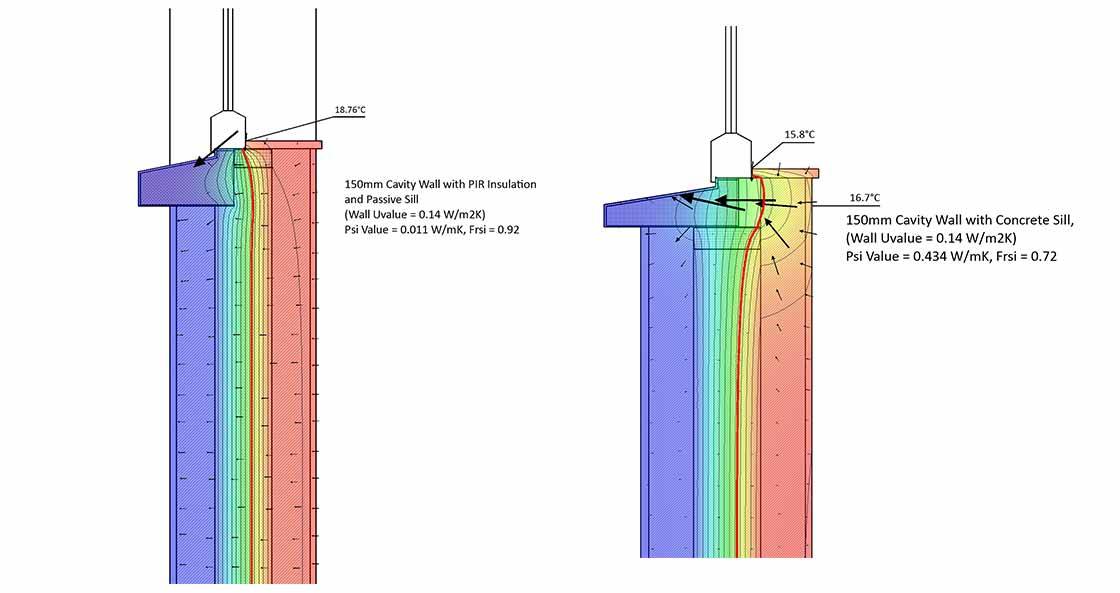 News Desk
Passive Sills cut thermal bridging & mould risk — new analysis
A
thermal bridging
analysis of Passive Sills's insulated window sills has revealed how they can significantly reduce thermal bridging at this crucial junction.
This article was originally published in issue 34 of Passive House Plus magazine. Want immediate access to all back issues and exclusive extra content? Click here to subscribe for as little as €10, or click here to receive the next issue free of charge
The analysis, performed by Wain Morehead Architects, concluded: "The Passive Sills product significantly reduces thermal bridging at window sills and can reduce heat loss through the junction by up to 63% when compared with a traditional concrete sill built in accordance with the Acceptable Construction Details."
It also found that, compared to an ill-fitted concrete sill, where the continuity of insulation is not maintained, the Passive Sill would reduce heat flow through the junction by 97%.
Wain Morehead's analysis concluded: "The Passive Sill ensures that internal surface temperatures (fRsi or temperature factor) remain well above the threshold value of 0.75, set out in Appendix D of Technical Guidance Document L.
"The Passive Sill ensures the temperature factor remains above the threshold value of 0.75 even when assessed to the more onerous standard of DIN 4108, which considers areas that are particularly susceptible to mould growth and condensation risk due to reduced air flow such as areas behind furniture and curtains."
Commenting on the analysis, Patrick Beausang of Passive Sills said: "What's the point of putting lots of insulation in your walls, roof and floor if you are going to have a point of heat loss at your window sill.
"The more that we insulate buildings, the more we accentuate thermal bridges at critical junctions such as window sills. And especially if traditional concrete or stone sills are poorly installed, these can then become focal points for condensation and mould in future. Passive Sills eliminate that risk."
Passive Sills manufacture window sills and other mouldings from polystyrene in their Cork factory. For more information see www.passivesills.com