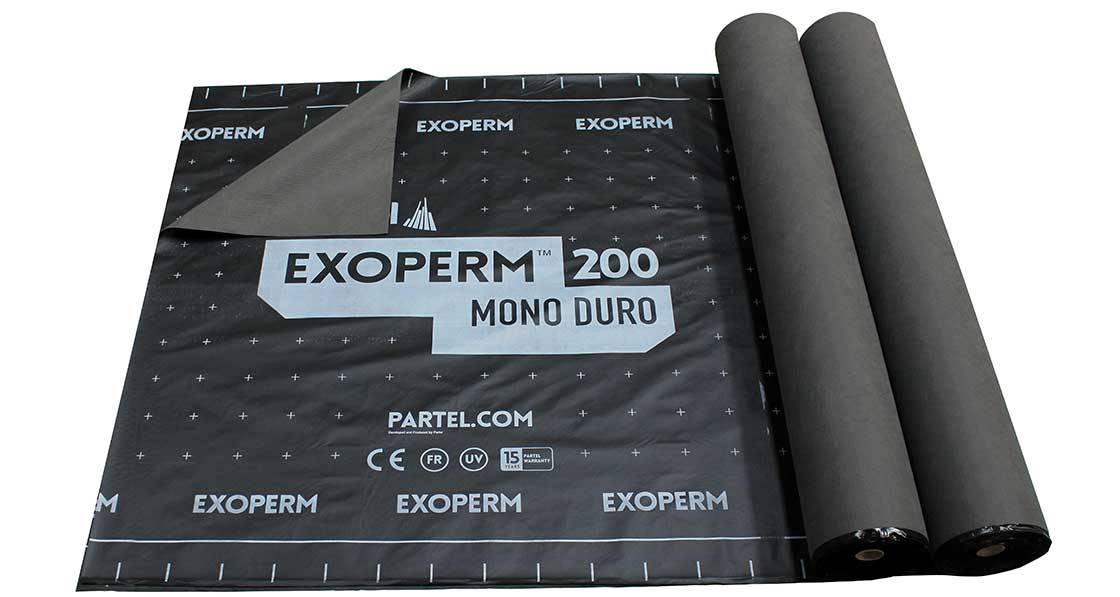 News Desk
Partel launches new fire-rated breather membrane
Low energy building product supplier Partel has launched a new premium class of protective flame-retardant breather membrane to the UK market. EXOPERM MONO DURO 200, with a Euroclass B fire rating, is designed for external applications within the low energy building sector.
This article was originally published in issue 34 of Passive House Plus magazine. Want immediate access to all back issues and exclusive extra content? Click here to subscribe for as little as €10, or click here to receive the next issue free of charge
Today, fire-rated breather membranes are the leading solution in planning any type of durable construction," said Hugh Whiriskey of Partel. "Designers, architects, engineers, and builders are facing critical challenges such as more demanding environmental, health and safety regulations, as well as the need for a higher level of building fire safety that protects the building structure, as well as protecting lives."
Partel's new EXOPERM MONO DURO 200 membrane is designed to address these challenges and provide peace of mind in any condition.
The membrane has been tested in accordance with EN 13501-1, obtaining a B-s1, d0 classification. It is CE-certified according to EN 13859-2 and is ideal for use with both roof and rear-ventilated facades, featuring open or closed joints. It is suitable for use in all building types, from residential houses to high-rise construction, the company said.
Based on advanced monolithic TPU technology, EXOPERM MONO DURO 200 provides "outstanding water and wind-tightness properties, excellent ageing resistance while offering constant high performance throughout its useful lives," Whiriskey said.
Thanks to its unique two-layer structure — vapour permeable TPU coating combined with technical PES non-woven fabric — the membrane is designed to:
be highly breathable, reducing condensation risk
provide increased fire resistance, reducing flammability and smoke
offer long-lasting UV protection (the TPU monolithic-coated facade offers long-term UV protection, up to 10 years)
According to Partel, the TPU functional film ensures very high resistance of the membrane to stretching and tearing, which positively impacts the safety and speed of the builder's work, being very easy to handle.
The product is underpinned by an extensive 15-year warranty when used with typical vented facades, and a 10-year warranty for open joint facades (maximum proportion of joints 40% and a maximum joint width of 50 mm).
"EXOPERM MONO DURO 200 will enable our customers to improve building safety, increase design opportunities and enhance sustainability, making it easier for them to reliably build better, energy-efficient, and more durable construction," Whiriskey said.
For more see www.partel.co.uk