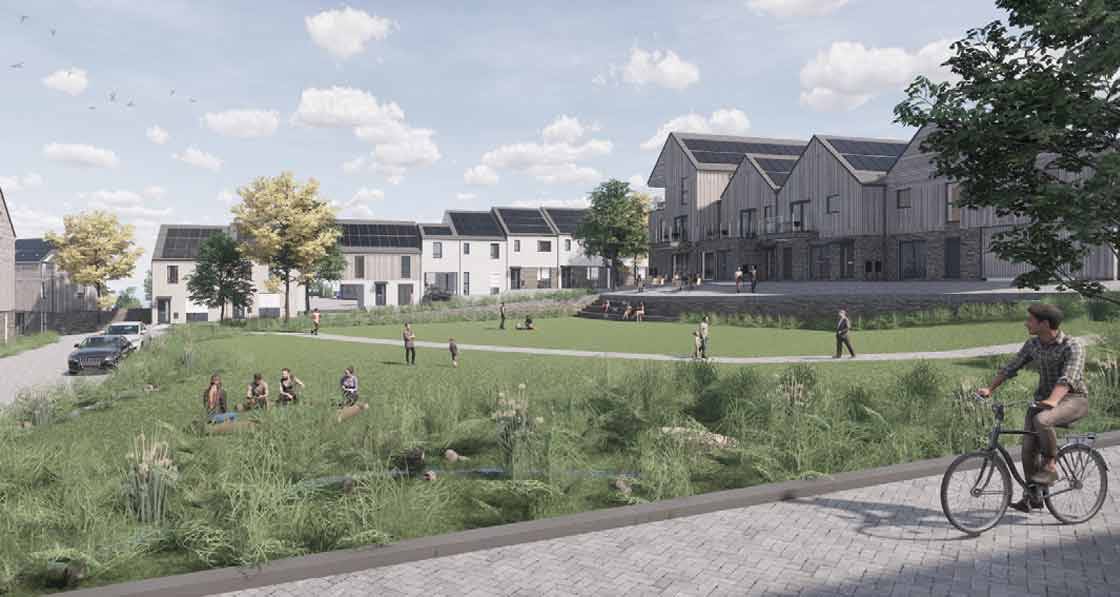 Welsh social housing to embrace passive house, timber & life cycle assessment
The Welsh government has issued a new standard for social housing that requires an embodied carbon assessment, favours timber-based offsite construction, and bans fossil fuel boilers.
This article was originally published in issue 40 of Passive House Plus magazine. Want immediate access to all back issues and exclusive extra content? Click here to subscribe for as little as €10, or click here to receive the next issue free of charge
Homes built under the Welsh Development Quality Requirements (WDQR) 2021 have to be highly energy efficient, with efficiency equivalent to an energy performance certificate (EPC) of A, using a fabric first approach. But they do not have to use SAP: other energy demand metrics, such as passive house certification, are also permitted.
The requirements apply to all publicly funded affordable housing. But the hope is that a version of this standard will go on to apply to all new housing in Wales. The requirements were welcomed by Gary Newman, chief executive of forestry and timber campaign group Woodknowledge Wales, as "quite an incredible standard".
At the Woodbuild 2021 event organised by Woodknowledge Wales, Welsh government architect Campbell Lammie, a lead author of the requirements, said they were intended to favour the use of local timber "while still being as open and non-prescriptive as possible".
Modern methods of construction (MMC) are a preferred delivery solution, and developers are asked to maximise the efficient use of timber in construction to increase carbon storage in harvested wood products in Wales. There is also a requirement to assess embodied impact. This encourages the use of timber, without dictating how homes should be built, Lammie said (see below).
The standard looks beyond SAP and EPCs for setting energy and carbon targets, with passive house certification being one acceptable alternative. "We do recognise that EPC A is at times at odds with low carbon. EPC does gravitate towards use of gas," Lammie said.
He added that the Welsh Government team was continuing to examine the best metrics to demonstrate building performance. "We will consider other metrics going forward and [it is] highly likely they will form part of updated standards." The standard is also intended to evolve in collaboration with the construction industry, with learning and feedback from designers, manufacturers and developers central to the process.
"We are up for being challenged on what we have said, and recognise the requirements will need updating more regularly than has happened in the past," said Lammie. The first revision may take place as soon as 2023.
The "signs are on the wall" that the standard may be extended to all housing development in the country, Lammie said, but this is a matter for minsters, as it would require changes to the planning and building regulations.
Lammie noted that some housebuilders are already reconsidering their standard designs, so that if the requirements come in for all housing, they will be ready. "We have had quite a lot of dialogue with one major housebuilder already — they are changing many of their house types to make sure they comply."
A win for timber
The Welsh Development Quality Requirements were launched with enthusiastic political backing for the homegrown timber industry in Wales. Speaking at the Woodbuild event, Lee Waters, deputy climate change minister, said: "For too long Welsh resources have been subject to exploitation from outside forces. The wood economy makes a real contribution to addressing the nature and climate emergencies. It also provides us with a way of creating jobs and skills and livelihoods in our rural areas. Housing is a big part of this."
Several of the new requirements point strongly towards timber-based construction, including the requirement to assess and reduce upfront and embodied carbon.
Lammie added that the promotion of buildings which "can be adapted, reused or deconstructed and recovered/recycled" is also timber-friendly. "Timber stands above many other materials as it is very recyclable," he said.
Neil Barber, executive director of Swansea- based housing association Pobl, was enthusiastic about the new standard. He welcomed the fact that the requirements – and the associated financial support — have moved from pilot programmes into the mainstream. "We need to embed this approach, to learn, and to learn quickly, and bring the timber industry along, so the supply chain can survive and thrive," he said.
"We are working with excellent local companies, to evolve these products together. There is plenty of scope for standardisation of systems that work with the new standards — including inbuilt ducting for new technologies for example."
Current supply chain pressures are also bringing home the urgency of the situation: "Materials and components [are] scarce, and we have seen some eye-watering price increases. It sends a big message to us: if we can get on top of timber supply this will give us some hedging against global impacts. Hopefully, this is another gift we can give [to] future generations."
Photo (above): Gwynfean is a 144-home mixed-tenure joint development to be built by Pobl Group and Coastal Housing near Swansea. It uses an insulated timber- frame system constructed off-site. Pobl's Neil Barber described it as: "The first scheme at this scale where we've really focused on Welsh timber and focused on the embodied carbon of all the materials."
Last modified on Monday, 31 January 2022 13:17