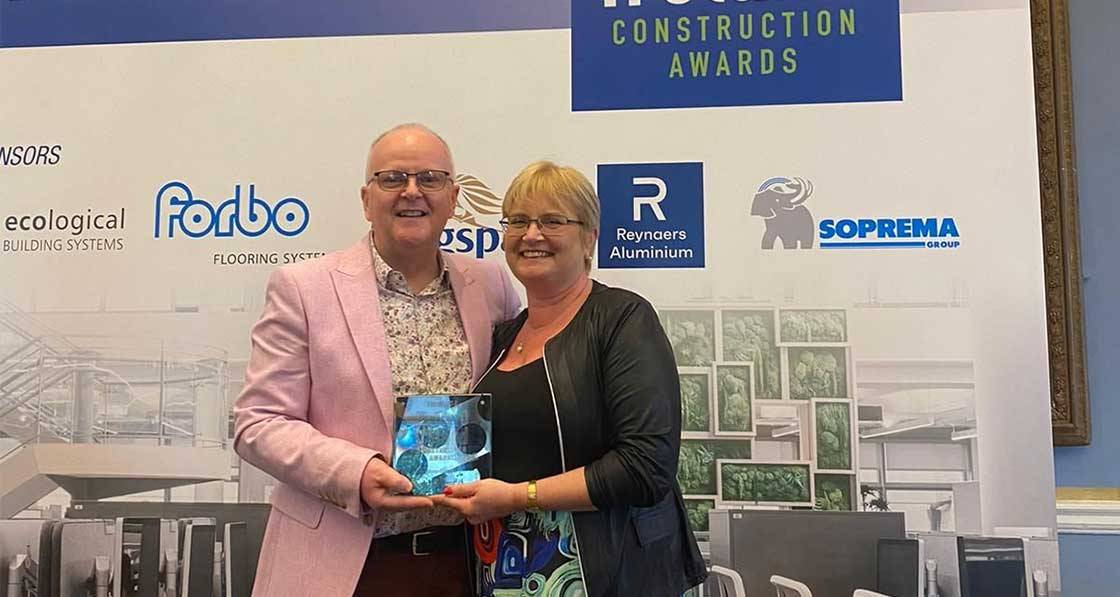 News Desk
Passive house pioneer wins net zero champion award
Passive house expert Tomas O'Leary has been heralded for his decades of low energy building pioneering – picking up the Net Zero Champion Award at the inaugural Towards Net Zero Awards at the RDS in November.
This article was originally published in issue 43 of Passive House Plus magazine. Want immediate access to all back issues and exclusive extra content? Click here to subscribe for as little as €15, or click here to receive the next issue free of charge
Jason Smith of Lawler Sustainability was also highly commended in the category. Peter Nickels Architects' Enerphit upgrade to the architects' own home in Dartry – featured in a detailed case study in issue 39 of PH+ – won the Retrofit of a Building Award, with Dockline by Axis Engineering, a renovation to New Century House in the IFSC, highly commended.
DTA Architects Highfield Park won the Housing Development Award, with Coady Architects' Kilbride Court social housing scheme – as featured in issue 40 of PH+ – highly commended and Cleary Doyle's Jameson Heights commended.
BDP won the Commercial Building Award for the ESB Offices commercial block in Fitzwilliam Street, which is set to feature in issue 44 of PH+. BDP were highly commended for their Wren Urban Nest Hotel in the same category, with Denise Byrne Architects commended for the Gas Networks Ireland Services Centre (as featured in PH+ issue 18).
Rhatigan Architects' Donegal Town Garda Station won the Public Building Award, while Robert Bourke Architects won the Design Practice Award.
Meanwhile property developers D|Res won the Climate Action & Sustainability Award at the KPMG Irish Independent Property Industry Excellence Awards for their Tinakilly Park housing scheme (featured in PH+ issue 41). Peter Nickels' Enerphit and Coady's Kilbride Court were shortlisted under the same category, alongside Tipperary Energy Agency's Lahinch Leisure Centre.
One project published in this issue of Passive House Plus continues the recognition for ultra-low energy housing – Fraser Millar's Lancaster Park housing scheme in Belfast , which won the Green Development of the Year at the Property Pal Awards, and Climate Company of the Year at the Belfast Telegraph Property Awards, with Fraser Millar highly commended for Green/ Sustainable Business of the Year at the AIB Business Eye Awards.
Last modified on Friday, 14 July 2023 11:54