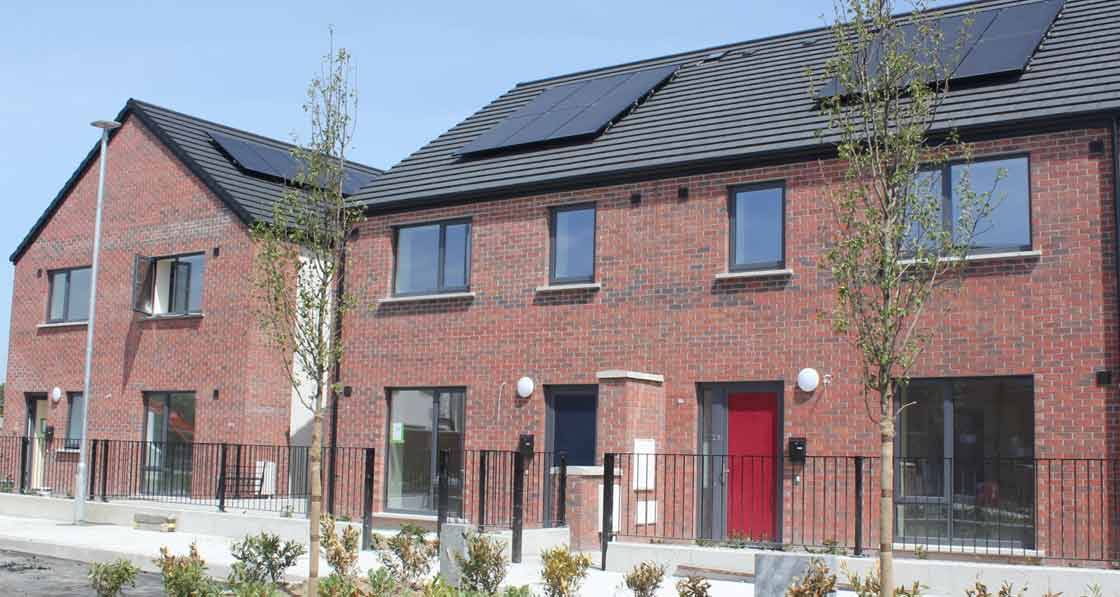 A new housing scheme in Dunleer, Louth, that is certified by the Irish Green Building Council's Home Performance Index, which includes a zero carbon standard incorporating both operational and embodied energy.

News Desk
Building sector must show bold climate leadership
In late 2018, the IPCC issued a stark warning. It highlighted that limiting global warming to 1.5 C is crucial to avoiding the most catastrophic impacts of climate change. It also clearly established that achieving the goals of the Paris climate agreement will require action at an unprecedented pace and scale. To maximise the chances of limiting global warming to 1.5 C, all sectors of the economy must achieve significant emissions reductions, and the building sector must fully decarbonise by 2050.
This article was originally published in issue 35 of Passive House Plus magazine. Want immediate access to all back issues and exclusive extra content? Click here to subscribe for as little as €10, or click here to receive the next issue free of charge
To support faster and more ambitious actions on climate, this year's World Green Building Week (21 to 25 September) focuses on delivering net zero carbon buildings and neighbourhoods. As part of this campaign, the Irish Green Building Council (IGBC) is calling on the building sector, policymakers and governments to take concrete action for the decarbonisation of buildings. In particular, the IGBC is calling on Irish businesses and local authorities to take a leadership role and to sign up to the Advancing Net Zero Commitment.
The commitment, which aims to see 100% uptake of net zero carbon buildings by 2050, challenges businesses and cities to ensure that all buildings they own, occupy and/or develop operate at net zero carbon by 2030. The technical solutions exist and are being applied to projects around the world. Some of these solutions are being showcased through live tours and webinars during World Green Building Week. Replays will be available on www.igbc.ie.
To facilitate this transition, the IGBC has also developed a zero carbon standard for new homes. Home builders can now offer certified zero carbon homes to home buyers, through the zero carbon standard within the Home Performance Index certification. Besides energy efficiency, the new zero carbon standard considers the upfront carbon emissions associated with the construction of the homes. It also encourages home builders to measure how the homes perform after they are purchased and lived in.
Bringing embodied carbon upfront
Most of the industry and policy focus to date has been on tackling operational carbon, 29% of global emissions. But the construction of new buildings and infrastructure accounts for 11% of global carbon emissions, before they are even used or operated. These 'embodied carbon' emissions result from use of carbon intensive construction products and wasteful practices in the design and construction process.
A growing number of product manufacturers have produced environmental product declarations (EPDs) over the last few months. EPDs are a standardised way for manufacturers to display information on the environmental impact of building products, including global warming potential. Ultimately, EPDs allow architects and other building product specifiers to make more informed choices about the materials they use.
To support net zero carbon buildings, the IGBC is calling on companies designing and developing buildings to ask for EPDs. Organisations such as Dublin City Council, John Sisk & Sons, Coady Architects, Wain Morehead Architects, Transport Infrastructure Ireland and BDP have already signed the IGBC's EPD commitment. As part of this commitment, they have committed to ask for EPDs and to prefer products with EPDs where possible (within procurement rules).
Retrofitting our existing building stock
Ireland cannot achieve carbon neutrality by 2050 without decarbonising its existing building stock. Barriers to deep renovation are perceptual, technical and financial. Many homeowners cannot afford to do everything at once or are limited by the need to continue to live in the house while work is being done. Even when attractive financing options are available, these are not necessarily enough to spur people to overcome the difficulties they perceive with undertaking energy efficiency upgrades. Next to the availability of finance, property owners are often confronted with a lack of awareness about the costs and benefits of renovation, and with a lack of understanding of the process — what to do, where to start, which measures to implement and in which order.
To address this issue, the IGBC, with support from SEAI, is exploring the opportunity of introducing a building renovation passport (BRP) in Ireland. BRPs are masterplans for retrofit and include a record of works. By providing a set of actions, sequence and estimated costs, to inform improvements towards more energy efficient homes, they address the barriers to consumer decision-making. They can also embed the longterm ambition (2050 carbon neutrality target) into the short and medium-term steps of renovation.
A building renovation passport has been piloted on 20 single-family dwellings across Ireland over the last six months, and a comprehensive feasibility study is currently about to be published.
With less than ten years to address the climate crisis, all of us have a role to play. Whether it's raising awareness on how buildings can tackle the climate crisis, sharing experiences and best practice, or showing leadership through the advancing net zero or EPD commitment, we encourage you to get involved in World Green Building Week 2020 and to #ActOnClimate
Last modified on Monday, 21 September 2020 09:28