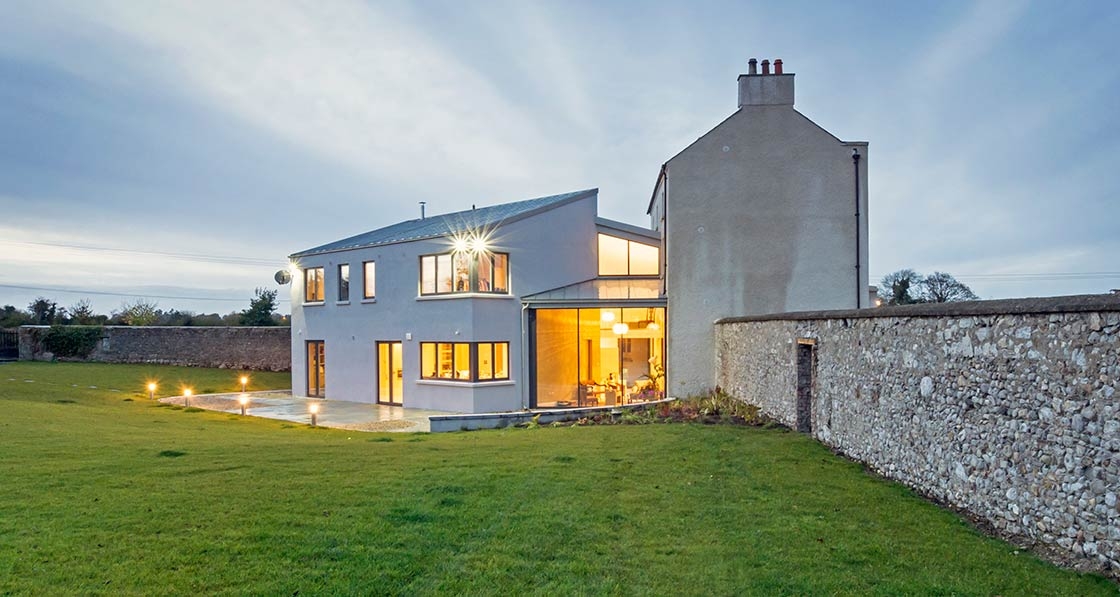 Photos: Tomasz Juszczak / Imageworks
18th century ruin becomes stylish low-energy home
Homeowners Anne and Patrick Jordan's ambitious upgrade and extension project in County Kildare took the shell of an 18th century farmhouse and transformed it into an elegant family home with a striking-yet-sensitive modern extension — all while embracing a healthy and fabric-first approach to retrofit combined with clever heating system design that has brought them from a G to an A3 rating.
Click here for project specs and suppliers
This article was originally published in issue 19 of Passive House Plus magazine. Want immediate access to all back issues and exclusive extra content? Click here to subscribe for as little as €10, or click here to receive the next issue free of charge
You can't see it when you turn off the main road and start driving down the short but narrow gravel pathway, but once past the forest of trees that hide this newly renovated 18th century farmhouse from general view, its tall four-storey structure reveals itself dramatically.
As first impressions go, it looks great. It's far more understated than you might expect a building like this to be — you might even describe it as minimalist, with its simple and subtle finishes. Pebble-dash may be out of fashion, but this building has an unpainted period roughcast finish that looks just right.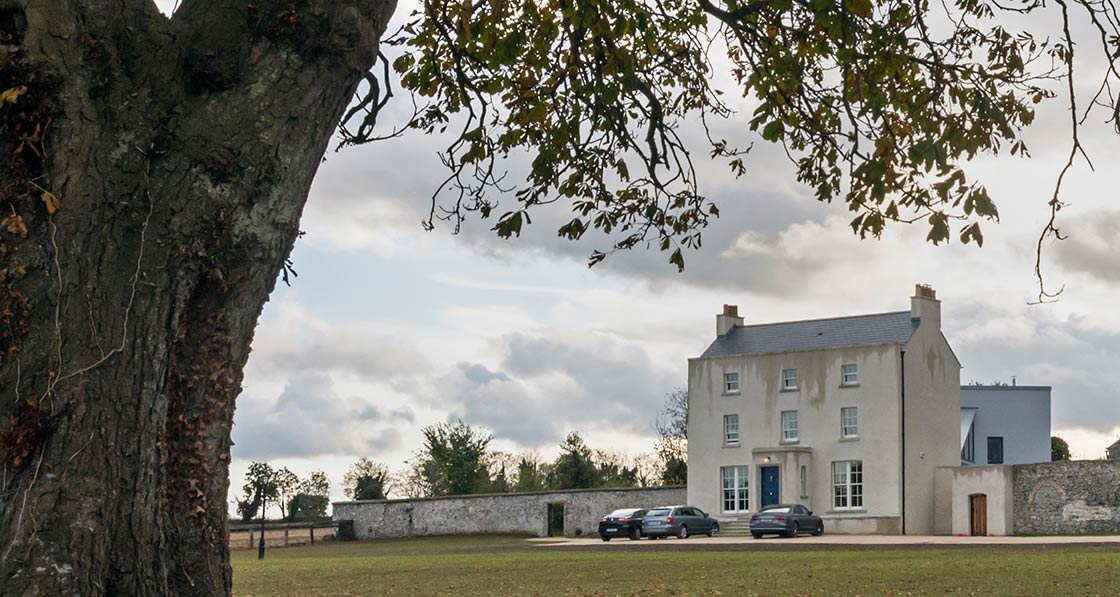 The traditional white sliding sash front windows are beautifully painted and elegant, while everything else, including the front porch, the steps and the landscaping are all finished in the same subtle but tasteful theme.
But you're also looking at a historic building that has been retrofitted to a building energy rating of A3, a spectacular achievement in anyone's book. After all, there are a whole range of challenges involved in trying to undertake a deep energy retrofit on a building like this — and some building conservation experts would argue that you shouldn't even try to. So, how did the team behind the project — which included Maxwell Pierce Architects, Mesh Architects, and leading low energy builder Pat Doran Construction Ltd — manage to do it?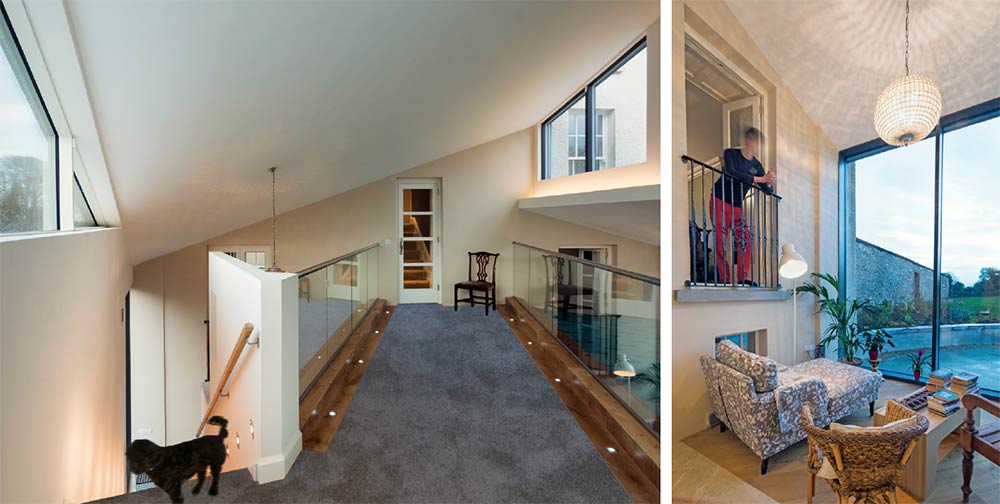 Part of the answer comes as the driveway sweeps to the far left side of the house, where a large, ultra-modern and multi-angled extension at the back gradually comes into view over the long and high rubble wall that fences off the rear of the property.
It's not the type of modern extension that is common on other historic buildings, which often feature a glassy tunnel-type link connecting the old building with what is essentially a brand new structure. This is a proper extension — it's all of one piece.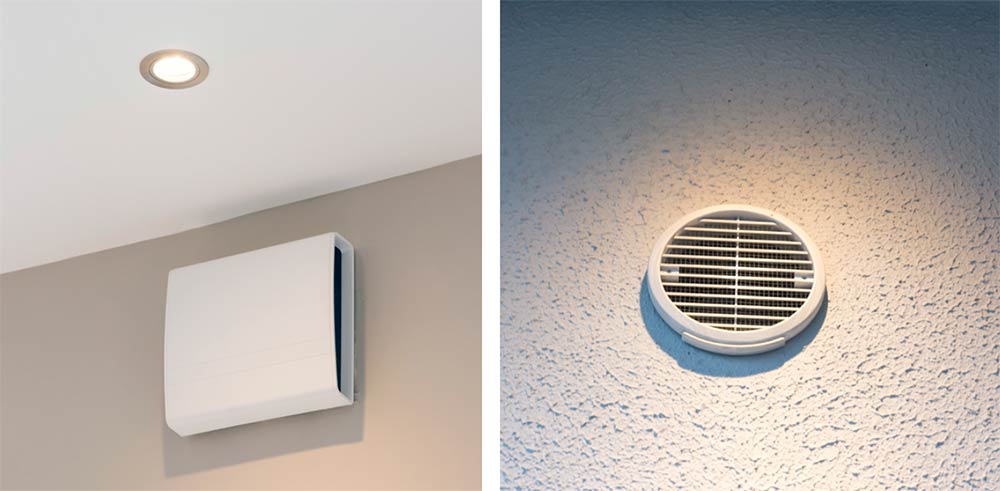 (above) The house is ventilated via Lunos decentralised mechanical ventilation systems with heat recovery.
Looking at the technical specs, it's clear the new extension could probably achieve passive house certification on its own with its passive slab foundations, triple-glazed windows, airtightness, and a highly angled design and orientation that seeks to maximise solar gain.
But while it turns out that a high BER rating was achievable for the whole building, striving for passive house certification would have made no sense because of the physical marriage between a modern high-performance extension envelope and an old-style, solid masonry, minimally insulated structure with traditional sash windows and a four-storey construction that is just one room deep, resulting in all the main rooms having three or four external walls (meaning there is a high surface-to-volume area from which heat can escape).
Architect Bill Maxwell of Enniskillen-based Maxwell Pierce has worked on plenty of historic buildings with extensions, but making such dwellings work as single, seamless entities from an energy and comfort point of view can be difficult — unless you also have the opportunity to strip the older building back to its bare bones and start again from scratch, as was the case here.
If this is not possible, he actively discourages adding modern extensions to historic buildings because of the propensity of the older buildings to devour heat. If the homeowners cannot make serious improvements to insulation and airtightness in the original building, they will have to continue spending huge amounts just to keep the temperature of the old, leaky house somewhere near that of the new, well-insulated extension.
"The wee pieces that we have added on as extensions umpteen times for listed buildings don't have any huge positive impact on the overall property. The difference with the Jordans was that the extension became so much part and parcel of the house and we didn't want to have that division between the old bit and the new bit."
But what added a further difficulty to the deep retrofit of this particular near-300 year-old building was the zeal with which Kildare County Council required homeowners Patrick and Anne Jordan to preserve as far as possible its essential character and salvageable features. It turns out the local authority is more active in this regard compared with many others around the country, because so few historic buildings of any kind remain in the county.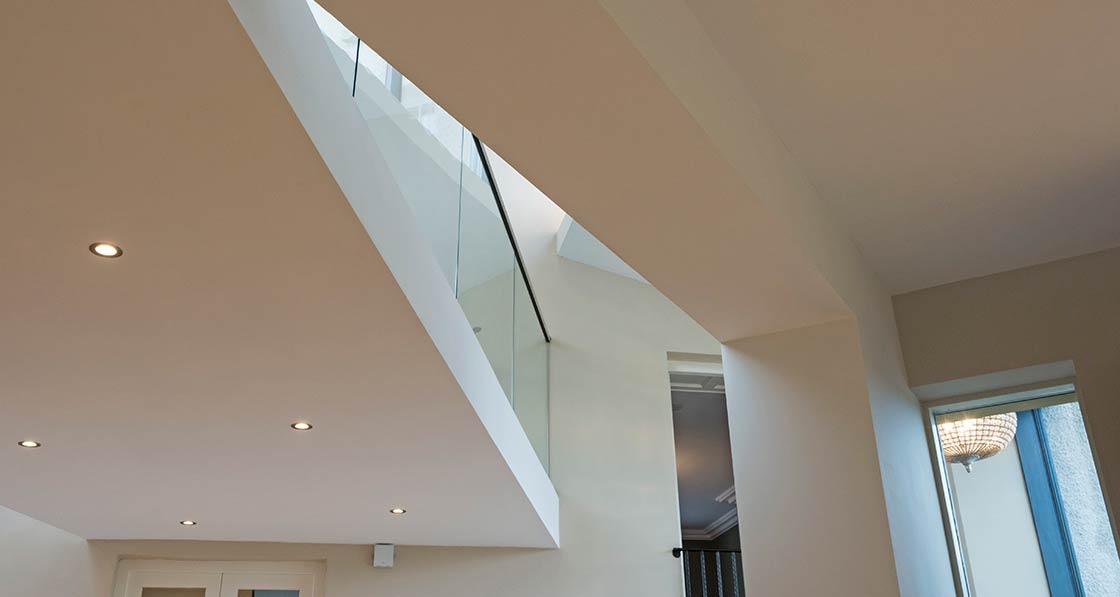 "On the cold-but-sunny morning I visit, it feels nicely warm everywhere in this house, without a hint of stuffiness."
When Patrick and Anne Jordan first spotted the house in 2009 (the couple and their five children were living just a few hundred yards away), it was in a bit of a mess, having been abandoned by its elderly owner a few years previously, and subsequently subjected to a period of continuous vandalism by students from a nearby secondary school before the windows were blocked up and the property made reasonably secure.
The couple bought the house and sat on it for a while before investigating the possibility of renovating it and adding a glassy extension. The house already had an ugly rear extension made out of pre-cast concrete that was grafted on in the 1920s, providing a plumbed toilet, kitchen and utility.
To this end, they consulted with a number of different architects, including one who had close links to Kildare County Council, and who persuaded them that the original structure was definitely worth preserving. But when they went to hire her services, she was all booked up — much to their disappointment. So they decided to knock the whole edifice down in favour of a new house of similar character.
"When we did that, Kildare County Council pounced and put a preservation order on it, despite there being no historical reference to or record of the building anywhere," said Anne Jordan.
Although the couple conceded to KCC's demand that they go back to their original plan to preserve and extend, Anne doesn't hide her exasperation at the exacting and sometimes tedious demands of the building conservation procedure that followed, which included continuous consultations with the local authority as the project rolled along.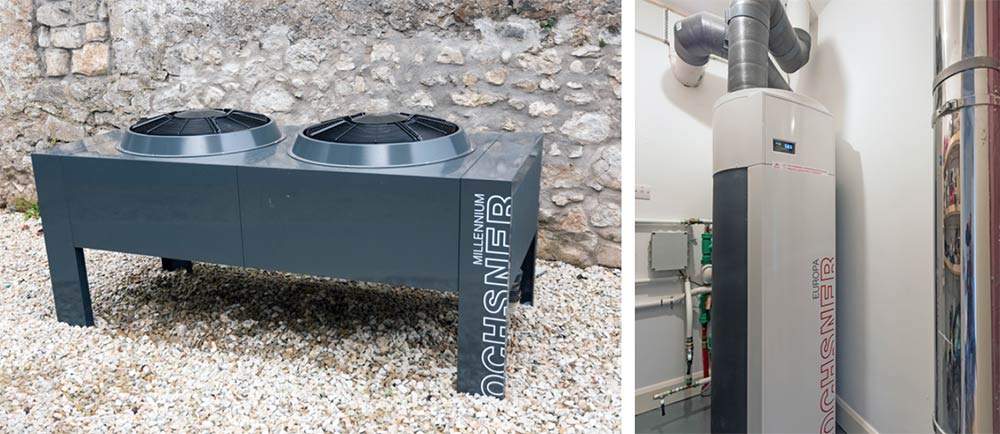 (Above) the house is heated by an Ochsner 18kW air source heat pump, with features a separate horizontal split evaporator that sits outside the house. The system includes an 800 litre buffer tank and a 300 litre hot water cylinder with exhaust heat recovery from the bathrooms. Heat is distributed via underfloor heating circuits throughout all three floors of the house.
"We were told this house had to be tended to carefully, and that it needed a grade one architect, which is a load of whallop because it's just a farmhouse, it's not government buildings…Conservation is important, but we were trying to embrace new ways as well," she added.
Sunni Goodson — an architectural conservation specialist with grade one architects Mesh — was appointed to be the main intermediary between the Jordans and the council. She readily concedes that the house is not a protected structure and that much of its historic fabric had been compromised, but says it was "still just a gem of a house".
"The vaulted brick ceiling at basement level and a portion of the original staircase survived, as well as floor structures, chimney breasts and the 19th century front porch," she said.
Before Kildare County Council intervened, the Jordans had hired Bill Maxwell to oversee a new build project, but his historic building experience would make him an even better choice when it became clear that a complete new build wasn't going to happen. "One of the biggest challenges was getting an underfloor heating system into the fabric of the existing old building without completely destroying the historic fabric," said Maxwell.
Apparently this caused more than a few issues — joists were too narrow for the relevant pipes and had to be adjusted, and there were parts of the floor where joists needed steel reinforcements, lest the pipes should break because of excess movement.
"But we managed it," said Maxwell. "It was well worth it. Because without that it would have been a bit of an imbalanced arrangement."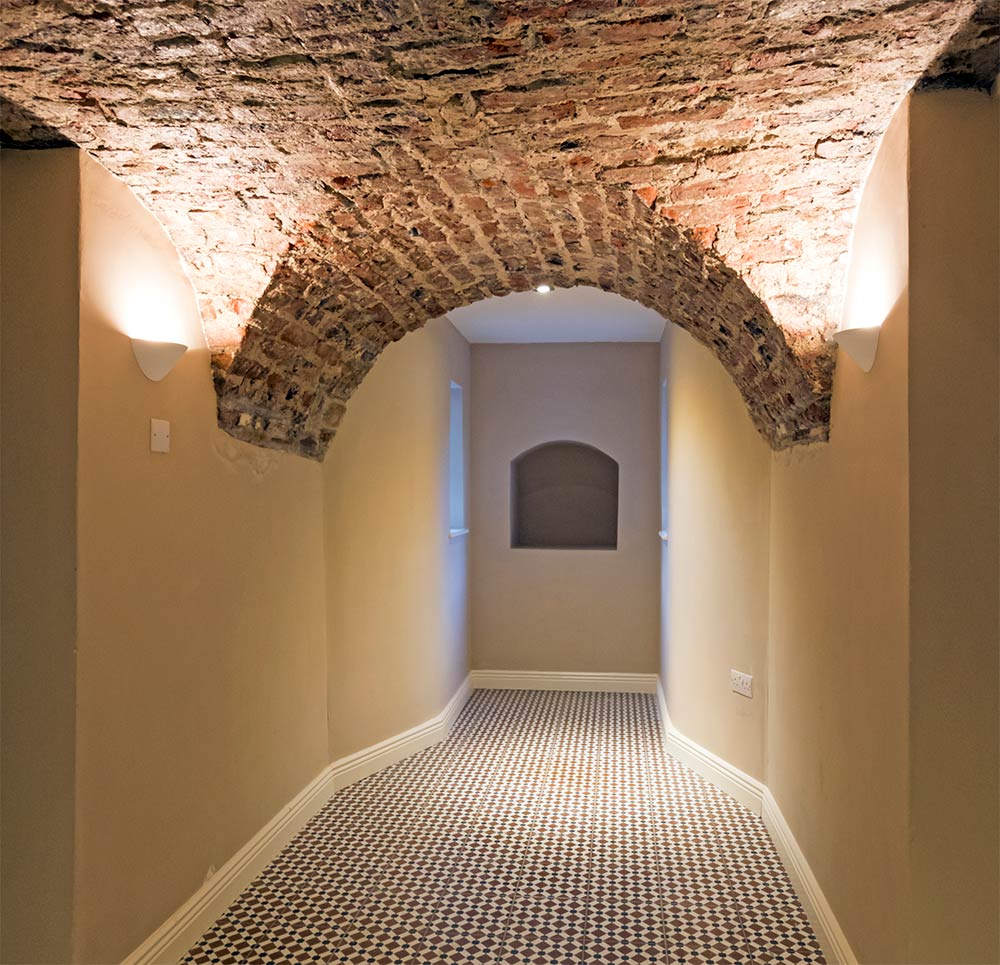 It also meant that the Jordans could have the modern heating technology that they wanted. The system they chose is based on underfloor heating all throughout, driven by an Ochsner 18kW air source heat pump that features a separate horizontal split evaporator that sits outside the house. From a distance it looks like a large DJ twin turntable, and it was designed by Monaghan-based firm Eurotech in conjunction with Ochsner, with a view to taking advantage of the mild humid Irish climate. It boasts a co-efficient of performance of over 400%.
One advantage of a horizontally mounted evaporator, according to Eurotech's Gerry Duffy, is that at times of higher humidity, any excess water generated just runs off the table and onto the ground.
"Using floor heating in the existing structure allowed us design a system with very low-flow temperatures which is critical in dealing with old fabrics and heritage structures," said Duffy.
"The very low design temperature of 30C flow max is enough to allow the entire structure to heat up and dry out without causing any damage, and at the same time repelling moisture and lowering humidity to a desirable level, perfect for comfortable living."
The system, which includes an 800 litre buffer tank and a 300 litre hot water cylinder with exhaust heat recovery from the bathrooms, is designed to ensure that the base temperature of the house never falls below 16C. The Eurosmart system has room-by-room heating controls, and features smart sensors that learn how each part of the building behaves (with their differences in building fabric, insulation, orientation etc) and adjusts the input of heat accordingly to achieve a consistent temperature throughout the building. Meanwhile, ventilation duties for both the new and old buildings are courtesy of a decentralised Lunos heat recovery ventilation system – a solution that enables low energy ventilation without running ductwork. The large house requires a dozen Lunos E2 decentralised heat recovery ventilation units, a Lunos Ego HRV unit and thee low energy extract fans.
Although the Jordans are only in the house a matter of weeks, Anne is delighted with the comfort levels throughout — particularly as the bedrooms of her five children are all in the old part of the building. Gerry Duffy estimates heating bills will amount to €700 a year for this 400 square metre property, which will be hugely impressive if he is proved right.
Of course, the upgrade to the fabric of the old building — and the new high performance cavity wall extension — are both vital for keeping energy costs down too. The old rubble limestone walls are thick but fairly porous, so it was essential to insulate them in a sensitive manner, using products that allowed them to "breathe" — in other words, that allow water vapour to pass through unimpeded.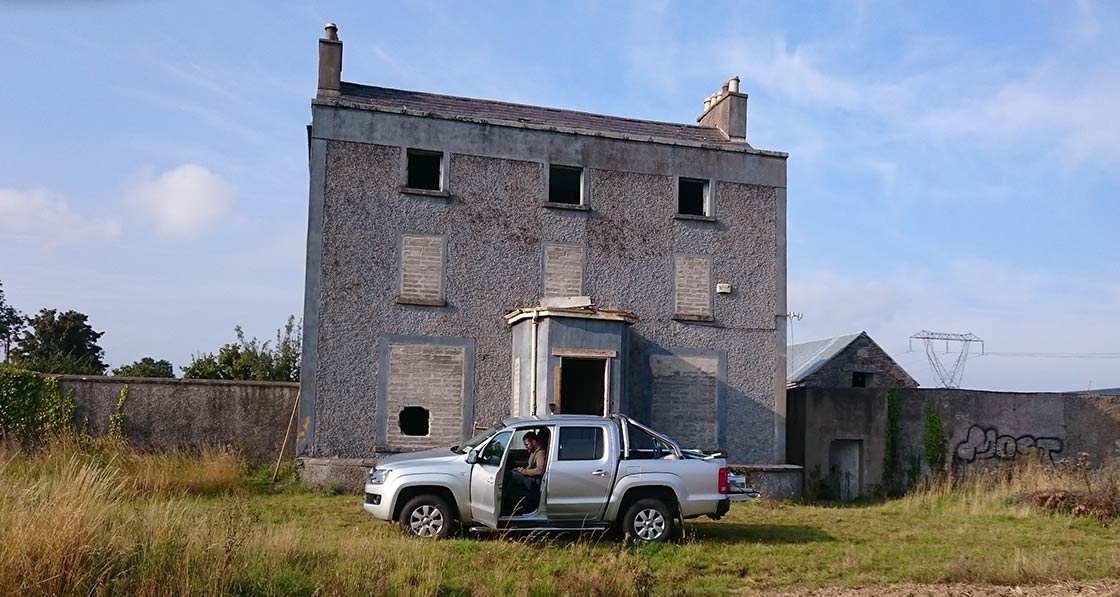 The shell of the old house that the Jordans purchased prior to the retrofit; a vaulted brick ceiling is one of the original architectural features incorporated into the renovated property.
"Fortunately there are wonderful new products on the market which can be used in a historic context, such as Gutex and Calsitherm, depending on the wall construction material and external finish. They are breathable products that significantly increase the building's thermal efficiency and the occupants' comfort, but they can also be finished with lime plaster," said Sunni Goodson.
The exact choice of insulation materials was determined by an analysis carried out by Joseph Little of the Building Life Consultancy. The 600mm-thick rubble walls were all boarded internally with 40mm of Gutex Thermoroom, with internal lime plaster as an airtight layer (the roofing throughout the building features Pro Clima membranes for airtightness and vapour diffusion). The whole house scored an airtightness result of 1.3 air changes per hour — an exceptional result for such an old dwelling, and such a complex project.
The work of project manager and contractor Paul Doran and his father Pat (both of Pat Doran Construction), was clearly crucial in meeting such remarkable levels, particularly when faced with the prospect of a building that Maxwell described as "an awful looking kind of haunted house ruin of a thing" — and making it airtight.
"Even with that starting point I was wondering could we achieve it," Bill Maxwell said. "And it was then down to getting the builder involved, and making sure that they were interested in it, and the Dorans were more than interested. So it was a good bit of teamwork."
Paul Doran said: "I think we did things the right way. We were very lucky in that the architect was committed and the quantity surveyor [Michael Broe] took a big interest and put a lot of time and effort and energy into it. And Anne put in an enormous amount into the project every day." The Dorans were undoubtedly helped by their experience on other challenging projects, drawing from a well of experience picked up on certified passive house and Enerphit projects, including a complex retrofit on Zion Road, Rathgar featured in issue 12 of Passive House Plus.
As part of the conservation tick-box, the sliding sash windows of course had to stay, although most were replaced. The Jordans were keen on double-glazed sash windows, but these would not fit into the narrow depth of the historic glazing bars. An expensive solution was Slimlite glazing, which is essentially two panes of glass held very close together.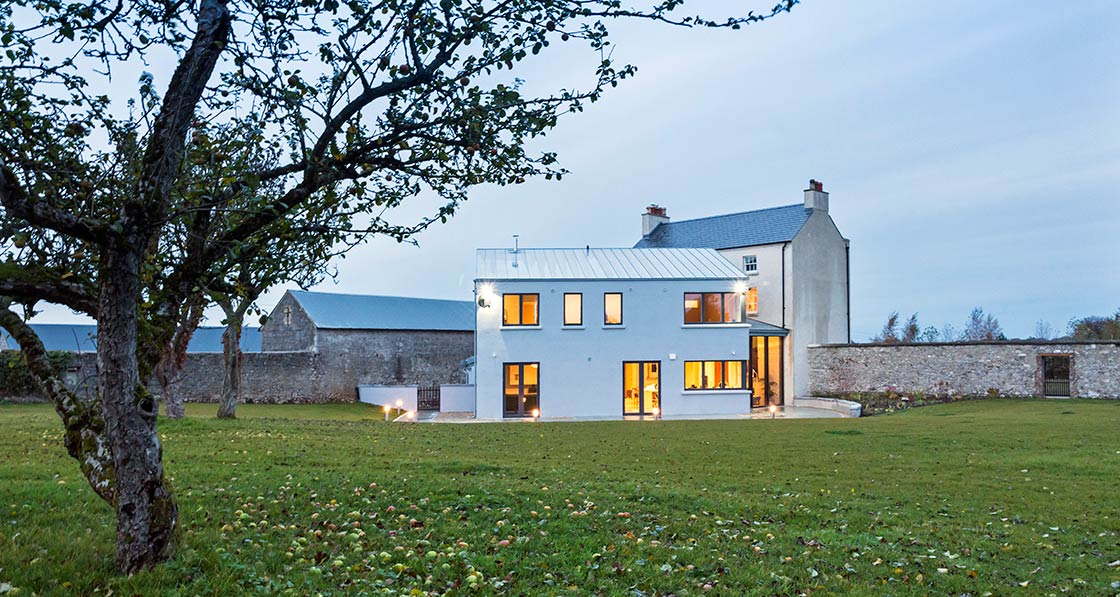 At first glance, some might say the design of the roof looks unnecessarily complex. Maxwell said: "There's a reason that happens, which is just trying to get the line of the roof that abuts the back of the old house [to] tuck in between window sills, so that we didn't actually alter the openings in the back of the old house. Then that generated one angle, which led to another."
This is also the reason the extension is angled at around 45 degrees to the old building, which gives the light-filled space inside, including the kitchen and the mezzanine gallery above it, a peculiar triangular shape that works very well. You can also see the back of the old house very clearly from here too.
On the cold-but-sunny morning I visit, it feels nicely warm everywhere in this house, without a hint of stuffiness. It's something that clearly delights Anne and her family and allows them to enjoy the old and the new in equal measure, because it's all been done so well.
"What's actually rewarding about the building is the angles, because when you're inside, no matter where you stand, there are views everywhere," she said.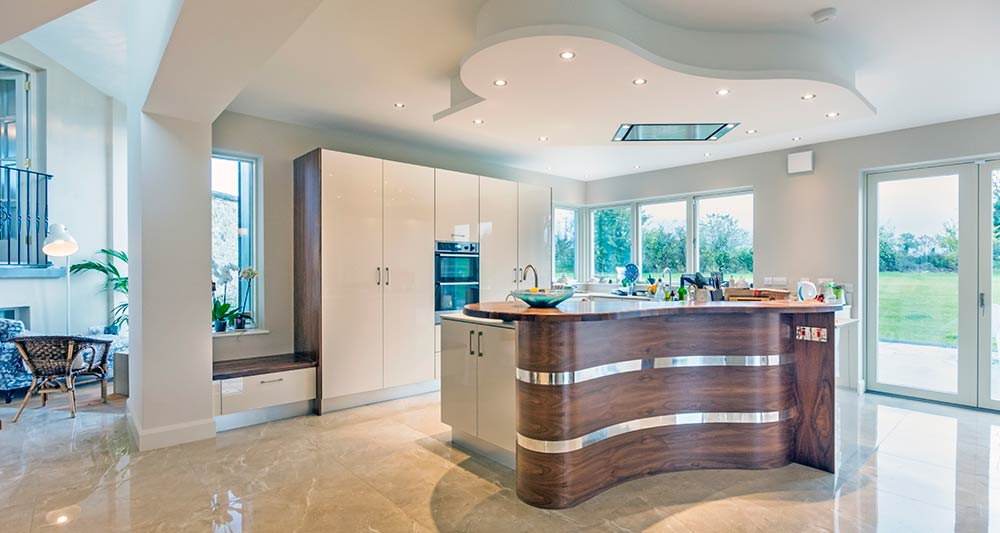 Standing in the utility room in the basement of the old building, I ask Anne if all the conservation rigmarole was really worth it. "Oh god it was worth it, jeepers yes. This makes the new part. It is so rewarding that it is warm and comfortable. I think if you're going to do it, it's important to do it right."
Selected project details
Clients: Patrick & Anne Jordan
Main architect (extension): Maxwell Pierce
Conservation architect: Mesh Architects
Contractor: Pat Doran Construction
M&E engineer: Eurotech
Civil & structural engineer: Brian Connolly Associates
Energy & building fabric consultant: Building Life Consultancy
Quantity surveyor: Michael Broe & Associates
Electrical contractor: Frank Knight Electrical
Ventilation: Partel
Airtightness tester & BER: 2eva.ie
Airtightness products & wood fibre insulation: Ecological Building Systems
Plastering & thermal breaks: D&M McKinney Construction
PIR insulation: Xtratherm, Quinn Therm Windows & doors: Rationel Vinduer Ltd
Sash windows: M&C Joinery
Curtain walling: Lakeside Windows
Additional info
Building type: Retrofitted 200 sqm rubble-built house (dating from c.1730) with approx 200 sqm cavity wall extension to the rear. Location: Clane, Co. Kildare
Completion date: August 2016
Budget: Not disclosed
Passive house certification: N/A
Space heating demand (PHPP): 76 kWh/m2/yr
Heat load (PHPP): 30W/m2
Primary energy demand (PHPP): N/A Airtightness: 1.3 ACH at 50 Pa
Energy performance coefficient (EPC): 0.493
Carbon performance coefficient (CPC): 0.532
BER: A3 BER (65.29kWh/m2/yr)
Energy bills: €696.79 (estimated by Eurotech)
Airtightness (at 50 Pascals, after): 1.3 air changes per hour
ORIGINAL BUILDING (AFTER RETROFIT)
Thermal bridging: 40mm Gutex Thermoroom fixed to inside of all external 600mm rubble walls and running through all three floors from ground up to ceiling insulation. All sliding sash windows wrapped at reveals with 40mm Gutex. 50mm PIR insulation fitted between all joists under underfloor heating pipes on all three floors and connected back to 40mm Gutex on walls.
Ground floor: 120mm Xtratherm Thin R, underfloor heating pipes and 50mm floor screed. U-value: 0.16 W/m2K
Walls (before): 600mm rubble wall. U-value: 2.1 W/m2K.
Walls (after): 600mm rubble wall, lime plastered on the inside for airtightness, 40mm Gutex Thermoroom internally over first fix wiring, base coat, mesh and lime skim render. U-Value: 0.66 W/m2K. No more than 40mm Gutex permitted due to condensation risk analysis by Building Life Consultancy.
Sloped ceiling/roof: Blue Bangor roof slates externally on 50x35 battens/counter battens, followed underneath by Pro Clima Solitex breathable roofing underlay, 180mm Isomer Metac fitted between rafters, Intello Plus airtight membrane stapled to underside of rafters internally, 50mm service cavity insulated with Isover Ireland Metac, 12.5mm plasterboard ceiling internally. U-value: 0.17 W/m2K
Flat ceiling: Blue Bangor roof slates externally on 50x35 battens/counter battens, followed underneath by Solitex breathable roofing underlay, 400mm Isover mineral wool fitted above the collar, Intello Plus airtight membrane stapled to underside of rafters internally, 50mm service cavity uninsulated,12.5mm plasterboard ceiling internally. U-value: 0.13 W/m2K
Windows: Solid timber sliding sash windows with seals and Slimlite glazing. U-value: 2.8 W/m2K
NEW EXTENSION
Thermal bridging: KORE Passive Slab L Shaped Profile connecting 300mm EPS beneath the floor with 100mm CavityTherm in extension walls, windows fitted within cavity wall insulation and sitting on EPS sills, 180mm Metac at wall plate connecting 100mm CavityTherm in walls to 400mm mineral wool in flat ceilings/Gutex & Metac in sloped ceilings. 30mm PIR sheets fully fixed to wall, connecting to 50mm insulation on underfloor heating on first floor, and connecting to 400mm Metac mineral wool in ceiling.
Ground floor: Raft Viking passive foundation system insulated with 300mm EPS. U-value: 0.10 W/m2K
Walls: Cavity wall with 100mm full-fill CavityTherm insulation, sand and cement airtight layer internally, 30mm Quinn Therm PIR to inside of walls, 22mm battens fixed forming service cavity, 12.5mm plasterboard. U-value: 0.14 W/m2K
Sloped ceiling/roof: Zinc sheeted roof on 50x35 battens/counter battens, followed underneath by Solitex breathable roofing underlay, on top of 60mm Gutex woodfibre board, 220mm Isvmer Metac insulation fitted between rafters, Intello Plus airtight membrane stapled to underside of rafters internally, 50mm service cavity insulated with Isover Metac, 12.5mm plasterboard ceiling internally. U-value: 0.12 W/m2K
Flat ceiling: Zinc sheeted roof on 50x35 battens/counter battens, followed underneath by Solitex breathable roofing underlay, 400mm Isover mineral wool above the ceiling joists, 200mm between the joists, Intello Plus airtight membrane stapled to underside of joists internally, uninsulated 25mm service cavity, 12.5mm plasterboard ceiling internally. U-value: 0.11 W/m2K
Windows: Rationel Aura Plus triple-glazed aluclad windows, with argon filling and an overall U-value of 0.93 W/m2K.
Curtain walling: APA TB50 aluminiumframed 5.6 x 3m high curtain walling screens manufactured and fitted by Lakeside Windows, triple-glazed with argon filling and an overall U-value of 1 W/m2K.
Heating system: Ochsner 18kW water-towater heat pump with COP of 421%, supplying Eurotech underfloor heating throughout the building (including all three floors of the original house). 800 litre buffer tank and 300 litre hot water cylinder with exhaust heat recovery from the bathrooms.
Ventilation: Lunos decentralised demand-controlled heat recovery system throughout. 12 x Lunos e2 units, 1 x Lunos Ego, and 3 x low energy extract fans. Final calculated efficiency relative to the house: 85.22% (according to DiBT) / 73.22% (according to the Passive House Institute). Overall volume flow: 195 m3/hr. Specific power consumption of heat recovery units: 0.10 W/m3/hr.
Related items
Latest from John Cradden