Mike Jacobs
Essex house nears passive against the odds
When Mike Jacob of Trunk Low Energy Building started planning to build this unique Essex home, it seemed likely to run way over budget, and still fail to meet the passive house standard. But rethinking key details and making tough compromises got the house within touching distance of passive, while slashing costs.
It's not unusual for us, as a project management and low energy building consultancy, to be presented with designs that have not been tested from either a cost or energy perspective.
In fact it is unusual to be presented with one that has. Passive House Plus readers might find this surprising, but we often find ourselves being the bearers of bad news to clients who have spent months, and sometimes years, investing emotionally and financially in a design for their new home.
The Knights Hill project in Essex is perhaps the most striking example of a budget and performance gap we have seen in the last five years. The fact it is now completed with happy clients also makes it one of the most satisfying challenges we have overcome.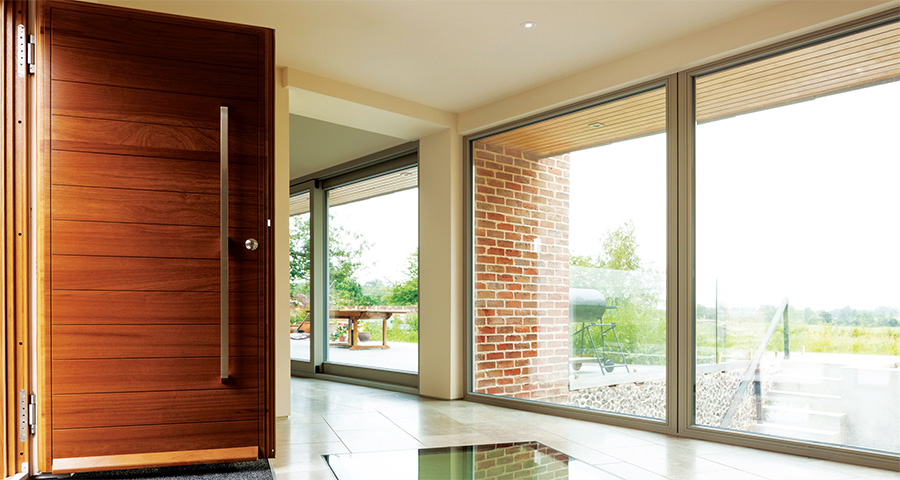 When we first met Jason and Lucy Reeve they were somewhat jaded by a frustrating planning process, but had a hard-won consent in their hands and the enthusiasm and drive to build their ideal home.
They wanted to benefit from the inherent savings of a project-managed solution rather than a main contractor, and were referred to Trunk Low Energy Building. They were already committed to a timber frame build from Touchwood Homes, a local company with experience delivering to the passive house standard.
Our first task is usually to generate cost and energy models, if none exist. This gives everyone involved clarity and provides a focus for all necessary decision-making. In this instance, Rod Williams of Williams Energy took care of the PHPP modelling and we focused on the detailed costings.
The point to keep in mind, for anyone yet to plan their build, is that both these pieces of work were done after planning permission had been granted. This is too late. The cost and energy analysis should be embedded into the pre-planning stage to ensure the scheme that is submitted works on all levels. The client's emotional investment in the design is then based on its viability.
We try to emphasise this to clients whenever we join a team earlier on in the process – and although there is no doubt that there are teams out there who work this way as standard, the norm in our experience is either a 'hope for the best' strategy, or an over-reliance in their budgeting on superficial cost estimates that are not sufficiently detailed and end up inflating during the build.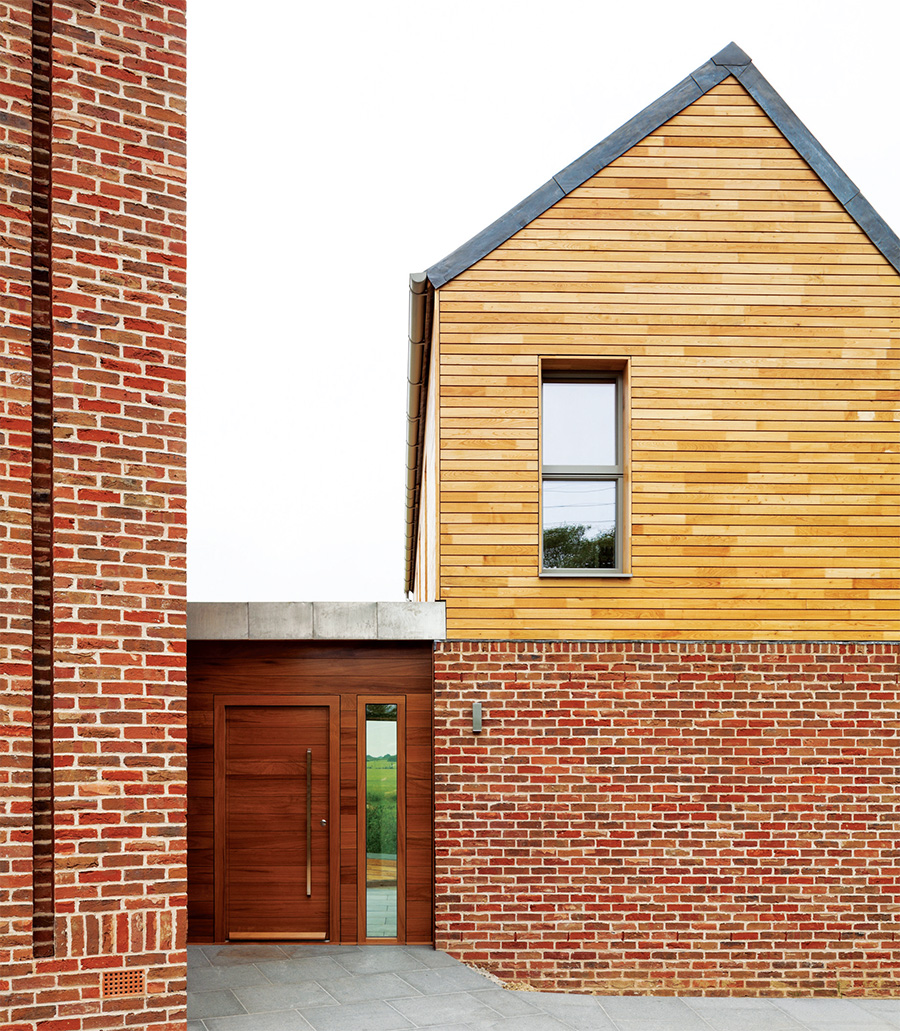 A combination of Sussex chestnut cladding and handmade bricks clad the exterior walls, while the front door is fully passive house certified, from Urban Front
In broad-brush terms, the scheme we costed in this instance was almost double the client's budget. The passive house performance targets were not being met either. Although the design was close, it was not close enough to be certified, mainly because the shape of the house is complicated and inefficient. There were also some overheating issues that had to be dealt with.
There are various strategies that can be employed in situations like this. The Reeves opted for the most ambitious — as far as testing the art of the possible, and their own input as hands-on clients was concerned. Rather than give up or take a deep breath and go back to planning with a revised scheme, they wanted to find a way to make the design they had grown to love work, even if it was at the expense of a few kWh/m2/yr.
We began the process of appraising alternative, more cost-effective options, for the big-ticket items — those which would have no negative impact on building performance. We worked closely with Rod Williams, who refined the PHPP model and also developed several iterations of the wall to floor junction in the Therm software, in particular around the top of the basement walls, to test the use of ICF instead of a pre-cast system. We found that we were able to sit the sole plate on a strip of high density EPS which spanned the top of the concrete core. This virtually eliminated an otherwise significant thermal bridge and gave us confidence in pursuing a solution that was substantially cheaper than the one initially designed, in part due to the method of construction, but also due to the way it was procured. This gave us a saving of approximately £70,000.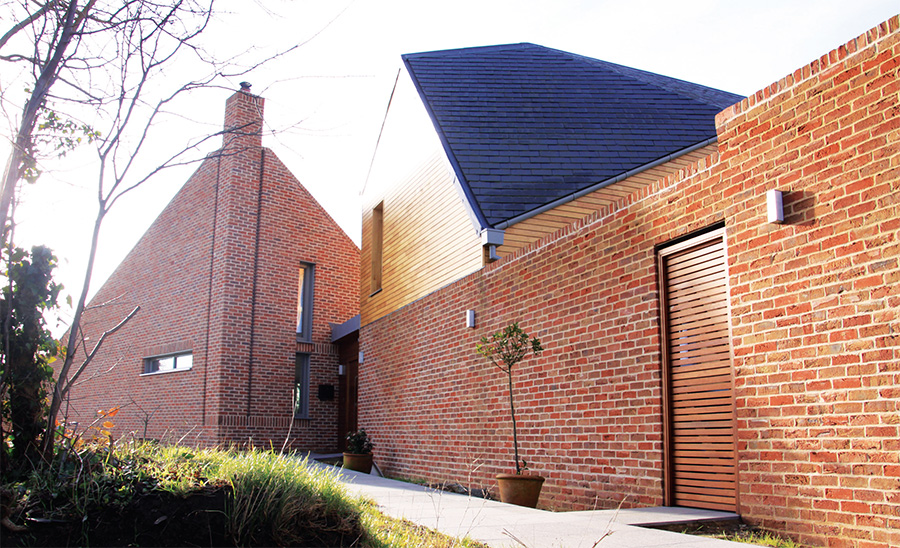 The complex shape meant it would be harder to achieve the passive house standard
We undertook a lot of work liaising with suppliers and warranty companies to interrogate the structural waterproofing system. In the end Kryton waterproof concrete and Integraspec ICF gained type approval with Checkmate, which allowed us to omit the expensive tanking solution from the scheme, saving approximately another £10,000. We also found a highly satisfactory glazing solution from Norrsken Windows & Doors, which stacked up on all fronts against the initial preferred supplier, and again saved money without impacting on performance.
The M&E solution was stripped bare to a simple LPG boiler delivering hot water to towel rails and a heating element in the MVHR system. There is also electric underfloor heating in wet rooms, and the obligatory wood burning stove and solar thermal – but previous notions of underfloor heating throughout the house and heat pump or biomass solutions were abandoned, following lengthy discussions with passive house consultancy Warm. This saved around £20,000.
Beyond the focus on 'big stuff', the Reeves embraced the principle that if they really wanted to build this design within their budget, they would have to get stuck in and make compromises. They undertook all decorating themselves, and delayed their green roof and all the soft landscaping. They purchased site accommodation and security items to be resold at the end, opted for Spanish rather than Welsh slate, stripped back the M&E, and put to one side aspirations for on-site energy generation.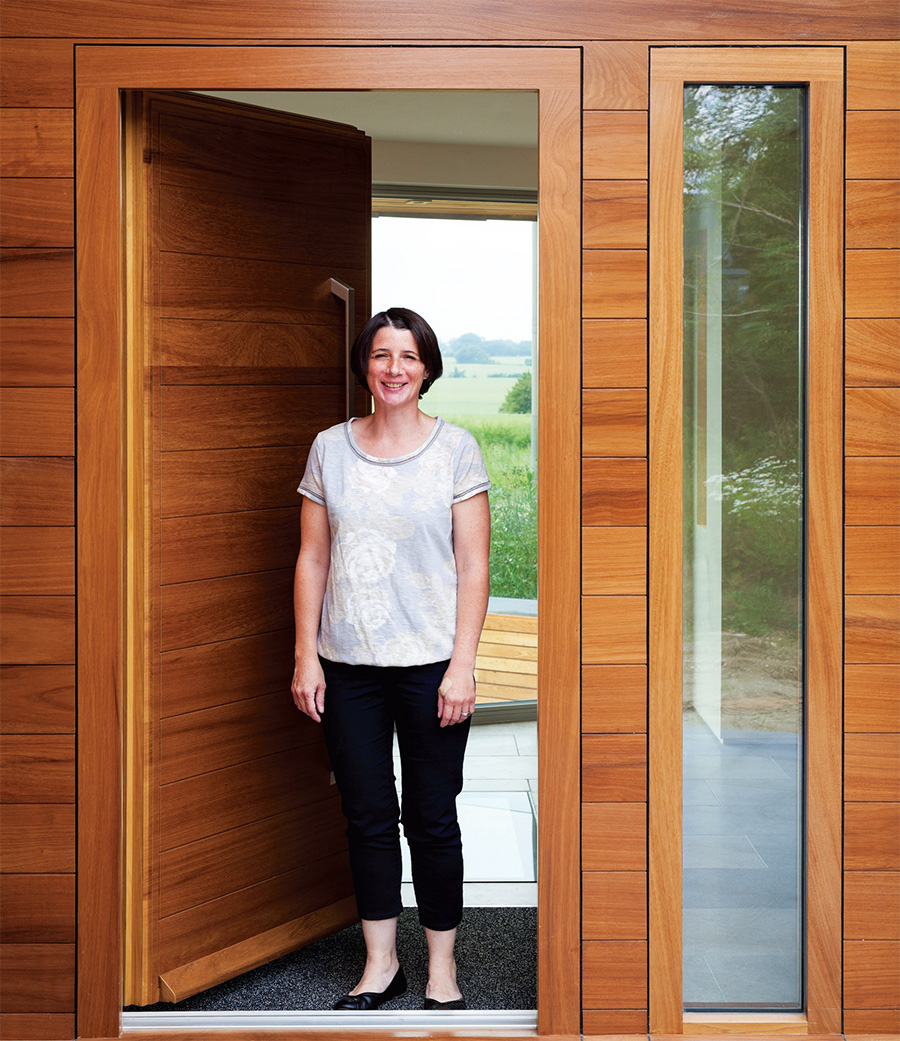 Funds were focused, above all else, on getting the fabric right and then making careful material choices of a high quality that would last a very long time— such as natural stone flooring, Sussex chestnut cladding, terne-coated stainless steel and an Urban Front passive certified front door.
The airtightness target of 0.6 ACH was met. There were niggles with water ingress in strange places, which we resolved, and there was some fine-tuning required to the heating and ventilation systems. The Reeves have now lived in their forever home for almost a year and are very happy. We intend to stay close to them to ensure that this remains the case for years to come.


(l-r) the Viking House passive slab foundation system virtually eliminates the critical wall to floor cold bridge; two different stages showing the erection of the timber frame on top of the insulated slab
Mike Jacob is a chartered construction managerand certified passive house tradesperson, and is managing director of Trunk Low Energy Building.
Selected project details
Clients: Jason & Lucy Reeve
Project management & QS:
Trunk Low Energy Building
Timber frame: Touchwood Homes
Energy consultant: Williams Energy
Architect: Kirkland Fraser Moore
Civil & structural engineering:
Michael Evans & Associates
Mechanical contractor: Baystar
Airtightness tester: Airtightness Testing UK
Cellulose insulation: Warmcel
Airtightness products: Pro Clima
Windows & sliding doors (supplier): Norrsken High Performance Windows & Doors
Windows & sliding doors (manufacturer): Viking Window AS
Front door: Urban Front
LPG boiler: Vaillant
Wood burning stove: Morso
MVHR: Zehnder
Rainwater harvesting: Rainwater Harvesting UK
Electrical contractor: ETS
Cladding: Inwood
Lighting: Sam Coles Lighting
Passive house slab:Viking House (produced by Airpacks)
ICF Basement: Integraspec
Additional info
Building type: 250m sq m detached timber frame house with ICF basement

Location: Essex, England

Completion date: March 2014

Budget: £500,000 approx

Passive house certification: not certified

Space heating demand (PHPP): 17 kWh/m2/yr

Heat load (PHPP): 12 W/m2

Airtightness (at 50 Pascals): 0.6 ACH

Energy performance certificate (EPC): B 86

Thermal bridging: Y value in SAP was 0.005. Extensive work was undertaken in conjunction with Williams Energy to eliminate the basement to timber frame sole plate thermal bridge, and wall-floor junction elsewhere. The rest of the frame included details which are already thermal bridge free. The basement junction incorporated a 50mm horizontal
strip of EPS 300 sitting in the 200mm concrete core at the top of the ICF walls. The 300mm sole plate sat directly on this with 100mm of the sole plate projecting beyond the concrete core and hanging over the EPS in the ICF walls. The wall to floor junction elsewhere was maintained as thermal bridge free using a 300mm fully filled I-beam system sitting on a Viking House Passive slab with EPS 300 perimeter upstand.

Ground floor: Viking House Passive slab, certified by the Passive House Institute, with 300mm EPS and EPS 300 perimeter detail. U-value: 0.10

Walls: Touchwood I-beam system timber frame system with 300mm Warmcel insulation. External heathing & airtight layer formed from 16mm Ageapan DWD board, sealed with butyl sealant. 22mm chestnut cladding and handmade bricks form the exterior. U-value: 0.10

Roof: Same roof build up as walls with Spanish slate and tern coated stainless steel roof covering externally. U-value: 0.10

Windows & sliding doors: Viking Window aluclad triple-glazed Passiv windows. U-value: 0.7

Front door: Urban Front E98 Passiv insulated door in iroko. Passive House Institute certified.

Installed U-value: 0.8

Heating system: Vaillant Ecotec LPG boiler & Kingspan solar thermal collectors feeding Gledhill cylinder, which supplies domestic hot water and feeds towel rails and a heating coil in the MVHR supply air. Bathrooms also have electric underfloor heating. Also Morso S10-40 wood burning stove.

Ventilation: Zehnder ComfoAir 550 MVHR. Passive House Institute certified heat recovery efficiency of 84%.

Green materials: cellulose insulation, recycled materials for back-filling around basement, Polyagg recycled EPS waste in place of granular fill around basement, UK sourced coppiced
chestnut cladding, Osmo UV natural protection oil for timber cladding, ecological paints.
Image gallery
Passive House Plus digital subscribers can view an exclusive image gallery for this article. Click here to view