Advertising with us works because a huge amount of clients, specifiers and contractors read the magazine – and act based on what they read.
Surprisingly large circulation
We're proud to have the the 2nd highest circulation of any business magazine in Ireland*, and the highest circulation of any Irish construction or architecture-related magazine by a clear distance. For any brands looking to reach an extremely large yet targeted audience of people with a professional or personal interest in sustainable building - and, it follows, other kinds of green products, services and messages - Passive House Plus offers an unrivaled proposition - and an estimated readership of over 22,000 people for our Irish edition alone.
When many other publishers no longer subject their circulations to the rigours of independent scrutiny, we remain committed members of the Audit Bureau of Circulations (ABC). Based on the latest ABC Island of Ireland report, the printed Irish edition of Passive House Plus has the 2nd highest circulation of any business magazine in Ireland. Our average circulation for the issues published from July 2017 to June 2018 was 7,343 copies per issue - a 10% increase on the previous year. Based on the publishing rule of thumb of three readers per copy of a magazine in circulation, that means a circulation in excess of 22,000 copies.
Click here to view our latest ABC certificate - which covers the period 01/07/17 to 30/06/18.
That circulation's set to increase too. We're committed to increasing our circulation to ensure that the industry is equipped with robust, technically literate advice on how to build the sustainable buildings demanded by tightening building regulations and heightened client expectations.
The following chart is an overview of the circulation of a typical issue of Passive House Plus.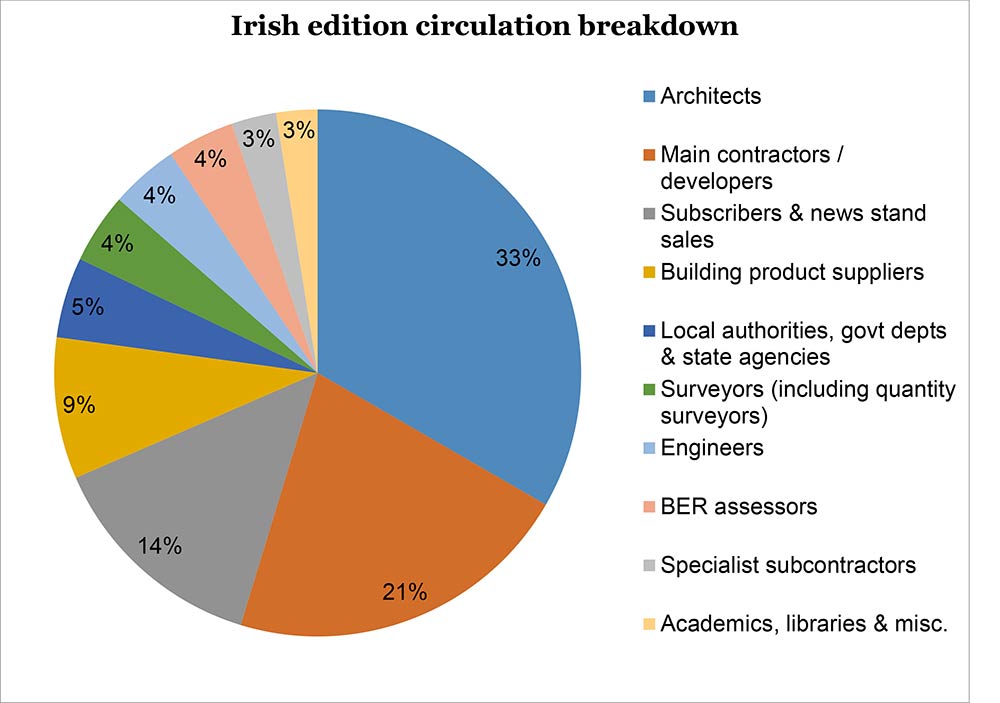 But our audited circulation results disregard the impact of our digital magazine. Passive House Plus is now also available to subscribers as an intuitive, user-friendly digital magazine, Click here to read our back issues, which have averaged 2000 reads per issue to date.
*Excluding ESCRS Eurotimes, which is published in Ireland and circulated around Europe, including 290 copies in Ireland.