Robbie Cousins
Stillorgan green upgrade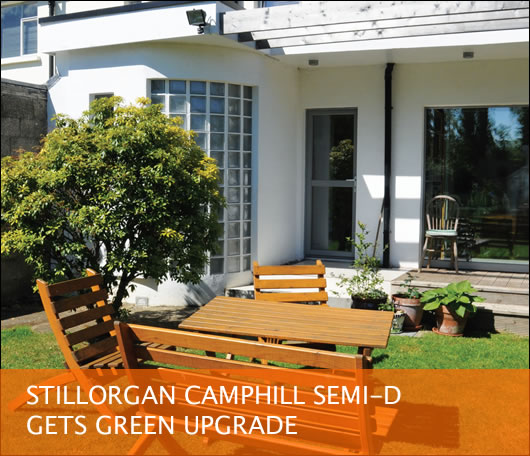 Four years ago the construction industry was focused on building big and fast — but at the same time, a small team was carefully and ecologically retrofitting a terraced Dublin house on a tight budget according to passive house principles.
The brief from Camphill Community Greenacres to designer Miles Sampson was to convert an uninsulated mid-terrace 1950s council house into a modern home that would facilitate the client's work of helping people with special needs become more active members of society. The client wanted the house —in Stillorgan, south Dublin — to be energy efficient, and to be able to meet its heating needs in the event of a serious energy crisis.

There are 18 Camphill Communities in the Republic of Ireland. With funding from the HSE, each group provides support for children and adults with intellectual disabilities or other special needs under a 'co-living' model, where the individual lives as part of a family group in a house rather than being treated as a service user. The group aims to create development opportunities through interaction, workshops and small business ventures, and sustainability is one of its central tenets. Camphill is also an approved social housing provider — the money for the purchase and renovation was recouped from Capital Assistance Scheme grants from the Department of Environment.

After a public tendering process, ecological and sustainable designers Miles Sampson Architects won the contract, and considering the tight budget he had to work with, the end result is an inventive mix of innovative design and practical green solutions.

Sampson explains: "When I received the brief in 2007, SEAI were implementing the first stage of the EPBD [Energy Performance of Buildings Directive], and ostensibly the construction industry was booming. As a result there were few people working in the eco-construction field and the cost of materials were at a high. So, putting a team together was not without challenges. In addition, the budget of €250,000, which is generous by today's standards, was small considering the ambitions of the project."

Heading up the construction team was main contractor Robert Doyle of Robert Doyle Ecobuild Ltd. He explains: "At a time when sub-contractors were racing to keep up with the amount of work they had on, it was difficult to get anyone to consider a small project like this. It was also a non standard renovation and eco-build, which was what attracted me to the job. For everyone who was on the team it was a labour of love and a case of wanting to take on the challenges presented."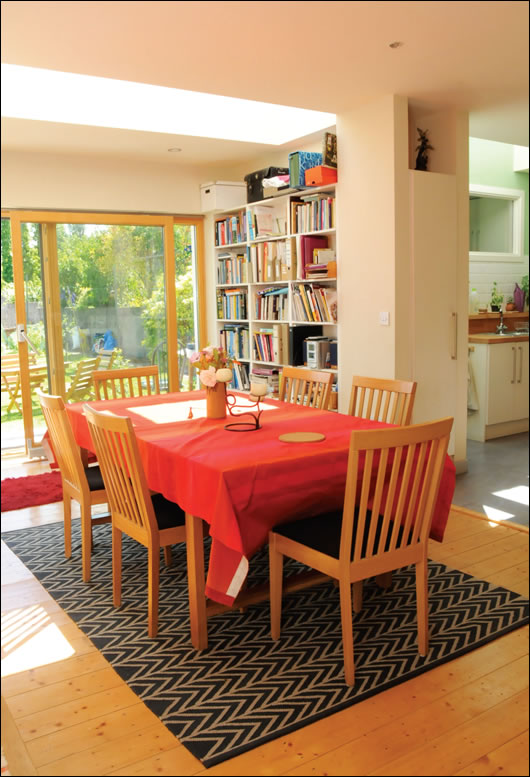 The design creates an open plan kitchen/dining room with visual connection to the garden through the extension at the rear of the house, while the triple-glazed sliding door and row of rooflights let plenty of natural light in

Layout & design
With three bedrooms and bathroom upstairs, the layout downstairs included entrance hall, separate living and dining rooms, kitchen and a small lean-to utility extension with toilet and shower. Earlier renovation work included the installation of single-glazed aluminium windows and a gas boiler, which had now reached the end of its useful life. The house had cavity walls, but was completely uninsulated.

Sampson says: "In energy efficiency terms, we had a blank canvass. There was absolutely nothing energy efficient about this house. However in line with Camphill's and my ethos, we set out to change that and also try to reuse whatever original materials – such as floorboards and internal doors – that were on site. The budget didn't allow for a passive house certification standard renovation, but I incorporated the passive house methodology for the design."

The design creates an open plan kitchen/dining room with visual connection to the garden, along with double doors connecting to the sitting room at the front of the house. A row of roof lights across the rear of the house maximises passive solar gain and allows natural light to penetrate deeper into the house.

A new single-storey timber frame structure replaces and extends the original lean-to extension and provides new kitchen, dining and utility space. A green roof on top of this structure creates a strong connection between the upstairs rooms and the garden, and reduces peak load on the drainage system. The extension also features a curved, triple-glazed glass block wall on the toilet and shower room. Finally, a garage at the end of garden has been converted into a communal space that serves as a craft workshop.

Explaining some design decisions, Sampson says: "If we were opening the rear of the house onto the garden, a concrete extension would have been like a barricade. But the triple-glazed block not only helped us create a bright airy yet private shower room – its curvature along with a planted pergola fosters a greater connection between inside and outside. The curvature of the glass block also softens the contemporary architecture and allows the extension to flow into the garden. While it is an architectural feature, it is also a very practical solution. I have noticed recently that people are more concerned about the functionality of features in their homes, rather than their architectural merit. When the opportunity arises it's good to be able to facilitate both."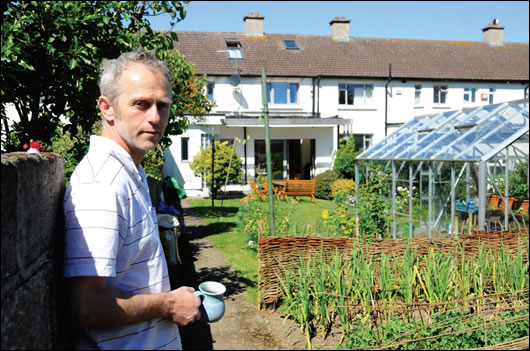 Noel Bruder of Camphill Communities, which aims to provide support for children and adults with intellectual disabilities and other special needs under a 'co-living' model

Building envelope
The most important building challenge was to get the insulation right and achieve low U-values without losing too much space or leaving cold bridges. Miles Sampson used the Passive House Planning Package (PHPP) software to model for the insulation. He explains: "While PHPP was developed specifically for passive houses, it is a powerful design tool when it comes to determining the insulation levels required to meet low U-values."

In dealing with the existing walls, bonded bead polystyrene insulation was first injected into the cavities, isolating and warming the inner leaf and removing cold bridges. Then the inner leafs were lined with a thin layer of Aerobord Platinum insulation to achieve the target U-value of 0.15 W/m2K. The original windows were replaced with Optiwin triple-glazed aluclad windows with warm edge spacers and an overall U-value of 0.8 W/m2K. The window frames are fitted with a combination of wool and cork insulation. Wicklow-based Wolohan Timber Frame was recently awarded the agency to manufacture and supply Optiwin window products in Ireland.

The first floor roof was renovated to include storage space — Sampson specified a mixture of Tri-iso Super 9 foil insulation and sheep wool insulation here. After lifting the original floorboards downstairs, a polythene airtightness membrane was fitted, and 200mm of sheep wool insulation was tightly packed in nets between the joists over this. Another airtightness layer was then fitted above this, directly beneath new wooden floors.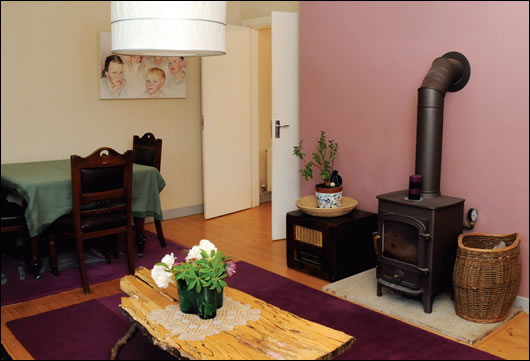 The house's secondary space heating system is a Clearview wood stove


Installing a passive-certified front door wasn't feasible due to budget constraints — instead the team left the original door in place and built a double-glazed porch around it. A sliding triple-glazed door with an overall U-value of 0.8 W/m2K was installed to the rear of the house.

The new extension was stick-built by the main contractor. The wall build-up features a render on the outside, followed by a breathable airtightness and vapour control layer of Diffutherm woodfibre board attached to the timber stud. Cellulose recycled newspaper insulation was installed in 140mm stud, and the interior build-up has a service cavity filled with sheep wool insulation, finished inside with Fermacell board. Contractor Robert Doyle explains: "This was a tricky enough construction because of the multiple layers needed, and there were a number of different trims required to finish out the Diffutherm layer."

The timber roof has a similar build-up to the walls (see the project overview below), but with a Pro Clima Intello 'intelligent' vapour membrane, more cellulose insulation and the green roof on top.

Carbon sequestration
Despite the significant focus in green building on low energy embodied materials, it's often forgotten that buildings can lock carbon into their structures too — something Sampson paid significant attention to on the project by using wood-based products such as the woodfibre render system, cellulose insulation, timber frame structure, and solid timber finishes inside. The sedum roof will also absorb carbon dioxide throughout its lifetime.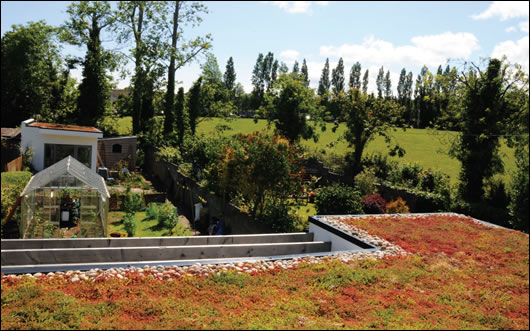 A sedum room on the extension creates a strong visual connection to the garden from the rooms upstairs

Heating
Sampson explains the challenge of meeting the house's heating needs: "As the house was already supplied by natural gas we decided to first of all replace the old boiler with a condensing boiler, for which the client received a grant from SEAI's then newly introduced Home Energy Saving scheme. This was a practical primary space heating solution because with the house properly insulated, it would only have to be used a few months of the year, and then sparingly. The secondary space heating system is a Clearview wood stove with external air supply. This is installed in the living space, and heat generated from the 7kW wood burner is distributed around the house via vents and the HRV system." The house's heat recovery ventilation system is a ProAir 300, which the Galway-based manufacturer recommends for medium-sized residences.

The original living room floorboards were sufficient to meet the house's wood burning needs for the first year. The primary source of domestic hot water is four square metres of flat plate solar panel. Miles Sampson says flat plate was chosen because the panels were installed on the front roof. "We wanted to integrate them into the roof to keep them as discrete as possible," he says.

Connecting the secondary domestic water and space heating system proved to be a small challenge. He continues: "I wanted to connect the wood burner to the heating tank and use thermo-siphoning to heat the tank. Thermo-siphoning operates in a closed pipe system where heated water rises and drives cold water in the closed loop down to the burner for heating. This set up does not require electricity to work and provides a solution to the client's requirement for independent space heating and DHW. So, we placed the 300 litre water tank directly above the burner and ran the loop up to it.

"As the integrated heating system has three separate heating devices, the concern was that there should be a facility for a heat dump, should the system overheat. And as the three heating devices had different specifications some research was needed to integrate them. The eventual solution was to fix a thermostat to the cylinder and if the water temperature got too high the thermostat triggered a motorized valve which would siphon off excess heat to radiators."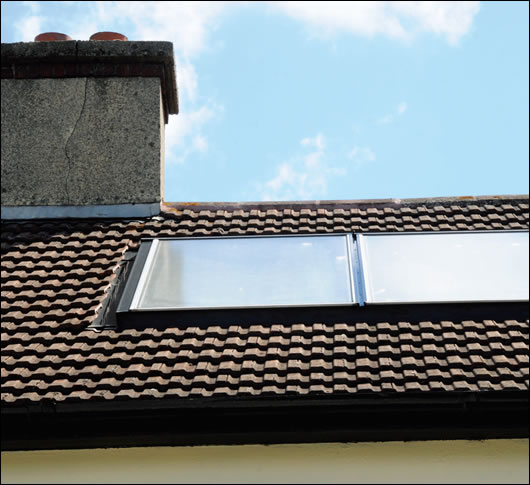 Four square metres of flat plate solar thermal collectors, supplied by Ecologics, contribute to the house's hot water demand

Kitchen
Miles Sampson specified solid beech kitchen units to avoid the use of high glue content sheeting. He explains: "Solid wood kitchens are a very rare requirement, so finding a supplier, particularly for a small job like this was challenging. But we did find one and we were delighted with the end result." The kitchen units were manufactured by Custom Tone Kitchens, and in keeping with the use of natural products, all surfaces in the kitchen and throughout the house were either painted or varnished with a range of low VOC natural paints and oils supplied by Auro Paints and Biofa.

Pottery
The final piece of the project was an end-of garden garage, designated as a communal space for arts and crafts. "The ideal would have been to knock and rebuild, says Sampson, "but in the end by replacing the wall facing the house with double glazed windows and upgrading the insulation, we still had enough budget to include a grass roof above the space and install an electric kiln which also could be used for space heating."

Sampson concludes by saying that as one of his practice's early projects, the house set a standard for what can be achieved with a little resourcefulness and a good team. "At the time, there were few looking at doing eco retrofits, so it was a very important project to get and finish well. In a much changed market of today, anybody building an extension or renovating their home would be well advised to consider an energy efficient fit-out. With substantial grant subsidies, the costs have never been lower, and benefits in terms of air-quality and long term savings and CO2 emission reductions make it of huge benefit to anyone who can to take on."


Selected project details
Client: Camphill Community , Greenacres
Architect: Miles Sampson Sustainable Architecture (Miles Sampson & Colin McDonnell)
Contractor: Robert Doyle Eco Build
Insulation: Ecocel , Aerobord , Diffutherm and Actis
Windows and doors: Optiwin
Stoves: Clearview Stoves
Solar thermal: Ecologics
Heat recovery ventilation: ProAir
Paints & varnishes: Auro / Biofa




Project overview:

Location: Stillorgan, Co Dublin
Building: Mid-terrace cavity wall house, upgraded and extended
Budget: €250,000

Space heating consumption pre-renovation (PHPP): 194kWh/m2/yr

Proposed space heating consumption post-renovation (PHPP): 29kWh/m2/yr

BER: Planning permission pre-dated requirement for BER

Original walls: Concrete cavity wall construction injected with polystyrene bead insulation and internally insulated with 100mm Aeroboard Platinum. U-value: 0.15 W/m2K

Original roof: Renovated with Tri-iso Super 9 foil insulation from Actis and 100mm Sheep Wool Insulation.

Original ground floor: Polythene airtightness membrane with 200mm Sheep Wool Insulation between the joists above, followed by another airtightness layer below new wood floors. U-value: 0.17 W/m2K

Extension walls: Stick-built timber frame. Render externally followed inside by 80mm Diffutherm woodfibre board, 140mm cellulose insulation between timber studs, 10mm plywood with joints taped, 44mm Sheep
Wool Insulation between battens and to accommodate services, 12.5mm gypsum bonded wood particle board (Fermacell)

Extension roof: 25mm pre-grown Sempergreen sedum mat externally, followed underneath by Supergreen filter, fleece 25mm Drainboard Semperdrain 525a, recycled fleece, EPDM membrane, 18mm marine plywood, 225mm cellulose insulation between rafters, Intello vapour membrane, 44mm sheep wool insulation between battens and to accommodate services, 12.5mm gypsum bonded wood particle board (Fermacell)

Extension ground floor: Wet room – screed on top of 200mm Aerobord insulation. Main – suspended timber floor with 200mm Rockwool suspended between the joists.

Windows: Optiwin triple-glazed aluclad windows with warm edge spacers and an overall U-value of 0.8 W/m2K. Frames insulated with a combination of sheep wool insulation and cork insulation.

Solar thermal: 4m2 flat plate solar collectors

Ventilation: ProAir Systems 300 heat recovery ventilation system

Green materials: Wool and cellulose insulation, timber frame and finishes, woodfibre board, Fermacell board, natural paints and varnishes.