Hemp lime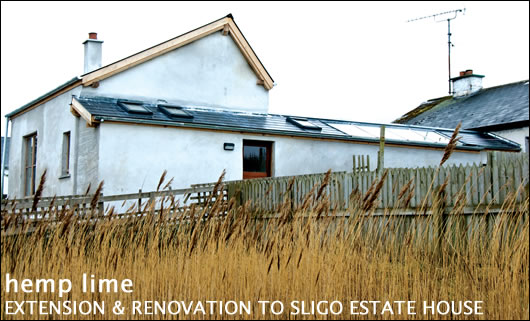 Hemp-lime may be a somewhat innovative and experimental building method, but it's growing in popularity. The renovation of this Sligo home included the energy upgrade of the original house, construction of a new hemp-lime extension and the installation of a vertical bore-hole heat pump – among other green features.
When Celia Keenaghan and her husband Brian bought their detached home in Grange, Co Sligo 13 years ago, they knew they'd need more space eventually. When they finally decided to extend a few years ago, Celia says they wanted something "a bit different to the norm".

They sought the advice of designer Gordon Ryan of Applied Sense Design & Architecture, and the couple considered building with poroton or timber frame before settling on hemp-lime. One aim was to limit the environmental impact of the build. "We wanted something that was family friendly and people friendly as well, and a sociable space," Keenaghan adds.

Ryan chose hemp and lime from Hempire for the construction. Hempire grow their hemp crop in Edenderry, Co Offaly and near Coleraine, Co Derry. The company supplies their hemp and lime ready-mixed – something that appealed to Ryan. "Consistency in compaction is easier achieved when everyone is working with a consistent mix, particularly in terms of moisture content," he says.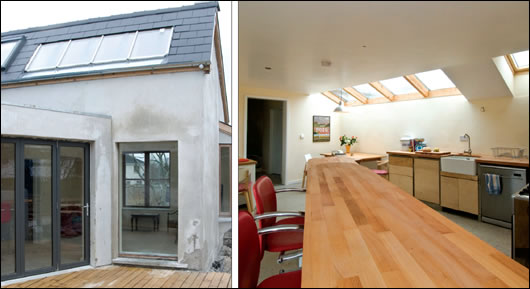 (above left) some of the second external coat of hydrated lime applied in January cracked in the frosty conditions; roof-lights were installed throughout the new extension and the interior (above right) is now getting much more natural light

Ryan and his team built the hemp-lime walls around the extension's timber frame during August of last year, using permanent internal Herkalith shuttering and temporary external shuttering.

The builders plastered over the internal shuttering 3-4 weeks later with hydrated calcium oxide (hydrated lime), leaving the walls for three months to dry up and out before an external hydrated calcium oxide scratch coat was applied in late November.

Ryan used White Rhino hydrated calcium oxide rather than Hempire's own renders, mainly because it was readily available. He says rendering with hyrdrated lime was preferable to using cement too. "It really is much better than cement in terms of flexibility, and ability to release excess moisture. And it is cheap and readily available from local merchants."

A second external coat of hydrated lime was applied in January, but some of it cracked in the frosty conditions. Ryan says plastering in cold weather was a mistake made out of eagerness to finish the job – he's planning to scratch off the damaged plaster and re-render in early summer, and then limewash the building.

"When I use this material again, we will aim for hemp and lime walls to be rammed in May to allow summer drying before external render in November," he says. "This way the dryer walls will perform much better as insulation during the first winter."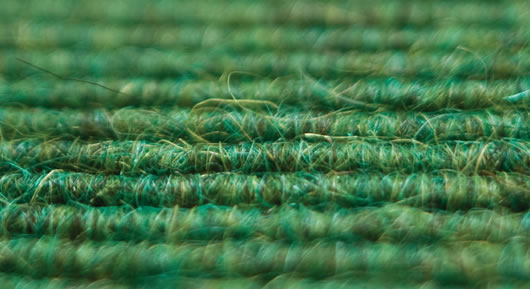 Other green features in the house include a carpet that contains 80% goat hair

The finished walls of the extension have a U-value of 0.22 W/m2K. Abbey Insulation insulated the roof here with 300mm of pumped cellulose, and it has a U-value of 0.13 W/m2K. The builders also installed 70mm of Thermafloor rigid urethane insulation from Kingspan under the concrete floor, with a 30mm ring of insulation around the edge to reduce cold bridging.

The exposed concrete floor contains 35% ground granulated blastfurnace slag – it was polished by Renobuild and left exposed, reducing the need for extra materials and providing thermal mass too.

Double-glazed windows were installed throughout the extension, with glazing from CareyGlass and teak frames supplied by a local joiner. The glass has a U-value of 1.1 W/m2K, the overall units a U-value of 1.7 W/m2K. Ryan put two series' of double-glazed, argon-filled clerestory windows in the new extension too. These have a centre-pane U-value of 1.1 W/m2K, and were fitted directly on to the timber frame structure.

He also installed three double-glazed Velux skylights with low-e coatings and overall U-values of 1.4 W/m2k – one in the original house, two in the new extension.

Double-glazed windows in the original house were kept, but other upgrade work was done here – 250mm of glass wool insulation was installed in the attic on top of an existing 40mm or so of mineral wool. Ryan says the existing insulation was "poorly distributed around the attic space, often being squashed, ripped or displaced by stored boxes".

As Construct Ireland went to print Abbey Insulation were set to pump-fill the 100mm wall cavity of the existing house with bonded bead. Ryan says this should bring the U-value of the wall from 2.54 W/m2K down to 0.29 W/m2K.

A Waterkotte ground-source heat pump with an output of 9.4kW, supplied by Nutherm, heats space and domestic hot water. According to Nutherm, the unit has a COP of 4.5 at a brine temperature of 0C and a water temperature of 35C. But Nutherm's Michael McCloskey stresses: "The COP is measured at a very bad condition for heat pumps...ground temperature should average more than zero and your heating flow temperature should average less than 35 if the system is designed properly."

McCloskey says the COP as tested in the lab often bears little resemblance to actual performance. "This real life performance is called seasonal performance factor [SPF] and must be measured on an installed system in real life conditions. Flow temperatures on both sides of the machine do in fact vary over the season and also from one installation to another and have a major impact on the SPF or overall efficiency."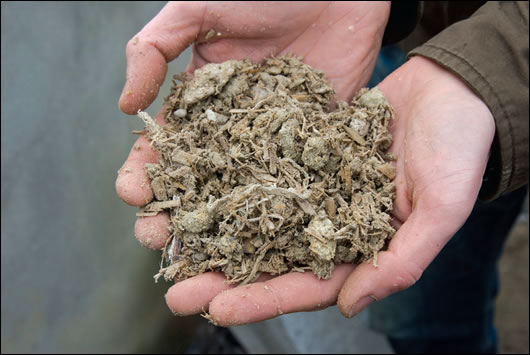 Gordon Ryan gets his hands dirty with hemp-lime

McCloskey says Nutherm maximise efficiency by distributing heat at as low a temperature as possible in the house, and by finding the best source of heat on site – in this case a closed loop bore-hole with high water flow from an aquifer that keeps the source temperature at 7-8C. He says having this "excellent" heat source mean the SPF of the system is approaching 5 – including hot water production, with no electrical boost.

The system is weather compensated, and has an average flow temperature of less than 30C. Heat is distributed throughout the extension by an underfloor system, and in the extension by wall-based piping in new hemp-lime internal partition walls.

The interior of the existing house was totally revamped after a long consultation with the family about internal design – all bedrooms were put in the old part of the house with new living spaces in the extension. The logic behind this was twofold – bedrooms are generally heated to a lower temperature than living spaces so are kept in the less insulated part of the building, and this allows public and private spaces to be kept separate too.

Putting a yard between the old and new elements of the building means the original u house doesn't cast a shadow over the extension, allowing natural light to enter the south-facing clerestory windows and illuminate the main living space below.

One of the building's most interesting design features is a climbing wall for the couple's two teenage kids in the utility space. "The two teenagers in the house were very much involved in the design process. They required a clearly defined space of their own that was also far away from the bedrooms so that visiting children were not going to be interfering with the sleeping side of the house," Ryan says. "The climbing wall makes that little space naturally limited to the nimble youth. It doubles as a sleepover hideaway."
The house boasts other green features too – salvaged red-oak flooring in one area, and carpet that contains 80% goat hair in another. All building waste was separated and set aside for recycling or re-use too – leftover hemp and lime was used for flooring in a new shed, for example, and rubble from a dismantled shed was used as infill for a soakage pit. "Very little waste actually made it to land-fill," Ryan says.

Situated near the coast, the driving rain of the north-west will no doubt put the upgraded house and extension to a tough test. A BER calculation and air-tightness test had yet to be done as Construct Ireland went to print, but having been living between the house and a camper van while work was ongoing, Celia Keenaghan is glad to be back in an almost-finished home for good. She's particularly pleased the interior is getting much more natural light now.

"It's a great space, it's really made life a lot easier," she says. "The feel of it is lovely, there's nice heat in it. It's a lovely living space."


Selected project details

Design: Applied Sense Design & Architecture
Contractor: Hughes & Haas
Ground-source heat pump: Nutherm
Hemp-lime: Hempire
Attic insulation: Abbey Insulation
Floor insulation: BMG Hardware
Glazing: CareyGlass
Concrete polishing: Renobuild
GGBS: Trotters' Quarry