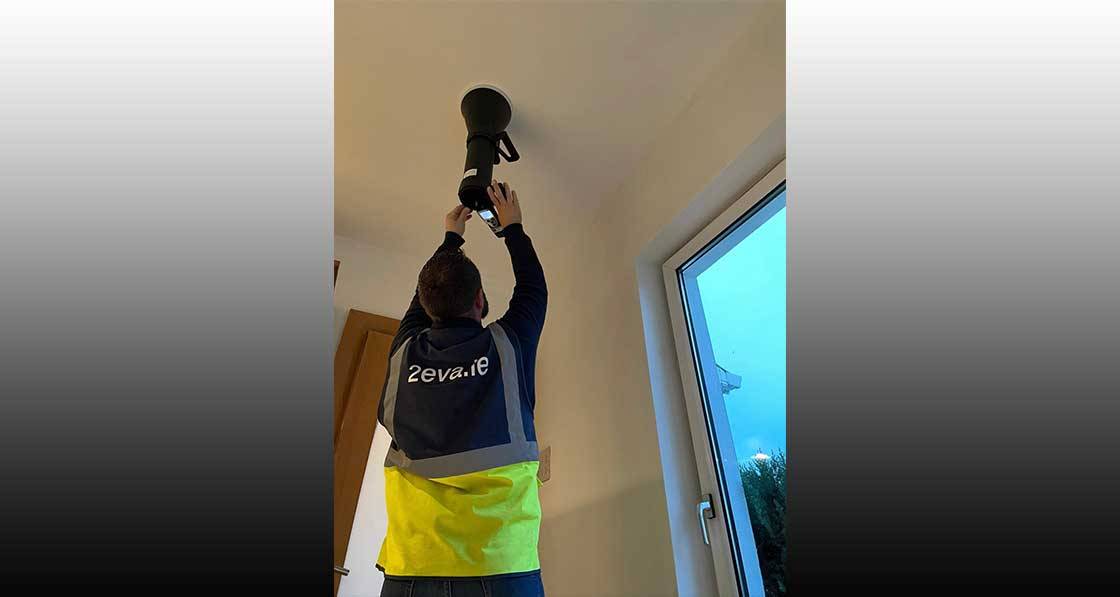 News Desk
Evidence emerges of endemic ventilation regs breaches
Evidence is emerging of endemic non-compliance with ventilation requirements for new homes under Part F of the building regulations.
This article was originally published in issue 39 of Passive House Plus magazine. Want immediate access to all back issues and exclusive extra content? Click here to subscribe for as little as €10, or click here to receive the next issue free of charge
This is including widespread failure to meet minimum flow rates and vent sizes, and low compliance with the requirement for independent validation of ventilation systems – with validators reporting lack of awareness about the validation requirement, and even claiming to have lost work as a result of promoting validation.
Data gathered by Passive House Plus indicates that only 12 per cent of homes built to the nearly zero energy building (NZEB) standard to date have been subject to independent ventilation validation – with validators reporting poor awareness among clients and assigned certifiers. Meanwhile, only 9 per cent of homes assessed by independent ventilation validators as part of their registration audit met compliance with Part F.
Under changes to Technical Guidance Document (TGD) F introduced in 2019, all ventilation systems in new homes are required to be designed, installed and commissioned by competent people, and independently validated by certified ventilation validators. The National Standards Authority of Ireland (NSAI) has established a ventilation validation registration scheme, which currently includes 23 people certified as competent independent third parties to validate that a ventilation system has been installed, balanced and commissioned to meet the minimum requirements of TGD F.
Twenty two dwellings with mechanical ventilation systems – including both mechanical extract ventilation and heat recovery ventilation systems – were used to audit newly trained validators prior to registration, with one house being used for audits on two of the 23 validators. Naturally ventilated homes were not selected for audit, on the basis that validators should have no problem measuring the area of wall vents. In 20 of the 22 houses, the installed ventilation failed to meet the minimum requirements of TGD F [Ed. – it's important to avoid the false conclusion that natural ventilation systems would fare better, given widespread acknowledgement in the industry that natural ventilation systems have tended to be grossly undersized to meet building regulations, not to mention the real world performance of natural ventilation in low energy buildings].
According to Gary O'Sullivan, who manages the NSAI scheme, all of the validators passed the audit, in that they accurately calculated the actual flow rates and measurements. It's not known whether the systems in any cases were designed, installed or commissioned by people who had sat competency courses or not. The 2019 version of TGD F was introduced concurrently with TGD L 2019, reflecting a recognition that that the nearly zero energy building standard would require increased care to ensure buildings are adequately ventilated.
Approximately 900 of the 7,522 new homes built to the NZEB standard up until the end of September had independent ventilation validations completed by the the same date, based on information Passive House Plus obtained from every ventilation validator registered with the National Standards Authority of Ireland and the Irish National Accreditation Board. The 7,522 homes are homes with final BERs, where 2019 TGD L was listed as the relevant version of building regulations in the DEAP calculations. It's important to note that some of these homes would have been voluntarily assessed against 2019 TGD L, and would not have been required to meet 2019 TGD F. Nonetheless, the fact remains that there is a very large gap between the number of validations completed, and the number of homes which would have been subject to 2019 TGD F.
One validator who is also registered as an airtightness tester told Passive House Plus that he had recently been asked to bid for a large housing scheme with a builder he had worked with frequently in the past. The validator claims that he lost the job as a consequence of including ventilation validation in his quote, as the builder had been incorrectly informed that ventilation validation wasn't required.
DEAP input solution – and more accurate BERs
A number of validators proposed a solution that Gary O'Sullivan of the NSAI has been promoting: requiring a validation number to be added into the DEAP calculations to generate a building energy rating. "It would serve as a driver to compel people to ensure that ventilation is being installed correctly," said O'Sullivan. "If there was some kind of a check box somewhere – a compulsion to input some entry into DEAP as to the general ventilation rate for a dwelling this would serve as a better control measure."
O'Sullivan added that it would make sense to add the measured ventilation air change rate into DEAP, as opposed to the current default rate of 0.5 air changes per hour – enabling a more accurate calculation of ventilation heat losses, and potentially reducing the cost of compliance. O'Sullivan provided an example to Passive House Plus, where the TGD F compliant ventilation rate was 18 per cent lower than the assumption in DEAP.