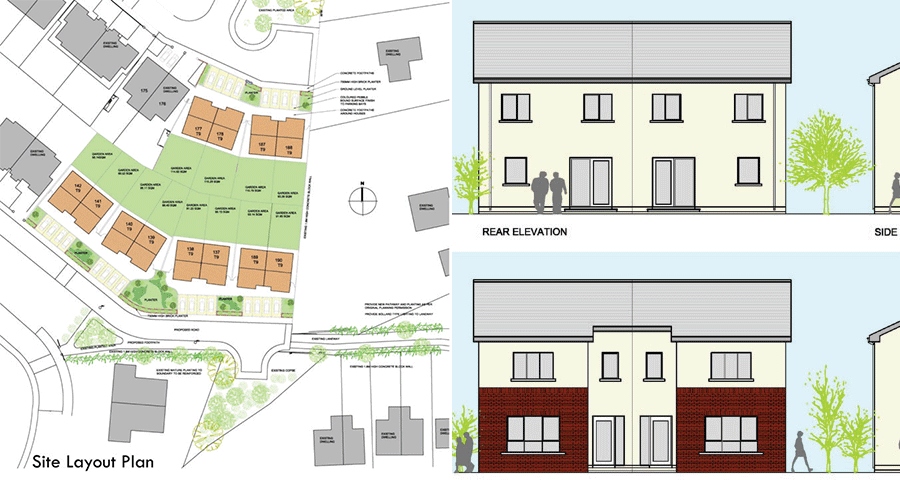 News Desk
€170k Wexford passive semis launch – with free heat & hot water
Michael Bennett & Sons' just-launched development, Madeira Oaks in Enniscorthy, Co. Wexford, features what may be the lowest-cost passive housing in Ireland.
Three of the twelve semi-detached houses in the development have already been sold, with a price tag of just €170,000 each.
"I've had this idea for years that first time buyers should be able to afford passive houses," says Michael Bennett. "I just didn't see any reason why they shouldn't. We've put a lot of research into it over the last few years, and finally, last year, we were able to break ground."
All of the three-bedroom semi-ds will be certified passive and will carry at least an A2 BER. In addition, each will be guaranteed under the HomeBond guarantee scheme. With a floor area of 102 square metres (1,100 sq ft), the houses are of timber frame construction and incorporate the Nilan Compact P combined heating, cooling and MVHR unit. The design and build team, which includes leading passive house designers MosArt, estimate that total annual water and space heating costs will come in at under €200. However, a photovoltaic array on the roof of each house is expected to yield €200 worth of savings to electricity bills, making the homes' expected space and water heating use – all of which will be provided via the electrically powered Compact P – cost neutral.
Bennett built his first passive house in 2007. Since then, the company has amassed considerable experience exploring new methods of delivering high quality housing at affordable prices. "Passive housing is down to two things," he says, "very good quality materials and top class workmanship. If you don't have those, you won't get certification."
Working with well-trained crews has also expedited construction. Despite only breaking ground in November, the houses were ready for their first blower door tests by mid-January. "I've always said that passive houses are affordable for everyone," said Bennett. "We're building them as cheap as traditional houses. There's no premium any more. That's gone."

Out in April, issue 15 of Passive House Plus will feature a detailed case study on the Madeira Oaks scheme, where the first homeowners are expected to move in by the end of February.
Last modified on Friday, 09 September 2016 13:48