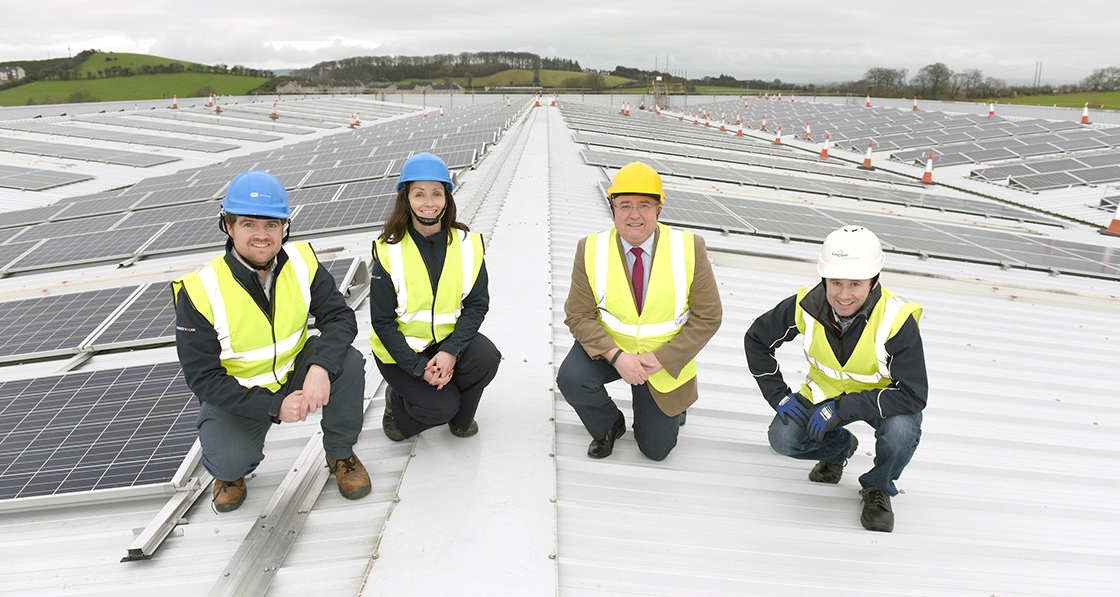 News Desk
Kingspan installs Ireland's largest solar PV array
Kingspan Insulation has taken a step towards net zero energy by using the roof of its factory in Castleblayney, Co Monaghan to generate clean, renewable electricity.
The manufacturing plant will use nearly 100% of the energy generated by the solar panels.
The project was developed and installed by Kingspan ESB, a joint venture company delivering funded rooftop solar PV systems. The 300kW solar photovoltaic (PV) system, consisting of 1,200 panels, will provide 15% of the factory's annual daytime load, which will help reduce C02 emissions.
The project is in line with the Kingspan Group's net zero sustainability 2020 targets. Currently the group's energy usage from renewable sources is on track to exceed an interim target of 50% in 2016.
(Pictured above with the 300kW array are (l-r) Kingspan ESB general manager Fergus Sharkey, ESB solar manager Cera Slevin, Kingspan Insulation operations director Kevin O'Grady and Kingspan Energy project manager Barry Sherry)
Kevin O'Grady, operations director at Kingspan Insulation, said: "We are very pleased to have the largest solar PV system in the Republic of Ireland operating at our facility. The partnership between Kingspan ESB and ourselves has enabled us to utilise our factory roof space to create a sustainable, clean energy [system] which was all made possible by the 'funded solar' model."
The new solar PV system is part of the funded 'solar model' which allows the business to pay for the energy it consumes, and not the capital cost of the system itself. It was part-funded by the Sustainable Energy Authority of Ireland (SEAI).
Kingspan ESB director Mel Courtney said: "This offering from Kingspan ESB allows businesses to benefit from securing renewable energy without any capital investment, retaining capital for their core business projects while leaving rooftop solar development, monitoring and maintenance to ourselves which is our expertise"
Last modified on Friday, 22 April 2016 11:03