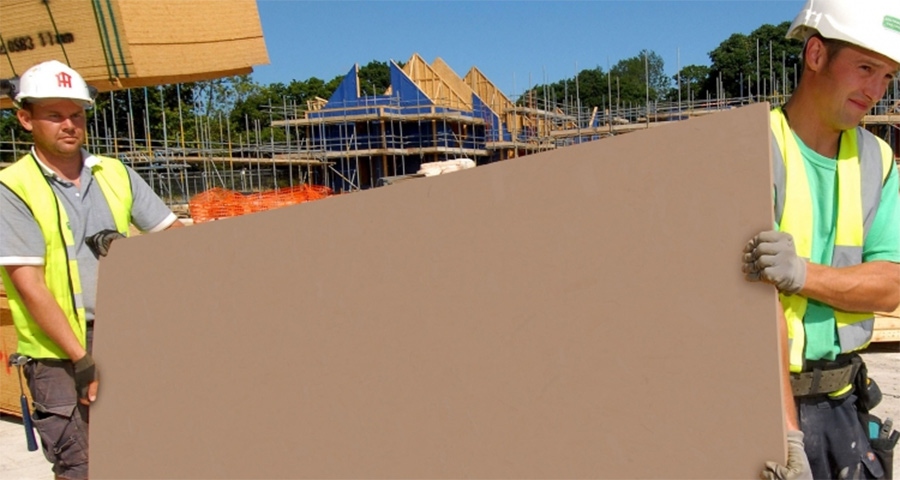 News Desk
SmartPly chosen by Greenpeace for emergency humanitarian project
Medite Smartply, the leading manufacturer of oriented strand board (OSB) provided a rapid, reliable solution for a humanitarian project coordinated by Greenpeace UK to build emergency accommodation for homeless families in time for Christmas.
Due to its strength, versatility and environmental credentials, two pallets of 18mm SmartPly OSB3 were specified for the design and fabrication of fl at pack emergency weather-proof buildings in Calais. A highly engineered, moisture resistant, wood-based panel designed for use in humid conditions, SmartPly OSB3 was the ideal choice for the emergency project as it is suitable for floors, roofs, walls and many other applications where strength and moisture resistance are paramount.
The temporary buildings were put together by Factory Settings, leading set designers within the entertainment industry. Such is the versatility of SmartPly OSB3 that the prefabricated accommodation was constructed within two weeks of the original plan being conceived. The buildings, which are designed to slot and hold together using coach bolts with wing nuts, were erected on site without tools by both skilled and unskilled workers.
Lucien Mansell, Factory Settings director commented: "SmartPly OSB was specifi ed based on the fact it is a robust structural board with moisture resistance, which is well suited to the challenging environment the shelters are in. The project had a number of challenges such as the short timescale for the initial design-and-build, making SmartPly OSB3 the only option with a rapid turnaround required. We are delighted with the result achieved and now we are very much looking to develop the design for the next set of shelters."
One of the aims of Greenpeace is to protect forests, hence its recognition of the environmental benefi ts of SmartPly OSB3 compared to plywood. As with all SmartPly products, OSB3 is made from locally sourced timber from FSC certified Irish forests which are owned by SmartPly's parent company, Coillte.
As well as providing comfort and peace of mind to a number of displaced families at Christmas, SmartPly OSB3 presented the design team with a fully certified, sustainable product which is manufactured and tested to EN13986 and approved for use in both structural and non-structural applications.
Bob Wilson, head of events for Greenpeace UK commented: "This was an emergency situation where a number of temporary homes were needed in time for the festive season. With speed of the essence we wanted the best, most reliable versatile - and just as importantlysustainable wood-based panelling available. SmartPly OSB3 was our immediate choice. It complies with our environmental requirements, as well as providing robust, long-lasting protection in all climates and conditions."
Last modified on Wednesday, 13 March 2019 15:39