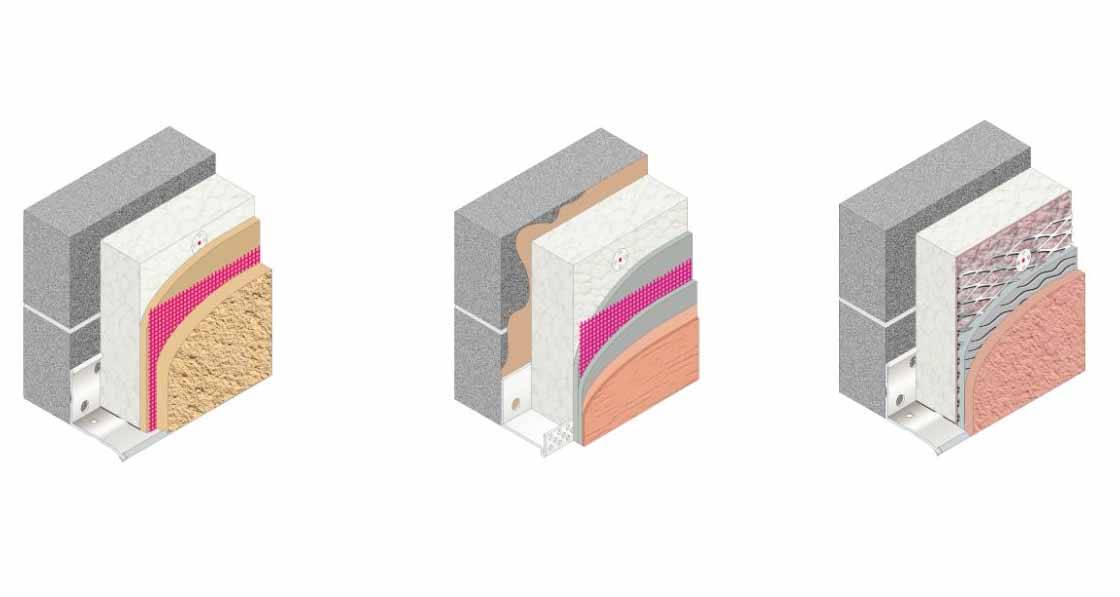 News Desk
New building regs "tragic" for external insulation market
There is growing concern in the retrofit industry that incoming changes to Part L of the building regulations, set to come into force this November, could decimate the market for external
insulation
.
This article was originally published in issue 31 of Passive House Plus magazine. Want immediate access to all back issues and exclusive extra content? Click here to subscribe for as little as €10, or click here to receive the next issue free of charge
The impending changes to the building regulations, designed to bring Ireland in line with European requirements that all new buildings be 'nearly zero energy', require any retrofit that upgrades more than 25% of a building's surface to either achieve a B2 BER, by undertaking other retrofit measures at the same time, or to install a new heating system and attic insulation.
The measures that the 'major renovation' clause applies to are external wall insulation, internal wall insulation, window upgrades, and roof and floor renovations. However, there is particular concern at the extent to which this rule could affect the market for external insulation, given this type of upgrade can easily meet the 25% surface area threshold.
Homeowners undertaking external insulation can currently apply for a grant of up to €6,000 to part-fund the work, but from November on they will be required to undertake the additional measures outlined above at the same time. Grants for homeowners are also currently available for internal and cavity wall insulation, attic insulation, heat pumps, solar thermal and solar PV systems and heating controls, but the new requirements will still significantly increase the outlay demanded from homeowners.
Speaking to Passive House Plus, Martin Labedz of MBC Project, who supply the KABE Therm external wall insulation (EWI) system in Ireland, described the changes as "tragic" for the EWI market in Ireland.
"This will most likely mean the death of 90% of the private homeowner market for EWI, dealing another blow to our carbon emissions targets," said Labedz. "Most homeowners will just give up on getting insulation done."
Ken Lee of insulation contractor LeeTherm went even further, saying the market for owner-occupier retrofit of external insulation was now "gone". Lee said that in his experience, many of his customers will undertake whole-house retrofits over time, perhaps doing external insulation one year, then upgrading their windows once they've saved extra money a few years later.
"People just don't have the money to do the windows, doors, external insulation and a heat pump all in one go," he said. Lee also expressed concern that the recent controversy surrounding the deep retrofit grant scheme, during which it was temporarily revealed the scheme had run out of funds before more funding was made available, had in fact created the impression among homeowners that all insulation and retrofit grants had been suspended.
"We have people ringing now saying all the grants are gone," he said. "People don't differentiate between [schemes]… The phones have got noticeably quieter."
The changes to Part L for major renovations are derived from the EU's Energy Performance of Buildings Directive, which has also mandated the NZEB standard across the continent, and appear designed to deal with concern that piecemeal retrofits — where someone undertakes just a single measure or two, such as attic or cavity wall insulation — are not sufficient to sufficiently reduce carbon emissions from buildings.
There is also a worry that without whole-house retrofit plans, single measures can sometimes exacerbate problems with building fabric or indoor air quality. Insulating and making a house more airtight without upgrading the ventilation system for example, can lead to poor indoor air quality.
In the UK, the new retrofit code of practice SR 54, which will apply to government-funded schemes, is designed to ensure that any retrofit is properly designed, considers the whole dwelling, and protects the building fabric as well as indoor air quality.
At European level, there is also a growing movement to incentivise 'step-by-step' deep retrofits, where major upgrades are undertaken over a period of years to make the costs more manageable for building owners — but are carried out according to a whole-house retrofit plan developed at the outset of the process.
The Passive House Institute now allows certification of Enerphit to be undertaken this way according to their retrofit plans.
However, the recent changes to Irish building regulations do not appear to facilitate these types of upgrades. There also remain questions over how the new regulations will be enforced.
While new build housing is subject to planning permission and the Building Control Amendment Regulations (BCAR), under which compliance with the building regulations must be demonstrated, most retrofits are not subject to these rules, so there is uncertainty as to how building control offices in local authorities will be expected to check for compliance.