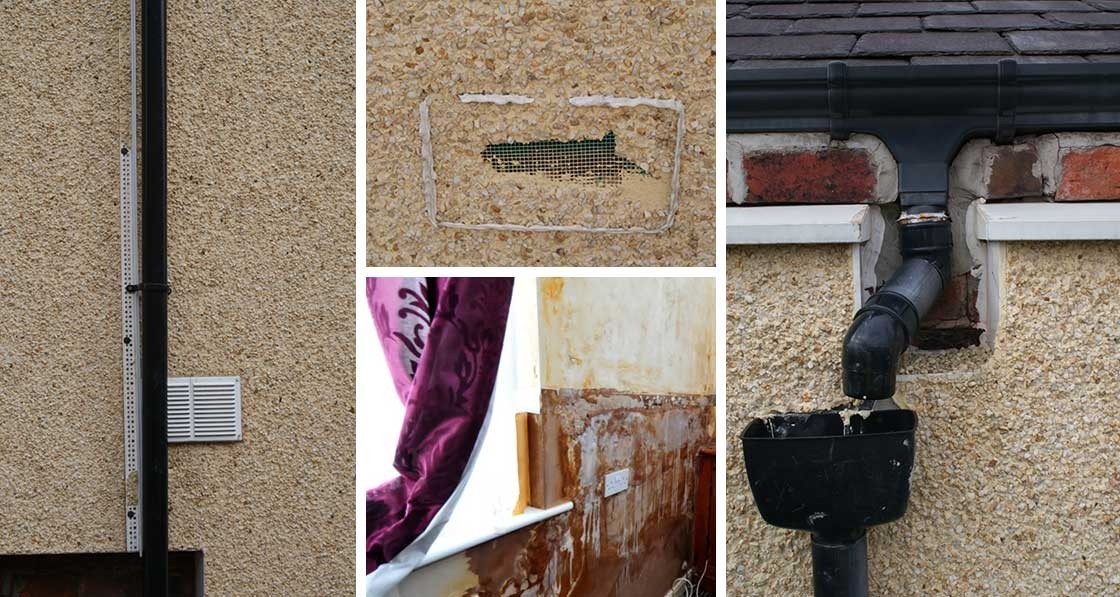 Disastrous Preston retrofit scheme remains unresolved
A disastrous failed external insulation contract run under a government energy saving scheme has affected up to 390 homes in Preston with water penetration, mould and damp.
This article was originally published in issue 24 of Passive House Plus magazine. Want immediate access to all back issues and exclusive extra content? Click here to subscribe for as little as €10, or click here to receive the next issue free of charge
Four years on the problems, some of them severe, have only been rectified for some of the affected households. Occupants, many elderly and on low incomes, have in some cases reportedly been forced to pay for repairs themselves.
The installations in Preston took place under the Community Energy Saving Programme (CESP), which required energy companies to fund energy saving measures in disadvantaged communities. And although changes were made to subsequent government schemes, figures from Ofgem suggest that some installations carried out under the newer Energy Company Obligation (ECO) programme are continuing to fail.
In Preston, the homes affected are small terraced houses built around 1900 in the Fishwick area of the city. These properties had external wall insulation fitted, along with other measures, in the 'mitigation period' at the end of CESP in early 2013.
Photographs shared with Passive House Plus by Preston City Council show how bad the damage has been to some properties, with drastic deterioration to the interior surfaces, black mould, and florid fungal growths. There have also been reports of worsening respiratory disorders and hospitalisation of some tenants.


(above) Poor workmanship at the Preston scheme including (l-r) poor detailing at the roof line, discontinuous drainage installations; and uneven installation of the insulation system.
According to a Preston City Council report in 2015, in some cases plaster, furniture and belongings were damaged. There were even reports of water exiting from electrical sockets, and of collapsed ceilings.
Site visit reports by the insulation supplier, Wetherby, describe water coming through walls at the window head and behind drain hoppers that were failing to carry rainwater away.
Sources contacted by Passive House Plus, including Ofgem, agree that poor workmanship was a major reason for the failures. Photographs of the work show insulation cappings that tilt backwards towards the wall; discontinuous gutters, hoppers and downpipes; and broken cement fillets that could allow rainwater to soak into the wall.
Many of the houses apparently also had narrow "rat trap" cavities that were previously filled with insulation, which went unnoticed when the external insulation was applied. The water penetration following the external wall insulation [EWI] installation reportedly caused much of this insulation to become saturated, acting as a reservoir for moisture in the walls.
As John Proctor of power generation firm Intergen, the original funder of the work, explained: "My understanding is the EWI system led to dampness coming into the houses. There was nothing wrong with the system per se but the installers didn't do a good job tying in the existing guttering, so water was backing up and going into the walls. And some of the houses had cavity insulation, which has become saturated."
The installation under the original contract was carried out by a firm, which has since gone into liquidation. The installer was apparently under considerable time pressure.
Intergen was paying for the work as part of its obligation under CESP, but in Ofgem's words, "delivery was at risk". By 2012, at the end of the allotted three years, Intergen had only delivered 6.4% of its obligation.
In January 2013, Ofgem notified energy companies that were late with their obligations —including Intergen — of a new deadline to complete works: 30 April 2013.
As Preston City Council energy officer Andrea Howe, recalls: "We have a lot of eligible households, so a lot of energy companies came to Preston. [They] were desperate to get rid of the funds to avoid fines."
It appears that Intergen was racing to make up three years' shortfall in just a few months, and this pressure was passed on to the contractors.
This is corroborated by Bob Deane, managing director of EWI supplier Wetherby, who told Passive House Plus the contractor was working to a very tight deadline because of the "frantic last minute dash to try to claim the carbon". Bob Deane says that Wetherby, who periodically inspect installations of their EWI system, warned on numerous occasions that the detailing of the EWI in Fishwick was unsatisfactory and would fail, "but nobody would take our advice or accept our detailing. It was an absolute nightmare from start to finish."
He continues: "The installers said they wouldn't get paid till it was all done. They wouldn't extend the roofs out over the insulation because they said they were not being paid to do so." Bob Deane adds that after the installer went into liquidation, Wetherby themselves were not paid for the materials they had supplied.


(above) Evidence of water ingress and severe fungal growth inside the properties
Problems, primarily with water ingress, were first reported to Preston City Council at the end of 2013, and gathered pace the following year. However despite the obvious poor quality of the work and the magnitude of the problems, Preston Council told Passive House Plus it was extremely hard to get anyone to take responsibility for putting it right.
According to Andrea Howe: "As soon as the complaints started to come in, everyone who had been involved turned their backs on the residents, even though it was still in the defects liability period. "On a weekly basis I was contacting everyone who had ever been involved or those in the industry who I thought could help, and got nowhere," she said. Bodies the council approached for help included the contractors, the managing agent, the energy company who funded the work, and the regulator Ofgem.
Ofgem did finally pursue redress with Intergen, but according to Andrea Howe, only a minority of affected homes were included, and some of the worst affected were left out. "We did our best to collect the names and addresses of people affected, but after a point Ofgem said 'we can't deal with any more now' when we had only got 62 addresses. They just cut us off."
Ofgem told Passive House plus: "Intergen was subject to enforcement action by Ofgem for failing to carry out its obligations under CESP [the firm only managed just over half in total], and in concluding that enforcement case, Intergen agreed to remediate the 62 properties who had reported issues at that point in time."
Approximately £1.5million is believed to have been allocated to fix these 62 homes. Passive House Plus has attempted to find out directly from the other original actors what went wrong and why, what had been done to rectify matters, and why so many people have been left with such terrible problems for so long, but this has proved difficult. Apart from some of those quoted above, most of the people involved have moved on to different companies, and there seem to be few records available.
After the original contractor went into liquidation, another firm with the same director also went into liquidation, and this team could not be traced. John Proctor at Intergen, who is overseeing the funding of the current remediation, was not involved in the original project, and was "unable to provide [any] information" on the contractual history of the project.
Preston Council and Intergen both told Passive House Plus that Anesco, a large energy services firm, was involved in a brokerage or managing agent capacity.
However it appears that the people involved have all left, and current staff at Anesco told Passive House Plus they were unable to find any record of the work, the size of the contract, the brokerage fee they charged, or any steps taken to secure remediation.


Poorly installed external insulation with capping (right photo) that will almost certainly drain rainwater back into the wall behind
As one of the people Passive House Plus spoke to put it, many people originally involved in the project have disappeared "like snow off a dyke".
The problems, however, have not disappeared. "The complaints haven't stopped," Andrea Howe says. "Residents are angry." Vulnerable householders have had to pay to rectify urgent problems themselves – for example, where boiler flues had been blocked, or pipes had been dislodged during installation, leading to sewage collecting behind the cladding.
And the issues are by no means yet resolved for many properties. E.On, who were appointed to carry out the remediation of the first 62 properties, began work in mid-2017. Intergen told Passive House Plus that the insulation has been stripped off, saturated cavity insulation removed, rainwater goods repaired and the insulation reinstated.
Regarding the others, Ofgem says: "We have been working with interested stakeholders to achieve the best possible resolution in respect of any other properties which may have been affected. These efforts are ongoing." According to Andrea Howe, some money for further remediation has been identified by the charity National Energy Action. However, the amount is thought to be less than has been spent on remediating the first 60 houses, although many more than 60 dwellings are believed still to require work. Just as Passive House Plus went to press Preston City Council were contacted by some affected residents complaining that, once again, they had been turned down for help.
The story of the Preston homes was brought as evidence for consideration by the team from the Bonfield Review of the energy retrofit industry, alongside representatives from the then Department of Energy and Climate Change. According to a note in the review's 'Each Home Counts' report: "E.On... will be in close dialogue throughout the Review's implementation to ensure that further work makes use of the best available practices, as they are defined."
Progress remains painfully slow for the residents of Fishwick. "EWI was meant to increase the value of property: this is not the case here," Andrea Howe says. "Many residents are struggling to sell, or to re-let when tenants move out. Many are in worse fuel poverty than they were before the scheme." This is not how "community energy saving" was meant to work
Last modified on Thursday, 08 March 2018 23:14