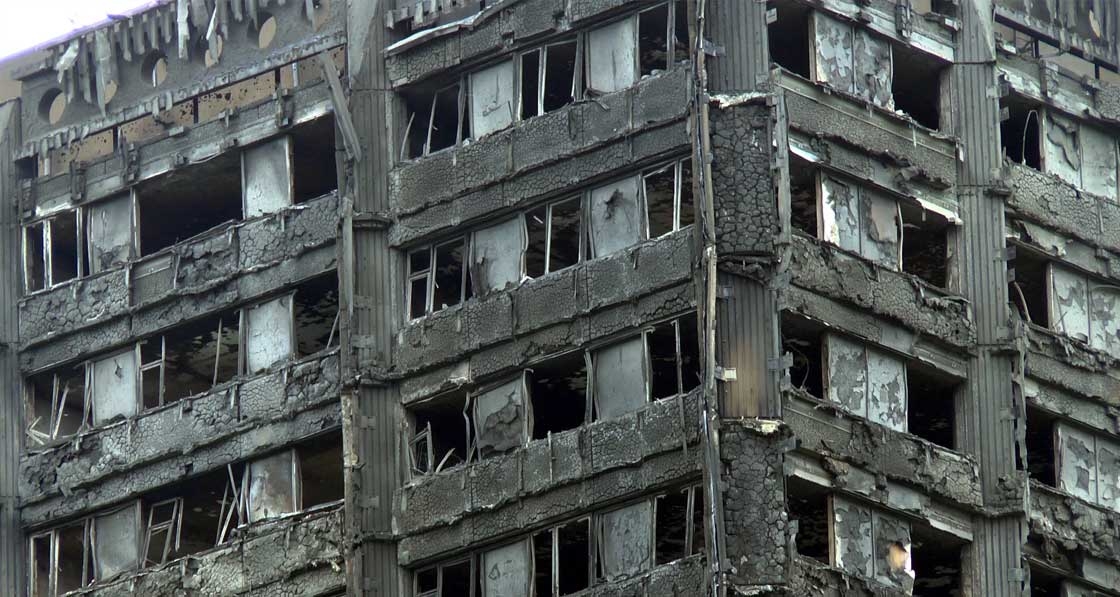 Chair of post-Grenfell fire review "shocked" by construction culture
The engineer tasked by the UK Government with examining building fire safety regulation in England following the Grenfell fire has said she is shocked by construction practices. The industry urgently needs to change its culture, and "clearly identifiable" individuals must take responsibility for what is built, she concludes.
This article was originally published in issue 24 of Passive House Plus magazine. Want immediate access to all back issues and exclusive extra content? Click here to subscribe for as little as €10, or click here to receive the next issue free of charge
In a damning report on the integrity of the regulatory system and the competence of the construction industry, Dame Judith Hackitt writes: "I have been shocked by some of the practices I have heard about… it is not difficult to see how those who are inclined to take shortcuts can do so." She adds: "There is confusion about roles and responsibilities throughout and a general lack of competence and accreditation."
The interim report of the Independent Review of Building Regulations and Fire Safety, published by the communities department just before Christmas, makes it clear that root and branch reform will be needed. "We have identified numerous ways in which the system is gamed or worked around ...the regulatory system is not fit for purpose… and quality assurance of materials and people is seriously lacking."
"The mindset of doing things as cheaply as possible and passing on responsibility for problems and shortcomings to others must stop," she writes. The report was summed up by the website Construction Index: "In essence, contractors are out of control."
Dame Judith's report condemned the common assumption that if a design had passed building control this meant it was safe, and expressed dismay that what is designed is not necessarily what is being built.
In future, she said, "primary responsibility for ensuring that buildings are fit for purpose must rest with those who commission, design and build the project. Accountability must rest with clearly identifiable senior individuals and not be dispersed through the supply chain."
"There needs to be a golden thread for all complex and high-risk building projects, so that the original design intent is preserved and recorded, and any changes go through a formal review process involving people who are competent and who understand the key features of the design."
The building control system is inadequate, the review says, owing to competition, lack of power on the side of private inspectors, and lack of qualifications in local authority teams. The report called for demonstrable independence of inspection, and stronger enforcement of regulations with meaningful penalties.
The report concludes: "We have heard that [competition] leads to situations where BCB personnel can fail to 'win business' where they will not commit in advance to approval of more risky designs, and that those who do win business can become far too embedded in supporting the building design process".
The report was also concerned that there is no requirement to inform building control of potentially significant changes to building work and indeed building "appears frequently to commence well before the plans are approved," while approved plans "frequently are not followed as a result of business processes such as value engineering." Specific recommendations are expected in the next stage of the review.
"Phase two will focus on defining a revised regulatory system which will be simpler, clearer to all involved and deliver better overall outcomes," the report reads.
Critics say review doesn't go far enough
While the interim findings have been welcomed, some industry bodies, commentators and MPs have pointed to omissions, including the failure to mandate sprinklers in all tall buildings, failure to end the use of desktop assessments altogether, and failure to ban the use of combustible materials in tall buildings — even though, as the report itself notes, very many of the submissions to the inquiry recommended these measures as a matter of urgency.
The RIBA issued a statement expressing disappointment at the lack of an immediate prohibition on the use of combustible materials in the external construction of high-rise buildings, something they had called for in evidence. Doubts have also been expressed about whether there is the level of competence in construction to take on the roles the review is calling for.
The All-Party Parliamentary Fire Safety and Rescue Group (APPG) has written to the government calling for "urgent changes" to the regulations, including abolition of the use of desktop studies.
But while not calling for an all-out ban, theHackitt review does recommend that the government should "significantly restrict" their use "to ensure they are only used where appropriate and with sufficient, relevant test evidence," adding "those undertaking desktop studies must be able to demonstrate suitable competence. "The review also called for "immediate action" to make the building regulations and Approved Document B clear and consistent.
Communities Secretary Sajid Javid welcomed the interim report and told parliament the government will commission work to produce a new British standard on when and how desktop assessments can be used, and "will work quickly with industry experts to complete work on clarifying the guidance and approved documents on fire safety."
While construction industry practices are strongly condemned by the interim report, there is little criticism of successive governments for having ignored warnings over many years about the building regulations and approved guidance.
Manufacturers' marketing practices promoting the use of combustible materials in tall buildings are also not examined, though the review team does intend to press for more transparency: "During phase two, the case must be examined for … product testing data to be made transparent and publicly available and for a much clearer system of product classification."
Last modified on Tuesday, 30 January 2018 17:11