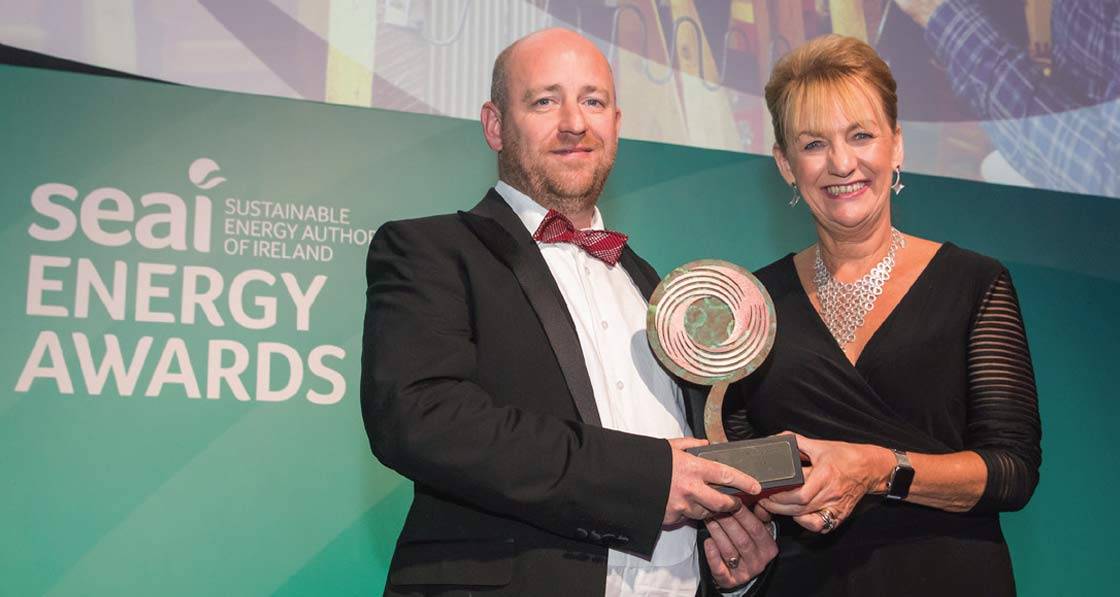 News Desk
Rediscovery Centre wins sustainable energy award
The Rediscovery Centre in Ballymun picked up the Buildings Award at the 2018 SEAI Sustainable Energy Awards, which were held at the Mansion House, Dublin, on 25 October. The awards recognise excellence in energy management in business, communities and public sector organisations.
(above) Roger Warburton, operations manager at the Rediscovery Centre, picking up the Buildings Award at the SEAI Sustainable Energy Awards from SEAI chairperson Julie O'Neill.
This article was originally published in issue 28 of Passive House Plus magazine. Want immediate access to all back issues and exclusive extra content? Click here to subscribe for as little as €10, or click here to receive the next issue free of charge
Profiled in issue 22 of Passive House Plus, the Rediscovery Centre is "a creative space in Ballymun connecting people, ideas and resources for greener living", and occupies a retrofitted old boiler house that was originally set for demolition.
As well as a highly insulated and airtight building envelope, the building features a suite of sustainable features, including an air source heat pump, composting toilets, rainwater harvesting, LED lighting, solar panels (PV & thermal), a green roof and living wall, on-site grey water recycling, landscaping to encourage biodiversity, and new walls of hempcrete and timber frame construction, as well as a strong emphasis on natural materials throughout. Indoor air quality monitoring is also now underway at the centre.
Throughout the project, opportunities for reuse of materials were given preference. For example, the outside of the building was finished using recycled brick and cladded with old shutters from the original boiler house. Interior glass and some insulation were sourced from leftover materials from the wider local area regeneration. Where new materials were needed to complete the building, they were sourced as locally as possible.
Commenting on the awards, SEAI chief executive Jim Gannon said: "The SEAI Energy Awards celebrate the absolute best of Ireland's sustainable energy achievements. They are a vivid demonstration of how Irish business, communities and public organisations are pushing the boundaries in energy efficiency and the switch to clean energy. The 80 plus entrants in this year's awards have made energy savings of €38 million and they are responsible for €30 million in energy generated from renewables, which is equivalent to powering 166,000 homes."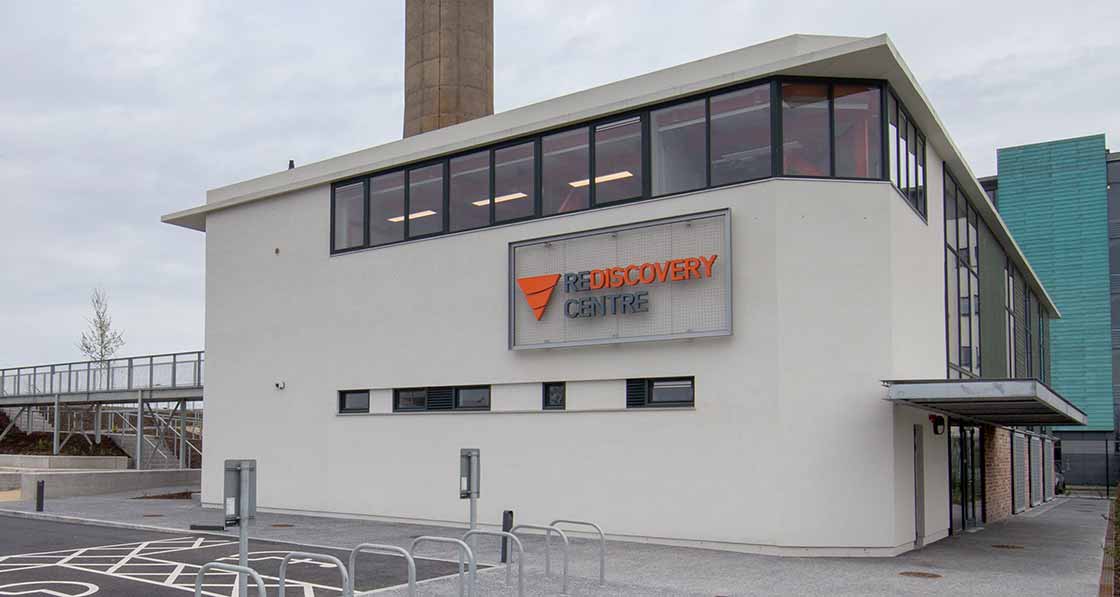 He continued: "As the realities of climate change becoming clearer to us all, it is particularly important to highlight what work is being done by energy leaders across the country. The commitment and dedication of the finalists should be a huge inspiration to us all."
Other winners of the awards included: Gurteen College, Tipperary; EirGrid; MPOWER, Dublin; The Aut Even Hospital, Kilkenny; Sligo University Hospital; Aran Islands Community Energy Cooperative, Galway; Lidl Ireland and Northern Ireland GmbH; and Wyeth Nutrition, Limerick.
For full details on all winning projects, visit www.seai.ie.
Last modified on Monday, 14 January 2019 15:27