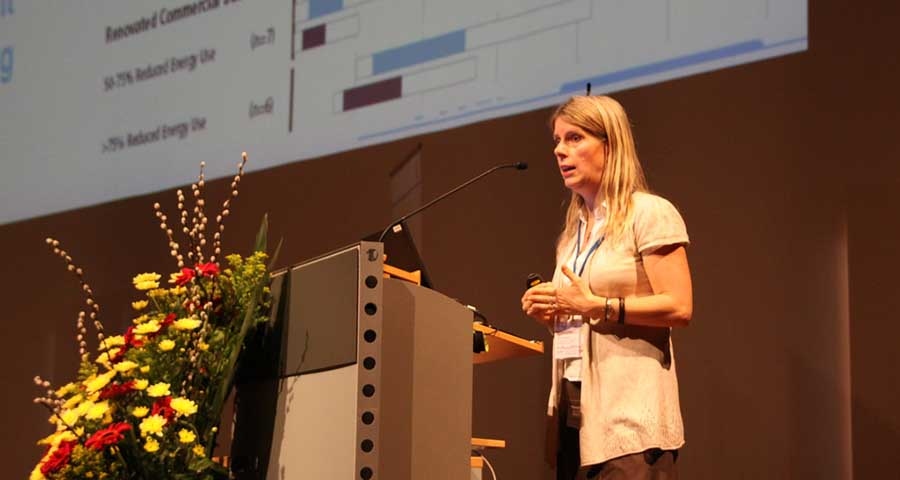 IPCC lead author to speak at passive house NY conference
Climate science and building science are set to intersect at a passive house conference in New York on 17 June.
The keynote speaker at the NY14 Passive House Conference and Expo will be Dr Diana Ürge-Vorsatz, the coordinating lead author for the Intergovernmental Panel of Climate Change (IPCC) report that led to the group receiving the 2007 Nobel Prize. Fresh from giving a keynote address at the International Passive House Conference in Aachen in April, Dr Ürge-Vorsatz will provide a critical look at the recent IPCC Fifth Assessment, the 2050 carbon reduction goals and the pivotal role of energy efficiency in buildings.
According to New York Passive House president Ken Levenson, the event will present critical blueprints for mitigating climate change by increasing energy efficiency. "Passive House, an international building standard, is the only proven architectural and building method that can enable the dramatic carbon reductions called for by the international scientific community," Levenson said.
"The IPCC fifth assessment report and the third US National Climate Assessment released this month both state clearly the need to radically reduce our carbon emissions by 2050 or face disastrous runaway climate change. Scientists also report that we have just reached one irreversible tipping point, the melting of the West Antarctic ice shelf."
In the last month, political leaders from President Obama to New York governor Cuomo have called for increased building efficiency as a way to address climate change. On 5 May, New York City's Mayor Bill de Blasio called for the construction of 200,000 units of affordable housing, and specified that they be environmentally sustainable.
Levenson said that NY14 will benefit stakeholders working in climate change mitigation, community and power supply resiliency, environmental sustainability, energy efficiency and affordable housing, with presentations set to detail current design and building strategies that have succeeded in dramatically reducing energy consumption of apartment buildings, schools, shops and office buildings – for both new construction and retrofits.
In New York City, buildings account for approximately seventy-five percent of carbon emissions, according to former Mayor Bloomberg's PlaNYC Greater Greener Buildings Plan report. A passive house uses ninety percent less heating and cooling energy than a typical equivalent building, while offering comfort and resiliency. Levenson expects NY14 to be "the most in-depth conference program to address building efficiency and climate change mitigation ever held in the US"
"When thinking about climate change mitigation many are focused on renewable energy production," said Richard Leigh, director of research at Urban Green Council. "But to make a decarbonized power grid achievable, it's critical that we also lock dramatic energy reductions into the fabric of what we build and renovate. The more energy savings we lock in, the easier and more economical the decarbonization task becomes. And passive house offers a proven and practical way to achieve the savings we need."
In a panel entitled "The Energy Puzzle," Leigh will be joined by Passive House Academy founder Tomás O'Leary, Bright Power founder Jeffrey Perlman and others from the renewable energy and power distribution sectors. They will discuss the essential interplay between building efficiency and a decarbonized grid, the emergence of Nearly Zero Energy Buildings (NZEBs) and new passive house certifications that encourage energy positive buildings.
A series of presentations will feature specific passive house building projects by leading practitioners from around the world, including:
• a multi-family apartment building by Chris Benedict, Chris Benedict Architect (New York);
• primary school and university buildings by Jonathan Hines, Architype (London);
• dormitory housing at University College Dublin by Brian Kavanagh, Kavanagh Tuite Architects (Dublin);
• Brussels Greenbizz city district by Sabine Laribaux, Architectes Associés (Brussels).
One session will demonstrate retrofit strategies across New York City from Borough Park and Brownstone Brooklyn, to a condominium conversion in Tribeca. "The majority of buildings that will be standing in the coming decades already exist today," said Levenson. "Therefore, retrofitting building stock to the highest levels of efficiency during the normal course of component replacement and renovation is essential in the implementation of an effective citywide energy strategy."
Projects to be presented from the New York area that meet Passive House retrofit, or "EnerPHit," standards, include:
• Tribeca Condo EnerPHit by Stas Zakrzewski, Zakrzewski + Hyde Architects (Manhattan);
• Borough Park Ambulance Dispatch Center EnerPHit by Gregory Duncan, Gregory Duncan Architect (Brooklyn);
• Brownstone Brooklyn EnerPHit by Cramer Silkworth, Baukraft Engineering (Brooklyn);
• Red Hook Sound Studio EnerPHit by Ryan Enschede, Ryan Enschede Studio (Brooklyn);
• Bedford-Stuyvesant Wood Frame EnerPHit by David White, Right Environments (Brooklyn).
New York's iconic skyscrapers can also achieve passive house performance. Lois Arena of Steven Winter Associates (New York) will present on the unique challenges of low-energy, high-rise construction.
A session on the finance and economics of passive house construction will begin with a detailed examination of a dental clinic by Adam Cohen of Passiv Science (Virginia). The panel discussion will be moderated by Jeremy Smerd, managing editor of Crain's New York Business and include Rob Conboy of Better (US), Larry Sprague of Sustainable Energy Funding Program (US), Melissa Ruttner of BuildForward Capital (New York), and Andrew Padian of The Community Preservation Corporation (New York).
The day will conclude with a survey of the latest international passive house developments, presented by leading consultant Günter Lang (Vienna). A panel discussion will follow, moderated by William Menking, editor-in-vhief of The Architect's Newspaper, covering the potential impact of passive house in New York and featuring former Mayor Bloomberg's deputy director for green building and energy efficiency Laurie Kerr, and Urban Green Council executive director Russell Unger.
Over 30 of the leading passive house component and service providers on the US market will also be exhibiting, including Platinum Sponsor, IT Windows and Doors; and Gold Sponsors, Zehnder America ventilation systems, European Architectural Supply windows and doors, and Passive House training provider Association for Energy Affordability. Passive House Plus magazine is an event partner.
AIA HSW continuing education credits will be available to qualified attending professionals.
For information on registration visit: http://rightevents.net/NY14PH_Conference_Expo/
Last modified on Tuesday, 03 June 2014 10:18