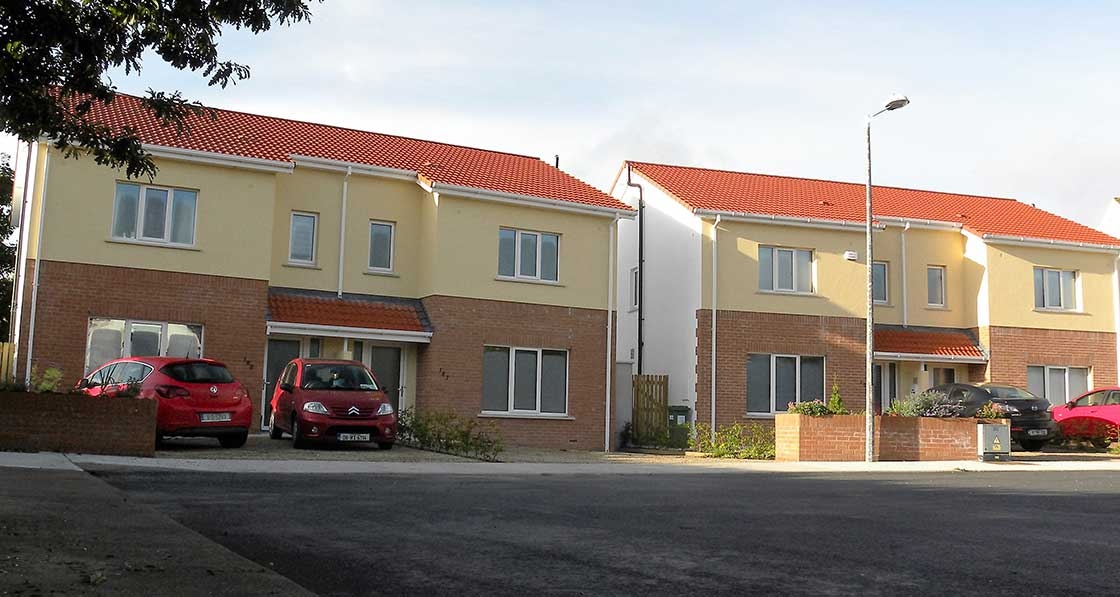 The Michael Bennett Group passive house scheme at Madeira Oaks, Enniscorthy, which sold for €170-190,000 each.

News Desk
Going A1-rated & certified passive lifts build costs by 0.1%
The extra cost of building to certified passive house levels – while also scoring an A1 BER – is as low as 0.1%, research at Ulster University has shown.
This article was originally published in issue 24 of Passive House Plus magazine. Want immediate access to all back issues and exclusive extra content? Click here to subscribe for as little as €10, or click here to receive the next issue free of charge
The additional construction costs for an A1-rated passive house compared with minimum compliance under building regulations are €131, in total, for case study dwellings at Madeira Oaks, Co Wexford.
The scheme of twelve houses – featured in detail in issue 15 of Passive House Plus – took on average 13 weeks to build and sold for €170-190,000 each, with a number of the homes purchased by Wexford County Council for social housing. The Michael Bennett Group scheme's low cost and rapid turnaround indicate that pursuing best practice approaches may help rather than hinder the industry in seeking to solve Ireland's housing crisis, while simultaneously exceeding the requirements of the forthcoming nearly zero energy building (nZEB) standard.
According to Dr Shane Colclough, who led the research: "When building houses to tackle the current housing crisis, they can be built right first time, quickly, at no extra cost."
Given that passive houses are independently certified, Colclough said the problems with poor quality of construction experienced during the previous building boom could be eliminated for future buildings."
Dr Colclough presented the findings – which are part of a body of work investigating the potential for the passive house standard in Ireland - at a recent academic conference in Florence.
A monitoring report on nine properties in Northern Ireland showed that the passive houses required 38% of the heating costs of the houses built to Northern Ireland's building regulations, whilst simultaneously providing higher indoor air quality and comfort. A report on monitoring of dwellings south of the border is due in early 2018.
The cost analysis of the Wexford homes was carried out by Ulster University in conjunction with Michael Bennett Group's quantity surveyor Seamus Mullins and John Mernagh of Waterford Institute of Technology. By designing the dwelling as a passive house, the design was simplified, the traditional heating system replaced with an integrated heating and domestic hot water unit, and the houses built in 13 weeks, reducing overheads. In addition, all twelve houses in the scheme were certified as complying with the passive house standard at no additional cost.
"The research findings to date indicate that passive houses have been shown to enable developers build low-energy, high-quality nZEB dwellings, three years earlier than required, at no extra cost," said Colclough.
"This would have a positive impact on the standard of houses available to purchasers and for social housing, and therefore on Ireland's fossil fuel consumption. It thus has implications for policy at a national level, not just for building standards, but also for training among industry professionals, to ensure they can build nZEB dwellings to which Ireland is committed under EU directives."
Last modified on Monday, 29 January 2018 11:26