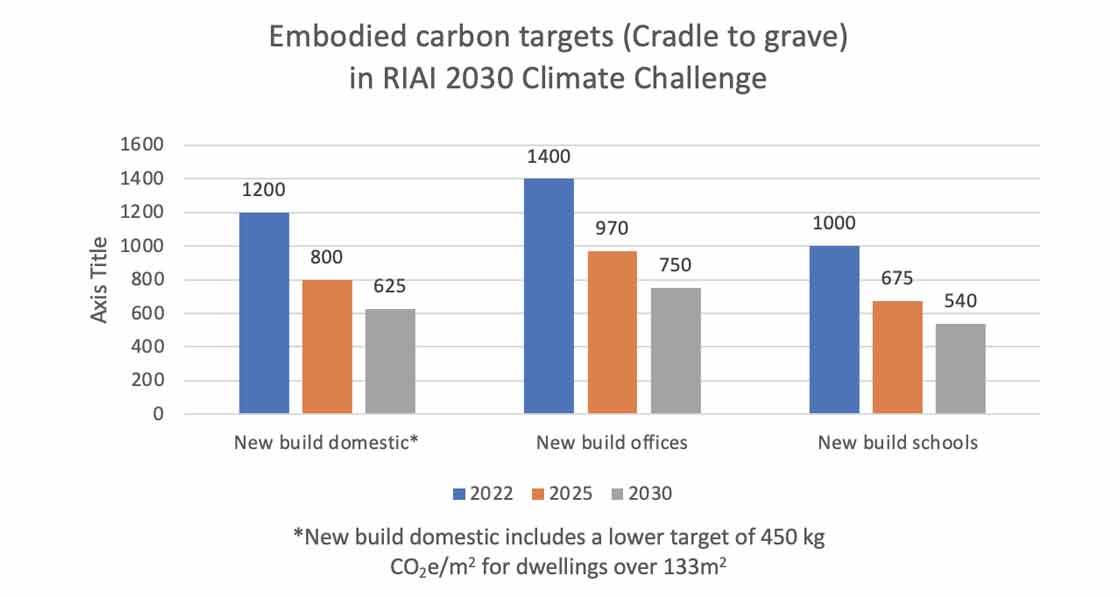 News Desk
RIAI launches 2030 climate challenge
The Royal Institute of Architects of Ireland (RIAI) has launched its 2030 Climate Challenge, calling for urgent action to be taken by architects and the wider construction industry to tackle the climate emergency.
This article was originally published in issue 40 of Passive House Plus magazine. Want immediate access to all back issues and exclusive extra content? Click here to subscribe for as little as €10, or click here to receive the next issue free of charge
The RIAI said that the challenge is a "climate change initiative to encourage the profession and wider construction industry to achieve net zero whole life carbon for all new and retrofitted buildings by 2030".
The RIAI 2030 Climate Challenge asks architects to commit to reducing operational energy, embodied carbon, and potable water use by 40 per cent by 2030, as well as achieving core health and wellbeing targets.
Speaking about the launch of the challenge RIAI president Ciaran O'Connor said: "The RIAI is delighted to launch our 2030 Climate Challenge. We are in the midst of a climate emergency which is the biggest challenge to face our planet, our people and our industry.
"The task is urgent, and we need to work immediately to reduce our carbon emissions in order to limit the devastating impacts of global warming. By launching this document, we are encouraging architects and our colleagues in construction to take the RIAI Climate Challenge, to evaluate the way they currently design and to make the necessary changes needed to meet the reductions and targets outlined in this document."
The challenge was originally developed by the Royal Institute of British Architects (RIBA) and adapted for Ireland by the RIAI. It sets 2030 targets for operational energy, embodied carbon and potable water (see table), with interim targets for 2025.
The challenge also states that overheating (indoor temperatures between 25 and 28 C) should be limited to one per cent of occupied hours, and that indoor CO2 levels should be less than 900 parts per million. Targets are also set for daylighting, radon, volatile organic compounds (VOCs) and formaldehyde.
While the RIAI's 2030 embodied carbon targets are numerically the same as the equivalent RIBA targets in the UK, RIBA's methodology assumes a 60-year building lifespan, while the RIAI uses 50 years (as per the EU's Level(s) framework).
This means that the RIAI target should in theory be easier to meet, as there may be fewer replacements of building components during the measured time period.
RIBA president Simon Allford said: "The construction industry needs to work together so I am extremely encouraged to see the RIAI adopt a similar set of standards to the RIBA 2030 Climate Challenge.
Changing the way we practice to combat climate change is no longer an option, and we're confident that these 2030 targets for embodied carbon, energy and water use will place projects on the trajectory towards net zero. I urge all RIAI members to sign-up and commit themselves to designing for outcome-based building performance."

Last modified on Tuesday, 22 February 2022 11:04