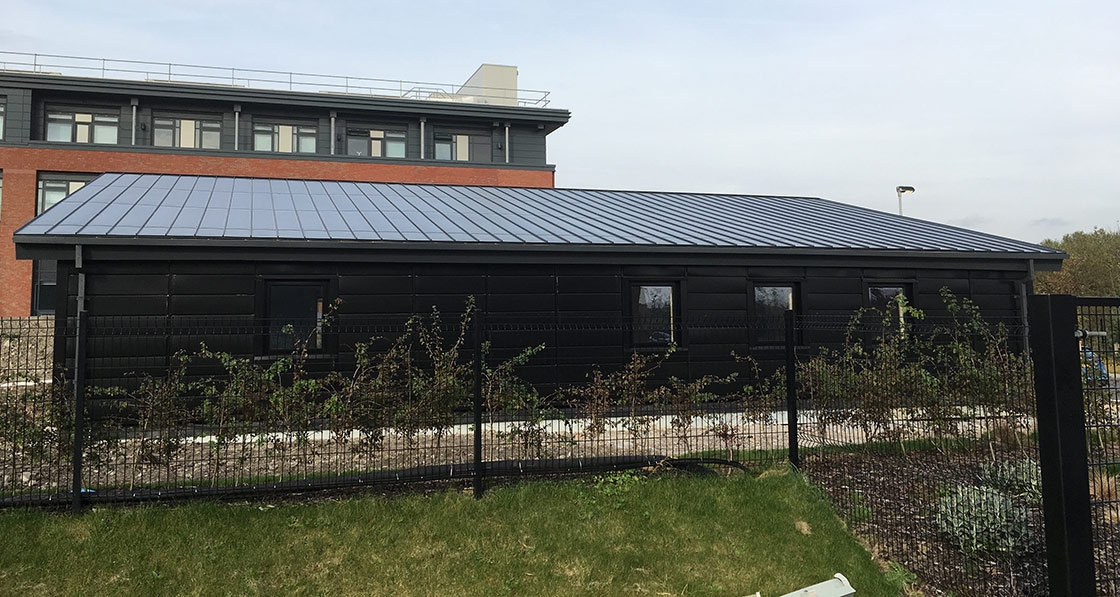 Swansea University's Specific Innovation and Knowledge Centre

News Desk
UK's first energy-positive classroom opens its doors
The UK's first energy positive classroom has recently opened at Swansea University. Built by Swansea University's Specific Innovation and Knowledge Centre, the Active Classroom generates, stores and releases its own solar energy.
This article was originally published in issue 19 of Passive House Plus magazine. Want immediate access to all back issues and exclusive extra content? Click here to subscribe for as little as €10, or click here to receive the next issue free of charge
Electricity for the classroom is generated by a steel roof with integrated solar cells, supplied by Specific spin-out company BIPVco. The 17kWp system includes 145 BIPVco modules which have been bonded directly to the steel roof. Building-integrated solar photovoltaic (BIPV) systems use super thin PV sheets integrated directly onto pre-coated metal and membrane components, to create a combined PV roof system that can be installed in the same way as a conventional roofing system.
BIPVco is a new renewable technology company based in Flintshire, north east Wales, which says it aims to become one of the most innovative and forward thinking manufacturers of second-generation integrated solar technology, more commonly known as BIPV. The company recently won awards for solar technology of the year and clean tech start-up of the year at the Business Green Technology Awards held in London last month.
The roof at the Active Classroom is connected to two Aquion Energy saltwater batteries, which are being used in the UK for the first time, and are capable of storing enough energy to power the building for two days. The building also uses Tata Steel's perforated steel cladding for generation of solar heat energy, which can be stored in a waterbased system, and an electrically-heated floor coating that has been developed by Specific researchers.
"Some of the technology is new, but most is already available on the market and affordable. Whilst each product is in itself important, the real innovation is in the way they work together to generate, store and release energy," said architect Jo Morgan.
The Active Classroom provides teaching space and a laboratory for Swansea University students, as well as a buildingscale development facility for Specific and its industry partners.
Specific is an R&D centre at Swansea University focused on the generation, storage and distribution of solar energy from buildings.
It is working with more than 50 partners from academia, industry and government to deliver its vision for buildings as power stations.