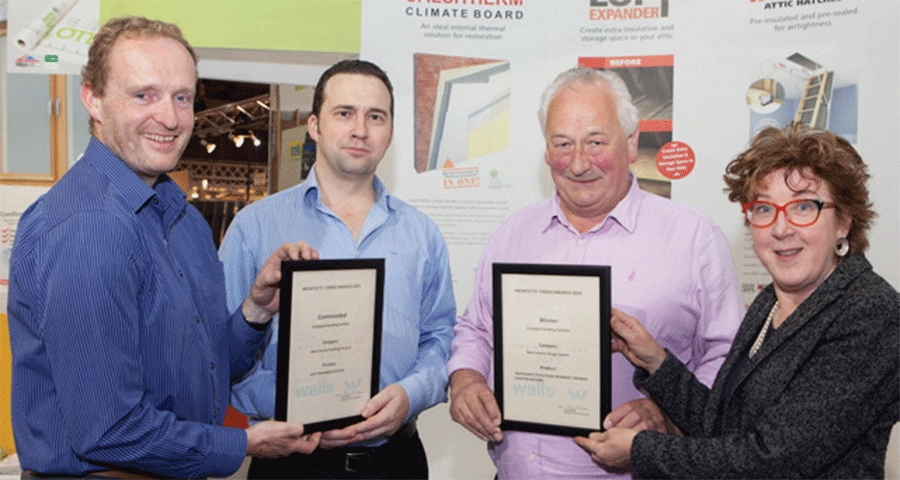 News Desk
Lime cork thermal plaster wins at Architecture Expo
Ecological Building Systems is pleased to announce that its Diasen Diathonite Evolution lime cork thermal insulating render system won in the 'best interior design' category at the RIAI Architecture Expo.
Diasen, based in Italy, have been manufacturing cork based diffusion open render systems since 1985. When thermally upgrading single leaf masonry walls, it is critical not only to install thermally efficient materials, but also to ensure that the thermal solution does not impede the ability of the wall to continue to breathe. This is particularly important when dealing with solid brick or stone walls, which utilise a lime mortar and lime plaster systems.
According to Ecological's senior technical engineer Niall Crosson, unlike many modern impervious thermal insulation systems, Diathonite Evolution is a breathable insulating plaster which provides the optimum combination of thermal performance and moisture management.
Many internal thermal insulating systems require that the existing wall be levelled with a suitable plaster prior to their application. "Otherwise uninsulated cold air pockets between the internal insulation and an existing wall can lead to significant condensation risk," said Crosson. "Unfortunately, single leaf masonry walls are often very uneven and may be difficult, costly and time consuming to level out.
On such walls a diffusion open insulating plaster system such as Diathonite Evolution presents what Ecological regard as the "perfect" solution to provide both a levelling plaster and thermal insulation in one while maintaining optimum levels of breathability and moisture management.
Diathonite Evolution is a thermal plaster based on NHL 3.5 lime and pure cork granules. "It's a natural ecological render system suitable for internal and external use," said Crosson. "The plaster system combines outstanding thermal performance with optimum vapour control and high mechanical strength." Diathonite is primarily manufactured from a combination of cork, clay, lime and diatomaceous earth.
It has a thermal conductivity of 0.045 W/mk, plus high thermal mass, high compression resistance (2.7 N/nm2), high fire resistance and excellent acoustic insulation and elasticity. It is also highly diffusion open. The raw materials used in Diathonite Evolution are natural and non-toxic.
Once the plaster is applied, it may be finished with Diasen Argacem MP highly breathable finishing smoothening plaster. Alternatively, a lime based plaster may be applied internally.
Diasen's range of products have attained the quality control certification ISO 9001, the environmental certification ISO 14001, and all their products comply with CE requirements.
Ecological can provide details in relation to trained installers of the system on request. For information see www.ecologicalbuildingsystems.com
Last modified on Monday, 01 February 2016 15:46
Related items