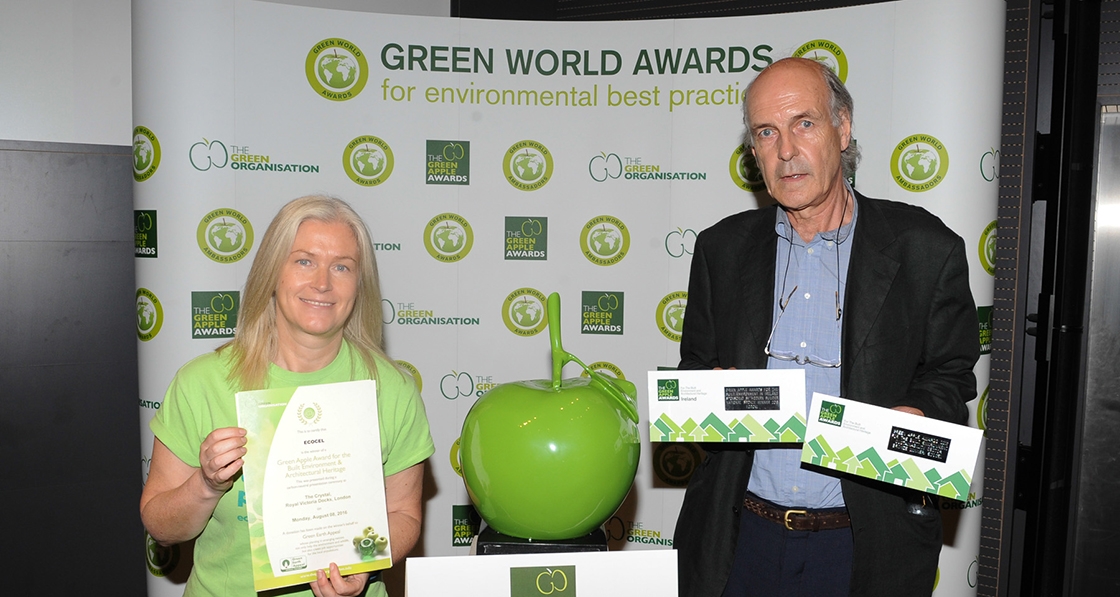 News Desk
Irish cellulose manufacturer Ecocel wins Green Apple award
Cork based cellulose insulation manufacturer Ecocel has won a bronze Green Apple award, the prestigious international award for the built environment and architectural heritage. The award was presented to Ecocel's managing director John Egan at a ceremony on 8 August in London.
This article was originally published in issue 18 of Passive House Plus magazine. Want immediate access to all back issues and exclusive extra content? Click here to subscribe for as little as €10, or click here to receive the next issue free of charge
(pictured above - Dr Paula Owen, chief fun officer of Eco Action Games and John Egan, managing director, Ecocel)
John Egan told Passive House Plus: "It is good to get the international recognition, as we are the only cellulose insulation manufacturing plant in the British Isles. It has helped improve trade with our closest neighbour, the UK, by developing more links with eco-conscious architects, building contractors and developers. As our own construction industry has improved, there is a knock-on effect for us and national trade has increased as well."
He continued: "Our product has been awarded the NSAI Agrément certificate for timber framed walls, sloped ceilings and attics, we are expanding and currently looking for staff, so our future is bright.' Ecocel is also currently developing a network of trained installers, to ensure the product is used as sustainably as possible. The company is currently looking for interested tradespersons to expand their operation.
"We pack as much into bags as we possibly can, 17Kg, to give better value to our customers. It is the only insulation that is reusable beyond the lifespan of a building and it has a low carbon footprint. As a result it can act as a carbon sink— and help buildings achieve the passive house standard," said the company's factory engineer Leonel Santos. "The insulation is pumped into spaces — which creates an airtight seal — by trained professional installers."
Ecocel produces cellulose insulation by reusing paper and treating it with inorganic salts which act as a biocide and a fire retardant. A video available online at www.ecocel.ie demonstrates how the product does not burn when treated, although it is 85% paper based.
Last modified on Tuesday, 18 October 2016 18:42