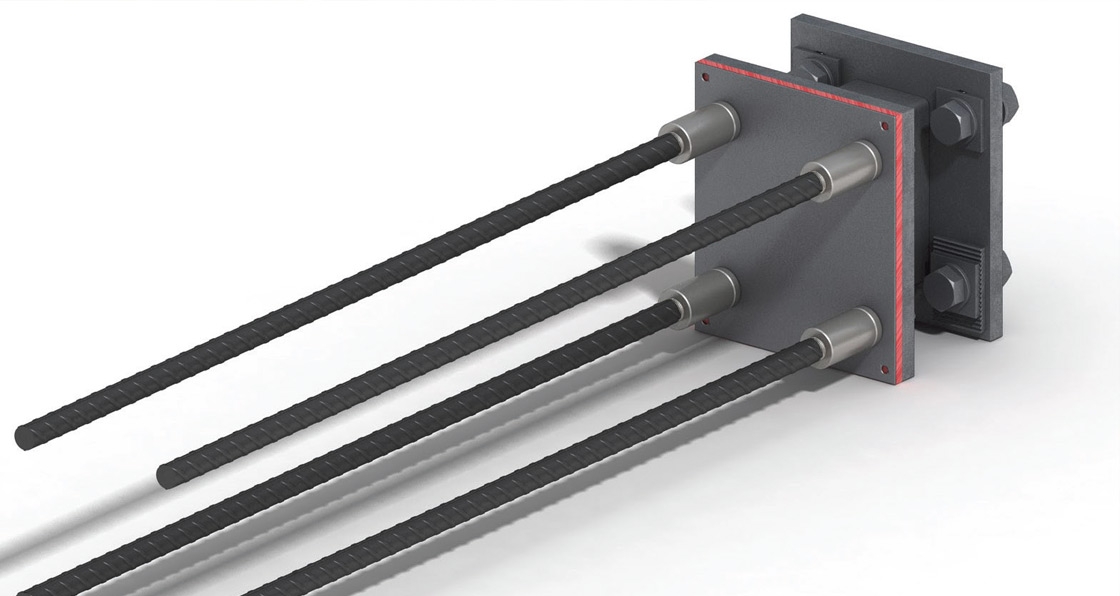 News Desk
Ancon extends its range of insulated balcony connectors
Ancon has extended its STC steel-to-concrete balcony connector range with two new high performance products and a standard series of connectors manufactured from stainless steel.
This article was originally published in issue 17 of Passive House Plus magazine. Want immediate access to all back issues and exclusive extra content? Click here to subscribe for as little as €10, or click here to receive the next issue free of charge
Ancon STC connectors anchor an external steel balcony to an internal concrete floor slab while minimising heat loss through thermal bridging at the interface.
Two sizes have been added to the STC balcony connector range to provide a higher resistance to both moment and shear forces. Typical applications for these high performance products include large cantilever balconies and situations where column layout or rebar congestion limits the number of connectors that can be installed.
STC balcony connection brackets are manufactured in galvanised steel as standard but are now also available in stainless steel, referenced SSTC; ideal for applications where maximum thermal efficiency and corrosion resistance is required.
Comprising a two-part assembly, the STC and SSTC systems allow phased installation. One component is cast in to the slab edge with the second component installed only when required, avoiding damage by other trades as construction progresses.
Manufactured to order, the depth of the fabricated steel bracket component is variable, allowing brackets to be designed to avoid conflict with cladding to simplify installation. Serrated slots in Ancon's CEmarked steel brackets provide quick and easy adjustability on site, without stop butts or levelling shims.
Featuring an integral high-tech thermal pad, these Ancon connectors are proven through thermal modelling to help prevent condensation and mould growth in buildings. Meanwhile Anconc's Teplo-BF low thermal conductivity wall tie has been shortlisted in the 'Best Innovation in Insulation' category of the 2016 Build It Awards.
The latest addition to the Teplo range, Teplo-BF, features the same ultra-low conductivity basalt fibre body as the original bar-shaped TeploTie, with specially moulded safety ends which make the new tie easier and safer to use and significantly enhanced mortar bond.
As well as providing a thermal conductivity of just 0.7 W/mK, meaning it is disregarded as a thermal bridge in U-value calculations, Teplo-BF offers an 80% increase in bond strength over the original TeploTie, making it particularly suitable for use with lime and other slow-drying mortars.