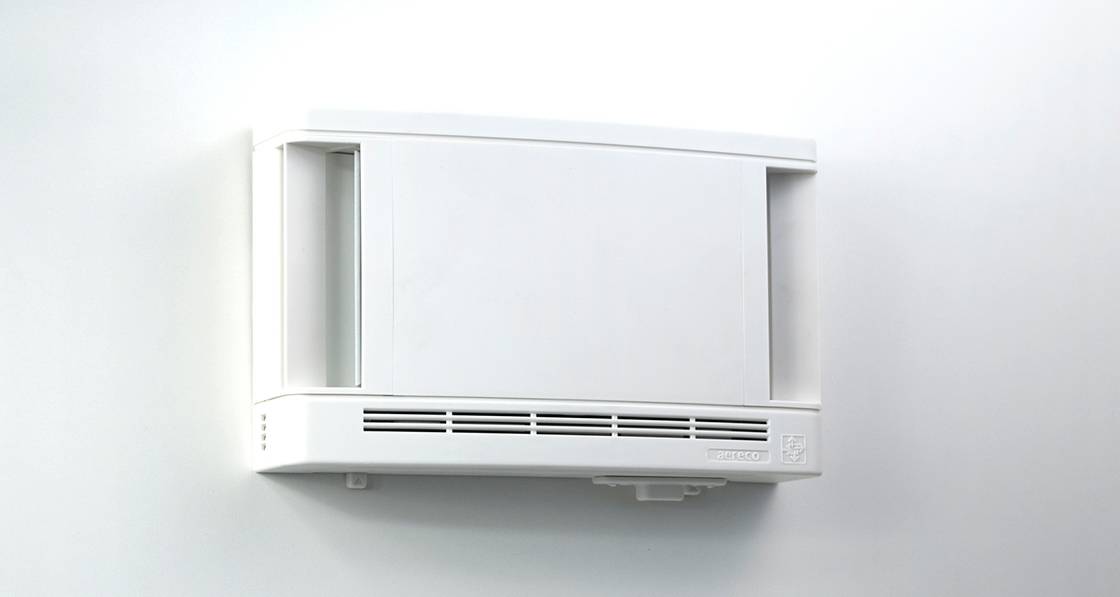 News Desk
Aereco launches quality standard for its ventilation systems
Ventilation system manufacturer Aereco has announced the launch of its new Aereco Quality Standard.
This article was originally published in issue 18 of Passive House Plus magazine. Want immediate access to all back issues and exclusive extra content? Click here to subscribe for as little as €10, or click here to receive the next issue free of charge
The company, which designs, produces and supplies demand-controlled ventilation systems, is offering the quality standard on projects of any size on which it is engaged right from the design stage.
The company told Passive House Plus that its new quality standard offers: free ventilation design and advice on and off-site (regardless of project size); a certified partner in a contracted agreement to install Aereco systems according to the company's best practice standards; commissioning of the system in-house by Aereco or one of its certified partners; a digital Aereco Quality Standard commissioning certificate; free filter replacement when necessary under the warranty period of the fan; and a warranty extension to five years on systems with a quality standard certificate.
"There are no costs to the Aereco Quality Standard, but a requirement to engage with us from design through to commissioning," said Simon Jones of Aereco.
The standard is available on projects on which Aereco is directly engaged, and/or those delivered by its certified partners.
Jones continued: "Our certified partners have considerable experience in installing our systems and have proven time and again to deliver very high standards of workmanship and professionalism. They are also in contracted agreement to install our systems to our best practice.
"If you do not use them we will support you and your team in achieving the standards required but if the installation or systems does not meet our standards, the Aereco Quality Certificate will not be issued and associated support and extensions of warranty will not be available.
"We believe it is possible to deliver ventilation that works, every time. But it requires a joined-up approach where everyone takes responsibility – and that includes the manufacturer. Demand-controlled ventilation provides a unique opportunity to deliver a system with the capacity to meet the ever-changing demands on ventilation. But it can only do that if it's designed right, installed right and commissioned to prove it's right."
Commenting on the launch of the standard, David Adams, technical director of Wilmott Dixon Energy Services said: "There is growing recognition that appropriate and correctly installed and commissioned ventilation isn't simply 'a nice to have' but a pre-requisite. It is encouraging to see manufacturers, such as Aereco, responding to this challenge and providing the comprehensive approach necessary to deliver systems that really perform for householders."
Meanwhile David Pierpoint, executive director of Retrofit Academy CIC, added: "This is a genuine and welcome attempt to engage with the supply chain and address many of the problems that have led to widespread failures in ventilation performance noted in recent reports."
"The academy supports initiatives that help to reduce the performance gap. Our retrofit coordinator course provides people with knowledge to manage projects successfully. But well-considered initiatives like this from Aereco are also required to build trust with customers that what they 'get' is what they 'bought."
And Paul Kenny, chief executive officer of Tipperary Energy Agency — which runs Ireland's SuperHomes retrofit scheme — said: "Aereco systems are installed as part of SuperHomes deep retrofits. This allows us ensure we can guarantee high indoor air quality for all our clients, which is often overlooked by many retrofit practitioners."
"Aereco's products, design, customer support and contractor training already gives the Tipperary Energy Agency confidence in the indoor air quality of our SuperHomes projects."
Last modified on Tuesday, 14 July 2020 16:38