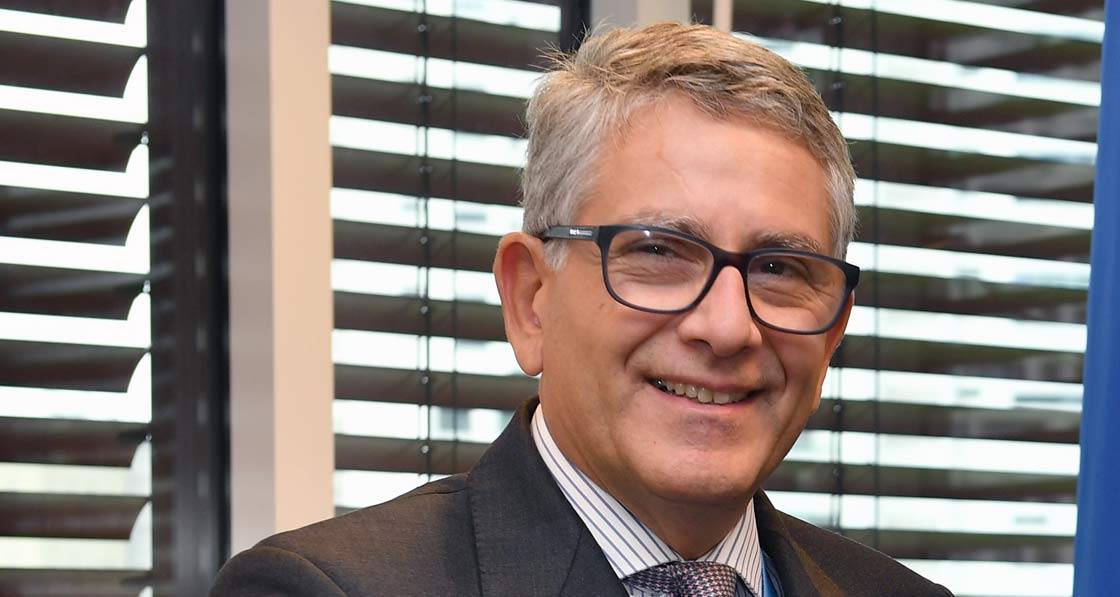 Gerassimos Thomas, EU deputy director-general for energy, welcomed the new definition for energy efficient mortgages. (photo: IAEA)
New Europe-wide boost for energy efficient mortgages
Energy efficient properties less likely to default, research finds
This article was originally published in issue 28 of Passive House Plus magazine. Want immediate access to all back issues and exclusive extra content? Click here to subscribe for as little as €10, or click here to receive the next issue free of charge
The Energy Efficient Mortgages (EEM) Initiative has unveiled a new definition for energy efficient mortgages, which is intended to make it easier for the 41 participating lending institutions – including the likes of Barclays & KBC – to offer more attractive finance terms to those buying energy efficient properties.
It comes just as two Bank of England economists have published a statistical analysis demonstrating that energy efficient properties are less likely to end up in mortgage arrears.
The provision of so called 'energy efficient mortgages' that incentivise homeowners to buy or build low energy homes, or retrofit to low energy standards, is seen as an essential driver in pushing the property market towards sustainability. However, to date few such mortgages have been available to consumers. Notable exceptions in the UK include Ecology Building Society's C Change mortgages, which offer preferential interest rates for homes meeting higher energy performance standards, such as passive house, and the Barclays Green Home Mortgage, which offers better lending terms linked to the EPC score of the house.
The new EEM definition says that energy efficient mortgages are mortgages that provide finance for buildings where there is evidence of "energy performance which meets or exceeds relevant market best practice standards in line with current EU legislative requirements" or "an improvement in energy performance of at least 30%", for retrofits.
It adds: "This evidence should be provided by way of a recent EPC [energy performance certificate] rating or score".
At the end of 2017, the 41 institutions participating in the EEM held 55% of mortgages in the EU, meaning the new move could potentially have significant influence in the market.
Commenting on the new definition, Gerassimos Thomas, the European Commission deputy director-general for energy, said that move would "facilitate the implementation of energy efficiency investments where they are most needed, in the buildings sector" and serve as "an important step, opening the way for a quick roll-out of energy efficiency mortgages."
However, there is some concern that EPCs or BERs remain an unreliable measure of the energy performance of highly efficient properties, such as passive houses, due to the way they are calculated. For example, the Old Holloway passive house featured on the cover of Passive House Plus issue 27, a certified passive house which has zero space heating bills, only has an EPC rating of C, suggesting that some passive homes with practically no energy bills could struggle to qualify for better financing terms.
Lower default risk
Meanwhile, a statistical analysis published by two Bank of England economists, Benjamin Guin and Perttu Korhonen, has concluded that mortgages on energy efficient properties are less likely to end up in arrears. The analysis, published on the bank's policy blog www.bankunderground.co.uk, examined a sample of 1.8 million properties for which loan performance data and energy performance certificates (EPCs) were available.
The authors classified homes with an A, B, or C energy rating as "high energy efficiency", and homes with an E, F, or G ratings as "low energy efficiency". The authors' initial analysis found that 0.93% of the energy-efficient properties were in payment arrears, compared to 1.14% of the energy inefficient properties — a statistically significant difference of 0.21%.
"Two mechanisms could be driving this difference," the authors wrote. "On the one hand, energy bills are lower on energy-efficient properties. Savings on energy bills could lead to lower arrears rates ('energy savings affect'). Alternatively, high-income borrowers could be more likely to take out mortgages against energy-efficient properties. Such borrowers may fall into arrears less frequently ('income selection effect')."
But the authors ultimately ruled out the 'income selection effect' by comparing mortgage arrears of borrowers with similar income, and found that the difference remained similar between energy efficient and inefficient properties. They went on to perform tests to control for the possibility that various other factors could be causing the difference, and did find that when they controlled for the year that the mortgage originated and the EPC inspection was performed, the difference in payment arears decreased to 0.10% — but this was still statistically significant.
"We conclude that the energy efficiency of a property is a relevant predictor of mortgage risk," the authors wrote. For more on the Energy Efficient Mortgages Initiative see eemap.energyefficientmortgages.eu.
Last modified on Thursday, 24 January 2019 10:19