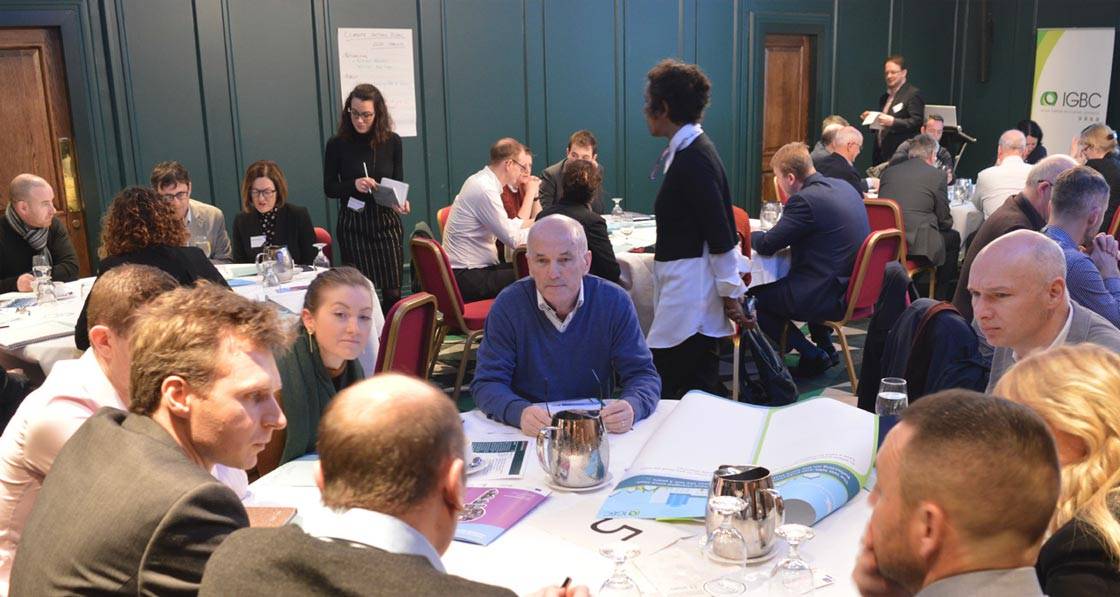 Attendees at a recent workshop organised by the IGBC, in conjunction with the Department of Communications, Climate Action and the Environment, to inform the development of the next version of Ireland's National Renovation Strategy.
Marion Jammet
Towards a better national renovation strategy
Irish Green Building Council business development manager Marion Jammet reports on work by the IGBC to help make rollout of deep retrofit a reality.
This article was originally published in issue 33 of Passive House Plus magazine. Want immediate access to all back issues and exclusive extra content? Click here to subscribe for as little as €10, or click here to receive the next issue free of charge
We must stop using concrete, bricks, steel and excessive amounts of glass.
The all-of-government Climate Action Plan set clear and ambitious renovation targets for 2030. But these targets should not be the end goal. Our buildings must be "highly energy efficient and decarbonised by 2050". The Irish Green Building Council, in conjunction with the Department of Communications, Climate Action and the Environment, recently organised a workshop to discuss actions needed to achieve these targets. The findings will support the department in developing the next version of Ireland's National Renovation Strategy.
Under the 2018 recast of the Energy Performance of Buildings Directive, the next version of Ireland's National Renovation Strategy must be published by 10 March 2020.
Much has been achieved since the publication of the last strategy three years ago. For instance, state funding for energy renovation significantly increased and the NZEB standard came into force. But far more needs to be done if Ireland is to reach its 2030 and 2050 targets. The next strategy must embed the principle of energy efficiency and deliver scale. Our targets will only be achieved by a combination of awareness raising, behaviour change, incentives and penalties.
Certainty is critical for the industry to invest in energy renovation and upskilling. The strategy must include a clear commitment to a long-term, ring-fenced, multi-annual 10-year investment plan for renovation.
Awareness raising campaigns are needed to ensure it remains clear that addressing climate change is a priority. Translating national targets into county's targets could help in better engagement with citizens.
Public bodies must lead by example more than ever. With that regard, it would make sense to retrofit all the social housing stock to a BER of B2 or higher by 2030. In fact, this could also work as a testbed for aggregating projects, reducing costs and improving quality.
Energy renovation must be made more convenient and accessible. One-stop-shops supporting renovation and Building Renovation Passports (on which more information below) both have a role to play. All small property owners should be able to access independent advice. This requires more transparent market information, so that homeowners can identify building professionals and construction workers who have upskilled in the area.
As many as one million Irish homes are considered significantly energy inefficient. All architect and engineering graduates, as well as construction workers, must be made aware that there is a future career in renovation. All construction-related third-level courses and apprenticeships should fully cover renovation.
Grants and tax incentives must be continued, especially for those who cannot afford renovation. But, given the scale of the challenge, private investment will need to be mobilised. The priority should be to develop a robust and sustainable financing model. This should allow all homeowners to finance their retrofit works at zero or very low interest rates. More importantly, the suggested actions must be implemented in a consistent and coordinated manner if Ireland is to reach its climate targets.
These recommendations were developed as part of the Horizon 2020 Build Upon project. The recommendations are available at www.igbc.ie.
Facilitating deep energy renovation with Building Renovation Passports
In January, the IGBC trained eleven auditors in developing Building Renovation Passports – masterplans for retrofit which include a record of works. They enable people to make informed choices when planning a deep renovation of their home.
Renovating a building can be a very complex task. Building owners are often confused as to what to do, where to start and in what order to implement certain measures. This often leads to inaction, delays, or sub-optimal and uncoordinated works.
To address this issue, the auditors will pilot a passport currently used in Europe, iBRoad. The iBRoad software generates a clear and concise roadmap. It details a manageable step-by-step plan and outlines the benefits of each measure. An added benefit of the passport is that it ensures that if the dwelling is sold the new owner has access to all the relevant information. Transferring information on past renovation and next steps, should save homeowners' time and money.
The eleven auditors will now pilot the passport on twenty dwellings across Ireland. Their feedback and homeowners' feedback will be used by the IGBC to produce a feasibility study for introducing Building Renovation Passports to Ireland. This pilot programme is supported by SEAI.