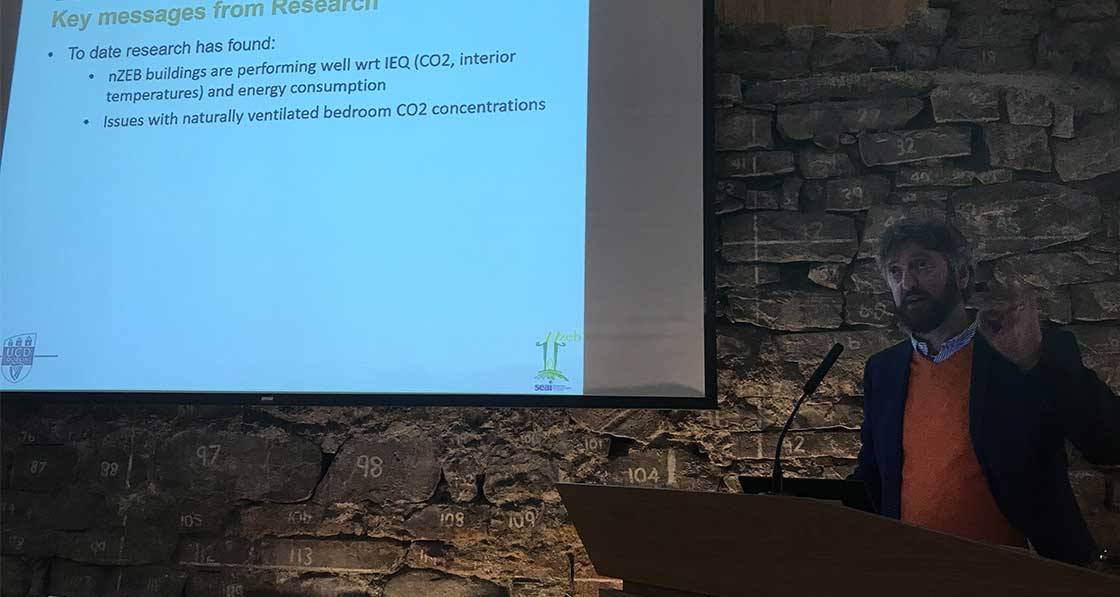 Dr Shane Colclough discussing his research on NZEBs

News Desk
New study to examine NZEB performance
A new research project at UCD will aim to uncover key early lessons from the design and operation of nearly zero energy buildings (NZEBs) in Ireland. The NZEB standard will become mandatory in Ireland for dwellings from November.
This article was originally published in issue 30 of Passive House Plus magazine. Want immediate access to all back issues and exclusive extra content? Click here to subscribe for as little as €10, or click here to receive the next issue free of charge
It poses an unprecedented challenge for the industry to upskill and deliver the standard. NZEB101 will monitor over 100 geographically dispersed domestic and non-domestic, new and retrofit properties to ensure a statistically robust sample size.
It will examine the operational performance of NZEB buildings, including energy performance and indoor environmental quality (IEQ), as well as "in use factors" for a span of energy efficiency technologies, including building fabric and renewable energy systems.
"The data gathered will be key to ensuring design and operations lessons learned are captured to inform future design, not just for the project participants, but for industry at large," said lead researcher Dr Shane Colclough of the UCD School of Architecture.
The project will place particular emphasis on social housing, considering it is proposed that up to 45% of the dwellings constructed in Ireland over the next 10 years will be for social housing purposes, with the first analyses already underway to compare real-world IEQ and annual operational performance against BER calculations.
The project team, led by Colclough and principal investigator Dr Oliver Kinnane, is currently seeking properties that have been renovated to NZEB standard, and also for NZEB dwellings that have demand controlled and natural ventilation systems, to take part. NZEB101 is funded by SEAI.
For more information see www.nzeb101.ie.