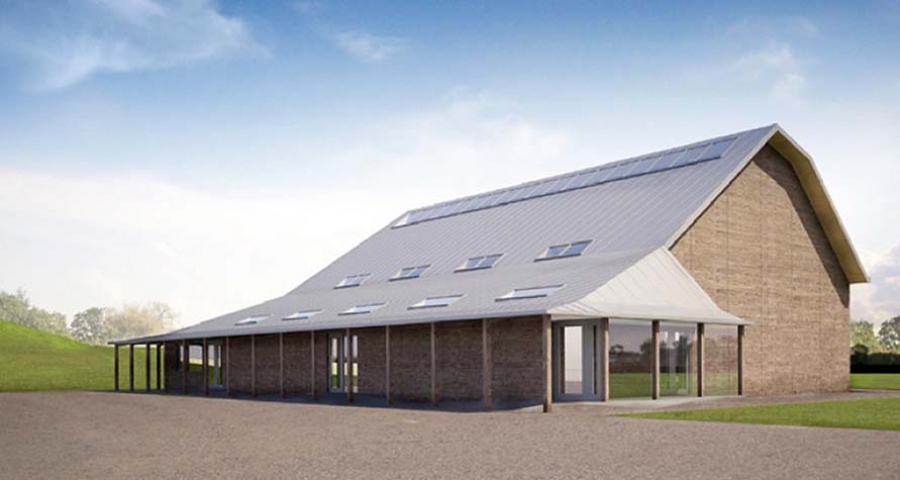 Saint Gobain breaks ground on Multi-Comfort educational building
Building product giant Saint-Gobain has announced the start of its first project in the UK to be built to the organisation's Multi-Comfort standard.
Together with Associated Architects and building contractor Speller Metcalfe, Saint-Gobain is putting its recently launched Multi-Comfort building concept into practice – a holistic approach to constructing buildings, designed to improve occupant comfort, health and wellbeing. Work has begun constructing the new £1.2m multi-purpose sports and drama hall for one of Worcestershire's leading independent schools.
Research has proved that well-designed acoustic environments in schools enhance concentration and help pupils and teachers to communicate1. Better quality environments in schools have led to increased attendance by three days per year, a 5–14%2 improvement in test scores, and 20–26% faster learning rates in schools with optimal daylight3.
The 450 sqm development at The King's School, Worcester, will include a main sports hall, an office, storeroom, kitchenette, toilets and changing rooms. Due for completion December 2015, The Barn, which will replace the existing sports hall, will be used for games, assemblies, drama, music and dance plus external lettings.
Multi-Comfort buildings surpass existing building regulations, incorporating the energy efficiency and thermal comfort standards set by the Passive House Institute and introducing new standards in audio, indoor-air and visual comfort to give the teachers and students an ideal place to work and learn.
Headmaster Jim Turner said: "The Barn represents a major investment for us and when it's completed it will give fantastic multi-purpose sports and drama facility for our pupils. The use of Multi-Comfort on the building will be perfect for the range of activities held there and I'm looking forward to seeing the difference it makes to the productivity and learning capabilities for the pupils.
"The Barn will be a great benefit to the school and I am certain it will be a superb facility to be used and enjoyed by many generations of pupils."
Mark Allen, technical director for Saint-Gobain in the UK and Ireland, said: "After launching the concept at Ecobuild this year, it's great to be able to put our years of research and development into practice and see Multi-Comfort come to life.
"During the building's operation, we'll be working with the team to implement a series of monitoring systems that will collect data, which will prove useful in demonstrating the differences that both the teachers and children will experience within the Multi-Comfort building."
In 2015, Saint-Gobain is celebrating its 350th anniversary. Backed by its experience and capacity to continuously innovate, Saint-Gobain, a world leader in the habitat and construction market, has pledged to create and deliver innovative and high-performance solutions to enhance habitats and the daily life of building users.
Saint-Gobain's global strategy is focused around meeting some of the fundamental challenges faced by the world today: reducing energy consumption, limiting its impact on the environment, and creating a new generation of buildings which are safe, comfortable and energy efficient.
With 2013 sales of €42 billion, Saint-Gobain is present in 64 countries and employs over 190,000 people worldwide, including over 17,000 in the UK & Ireland. It was founded in 1665 to deliver a world first – the production of glass on an industrial scale - and has continued to grow its business via the ongoing development of new services, products and ways of working with customers.
As one of the world's top 100 innovators, Saint-Gobain spends €400m a year on R&D globally, tackling some of the biggest challenges of our time. One in five products manufactured by Saint-Gobain did not exist 5 years ago.
Saint-Gobain in the UK and Ireland is committed to investing in training for the next generation of contractors and professionals, as well as supporting existing professionals looking to upskill. Its Training Academy Network, including Greenworks, has delivered more than 70,000 hours of training since 2011.
In the UK and Ireland, some of the best known and respected companies in the construction sector are part of the group, including British Gypsum/Gypsum Industries, Isover, Glassolutions, Saint-Gobain Weber, Saint-Gobain Glass, Saint-Gobain PAM, Pasquill, Celotex and Ecophon. Together they offer a range of high performance energy-saving products and solutions to help create a more sustainable built environment.
To follow the progress at the King's School build and to read more about Multi-Comfort, visit: www.multicomfort.co.uk
For more information, visit www.saint-gobain.co.uk, tweet @SaintGobainUK and Like the Facebook page.
1The Business Case for Green Building, World Green Building Council, 2014.
2Deloitte et al, 2008
3Montgomery et al, 1994
Last modified on Tuesday, 10 November 2015 16:34